Making Jambalaya at home is very simple, especially in the Nesco
Jambalaya in the Nesco
Last Updated on August 6, 2022

In the midst of the last move, I forgot to close out the old gas bill and was not reminded when I turned the new gas on.  I got a nasty letter from the gas company saying that they are going to turn off my gas in the new place if I don't immediately pay the old bill and that I have to call a certain phone number when I make the payment. To make sure that the payment is properly recorded, I went to the local gas company on July 2, 2013, and paid the bill in person. Then I called the special number at about 3:30 pm and got a recorded message that the gas company was open from 8:00 am to 5:15 pm.  I figured that in the information age, the payment would be recorded and all would be well.
The Problem
I was wrong. When I got home yesterday, Monday, July 8, 2013, Spane and I were hungry, so I started dinner early, at 4:30. I chopped the vegetables, cut the meat, put butter in the pan, and turned the knob – and ……. nothing. No gas. I called the gas company, the special number and again was told that the office was open from 8:00 am to 5:15 pm, a full 45 minutes before the office was supposed to close. When calling the regular number, I got a nice woman to whom I kept on apologizing to because I was so mad, and she said the gas would be turned back on tomorrow, Wednesday, July 10, 2013, between 8:00 am and 5:00 pm, and to make sure that all pets were secure and gates open. I chuckled and said, "Humph, you didn't seem to have any problems turning it off, did you?"
The Solution
That meant that today, I don't have gas. I have been on the phone with them, and have asked for a supervisor. I'm still waiting for a callback, but I'm not waiting anymore to make dinner. I have a small Nesco, and I'm going to make my Jambalaya in it. This is one of the reasons I have this wonderful roaster oven, so I can cook no matter what.
My recipe for Jambalaya follows and I have more recipes for foods perfect for the Nesco.
I also have an updated recipe for Jambalaya in the Instant Pot. It's a set it and forget it kind of recipe, just as spicy and delicious.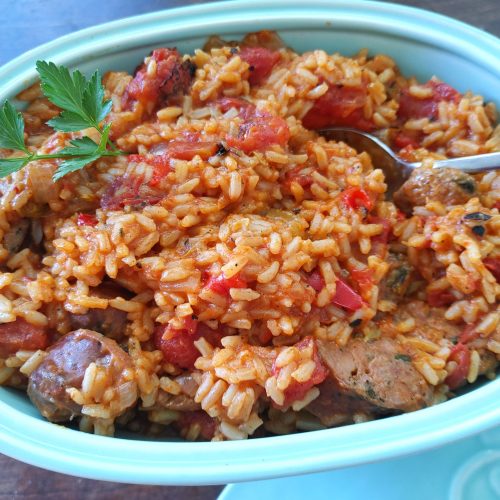 Instant Pot Jambalaya – Dinner? Done!
This spicy Instant Pot Jambalaya is quick and easy to make, perfect for a work night meal. Serve with sour cream and a green salad.
Let's Cook Jambalaya in the Nesco with Creole Seasoning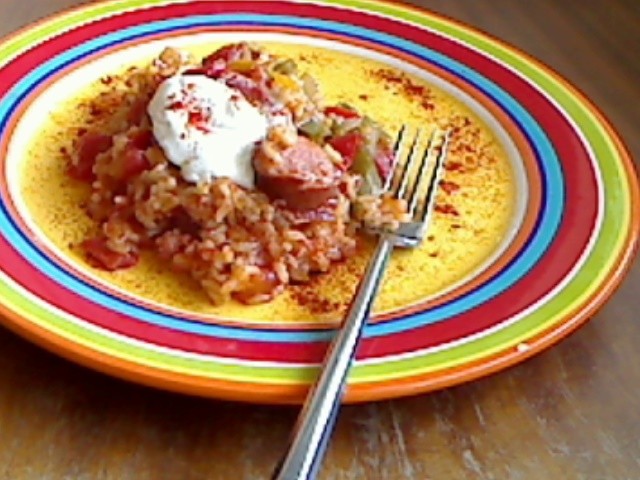 Servings (slide to adjust):
servings
Calories per serving:
242
kcal
Ingredients
1

tablespoon

butter

1

clove

garlic

,

chopped

1

onion

,

chopped

½

cup

sweet bell peppers

,

sliced

1 14.5

oz

can diced tomatoes

1

teaspoon

chicken base

water

¾

cup

rice

1

Polska Kielbasa

,

sliced

Sour Cream for garnish
Ingredients necessary for the recipe step are in italic.
Instructions
Heat the Nesco to 400 degrees.

1 14.5 oz can diced tomatoes

Drain the tomatoes into a measuring cup. Set the tomatoes aside.

Add enough hot water to the tomato juice to make up 1 1/2 cups of liquid.

Add the chicken base to the liquid, and stir to combine. Set aside.

Put the butter in the bottom of the well, and put the well into the Nesco.

1 clove garlic,

1 onion,

1/2 cup sweet bell peppers

Add the garlic, onions, and peppers. Don't worry if it all looks like a mess, it will cook up nicely.

Stir the vegetables occasionally and cook them until they are soft, about 10 minutes.

Reduce the temperature to 275.

Add the Creole seasoning, and the rice. Stir to coat the rice with the spice and vegetables.

Add the tomatoes, liquid, and sausage.

Cook, covered, until the rice is soft, about 25 minutes. Turn the Nesco off.

Serve with a dollop of sour cream for garnish.
Notes
Of course, you can easily make this in a deep pan on the stove top. You can also make it for a crowd by adding more cooked meat and increasing the amount of rice and liquid.
You can add any kind of cooked meat you have, or add shrimp in the last five minutes of cooking so they do not overcook.
Nutrition
Calories:
242
kcal
Carbohydrates:
16
g
Protein:
9
g
Fat:
16
g
Saturated Fat:
7
g
Polyunsaturated Fat:
6
g
Monounsaturated Fat:
6
g
Cholesterol:
53
mg
Sodium:
694
mg
Potassium:
150
mg
Fiber:
2
g
Sugar:
3
g
Creole Seasoning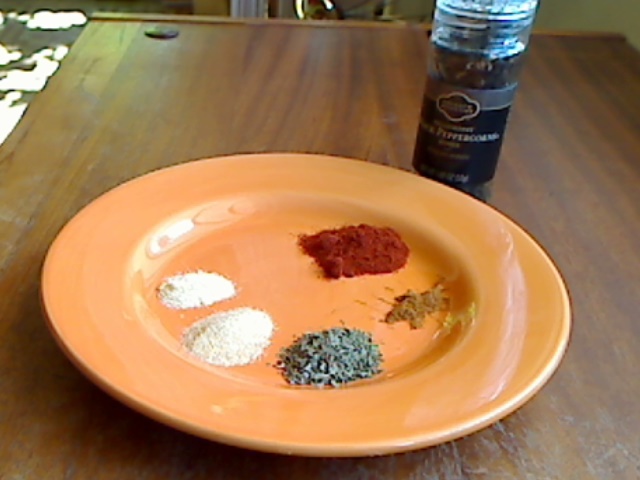 Servings (slide to adjust):
Calories per serving:
11
kcal
Ingredients
1

teaspoon

onion powder

1

teaspoon

garlic powder

½

teaspoon

cayenne

1

tablespoon

paprika

1

teaspoon

thyme

1

teaspoon

white pepper
Ingredients necessary for the recipe step are in italic.
Instructions
Mix all the ingredients together in a mortar and pestle. This will make enough seasoning for 1 dish.
Notes
If you don't have a mortar and pestle, use a small food processor. If you want to make a bigger batch, increase the ingredients proportionately.
Variations
You can increase the cayenne if you want it spicier.
Nutrition
Calories:
11
kcal
Carbohydrates:
2
g
Protein:
0
g
Fat:
0
g
Saturated Fat:
0
g
Polyunsaturated Fat:
0
g
Monounsaturated Fat:
0
g
Cholesterol:
0
mg
Sodium:
1
mg
Potassium:
54
mg
Fiber:
1
g
Sugar:
1
g