Cioppino-Style Shellfish Stew with cod, scallops, shrimp, and clams is based on the venerable San Francisco classic. Serve it with crusty sourdough bread to soak up the delicious soup.
Cioppino-Style Shellfish Stew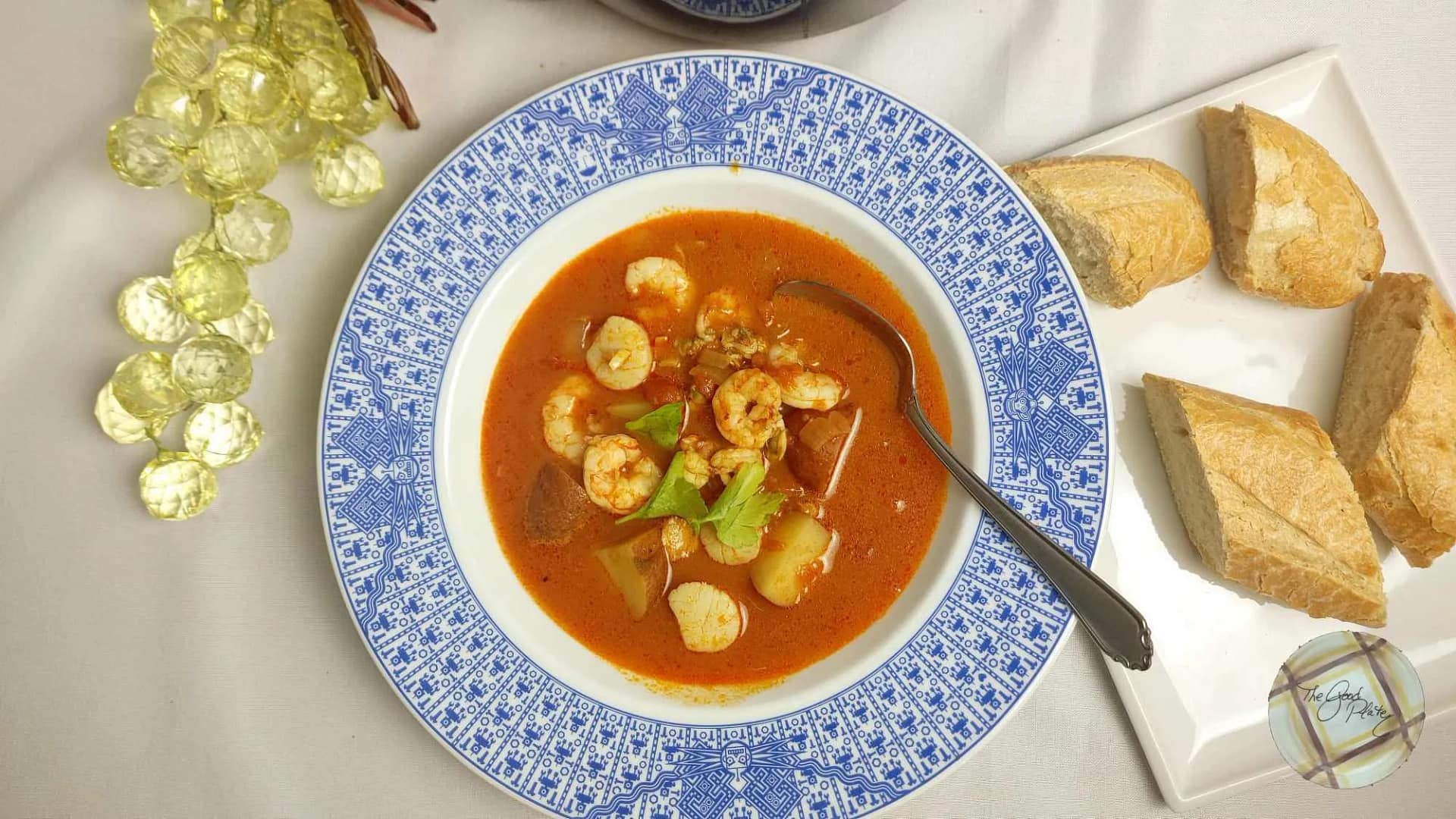 Cioppino-Style Shellfish Stew with cod, scallops, shrimp, and clams is based on the venerable San Francisco classic. Serve it with crusty sourdough bread to soak up the delicious soup. This soup makes an excellent choice for Palm Sunday or Christmas Eve dinner if you want something pescatarian-based.
This soup is based on Cioppino, the famous dish from San Francisco, originating in the late 1800s by Italian immigrants. Many of the fishermen fishing off the wharf were from the port city of Genoa. It was a communal dish. The fishermen who came back empty-handed would walk around with a pot and ask others to contribute whatever they could. Whatever ended up in the pot became their "cioppino". Cioppino comes from the Italian word Ciuppin (also spelled ciupin), a classic soup from the Liguria region. It is similar in flavor to cioppino but with less tomato and uses Mediterranean seafood.
How to Make Cioppino-Style Shellfish Stew
What ended up in this pot was cod, clams, scallops, and shrimp, plus a lobster base for flavor. If you can get fresh seafood, the more the better. However, frozen seafood works very well here, too. You are free to add other seafood if you wish. Crab, mussels, lobster, clams in their shells, etc., would all be very good.
The red baby potatoes are not typical of the traditional stew. Cioppino-Style Fish Stew is also based on an older recipe of mine for Fresh Seafood Stew, which includes potatoes. Cut the potatoes so they are all around the same size and they will be done at the same time.
The soup is traditionally served with warmed sourdough bread to sop up the lovely liquid. If you would rather have rice or pasta, you are more than welcome, but the bread is wonderful for sharing. Cioppino was originally based on sharing, so do use baguettes of sourdough bread, preferably from San Francisco. Essential Baking Company, available from Imperfect Foods, has lovely Fresh Demi Baguettes.
If you have leftovers, you can put them in Souper Cubes, freeze them, and vacuum seal them. The soup freezes very well. Then, you can just pop it into the microwave or on the stovetop to reheat it. Letting your nose smell the ocean as you eat your warm leftover stew is like a mini seaside vacation.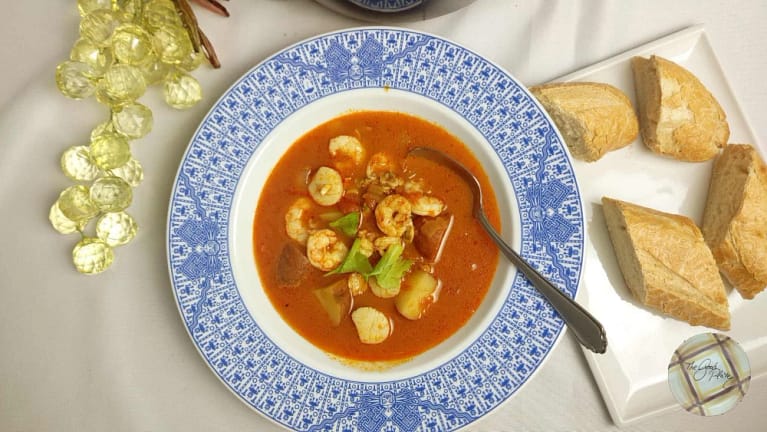 Servings (slide to adjust):
Calories per serving:
304
kcal
Equipment
If you purchase any of the products through these affiliate links, I get a few pennies that help keep The Good Plate open. I use these products myself and want you to be able to easily find them.
Ingredients
¼

cup

olive oil

1

onion

,

chopped

2

cloves

garlic

,

minced

1

teaspoon

fennel seed

½

teaspoon

chili flakes

10

ounce

San Marzano tomatoes

8

ounce

clam juice

1

teaspoon

lobster base

2

cups

water

,

boiling

⅛

teaspoon

saffron

½

teaspoon

Old Bay Seasoning

6

ounce

white wine

¼

teaspoon

black pepper

,

freshly ground

4

ounce

cod

1

pound

baby red potatoes

8

ounce

clams

,

chopped

12

ounce

scallops

16

ounce

shrimp
Ingredients necessary for the recipe step are in italic.
Instructions
When the chopped onion starts to get translucent, you can add the Garlic after stirring it.

1 teaspoon fennel seed,

1/2 teaspoon chili flakes

After that, add the fennel seed, and finally, add the chili flakes. Stir that all around.

1 teaspoon lobster base,

2 cups water

While that is happening, add boiling water to the lobster base and set that aside.

1/2 teaspoon Old Bay Seasoning

Next is the Old Bay seasoning. Add that and stir.

1/4 teaspoon black pepper

Next, freshly ground black pepper.

Let it cook for about half an hour, stirring occasionally.

Next, test the potatoes by inserting a knife in one. If it goes in easily, they are done.

The scallops are cooked when they are 130℉ / 54℃ degrees on an instant-read thermometer.
Notes
This soup is very, very good with some crusty sourdough bread. You can get it at Imperfect Foods. The Essential Baking Co makes Organic French Demi Baguettes which are lovely with this.
Nutrition
Serving:
366
g
Calories:
304
kcal
Carbohydrates:
18
g
Protein:
34
g
Fat:
9
g
Saturated Fat:
1
g
Polyunsaturated Fat:
1
g
Monounsaturated Fat:
5
g
Trans Fat:
0
g
Cholesterol:
132
mg
Sodium:
1334
mg
Potassium:
1004
mg
Fiber:
2
g
Sugar:
1
g