This is my take on a specially brined ham, studded with garlic, which is unbelievably delicious
Garlic Studded Ham with Cherry Glaze in the Nesco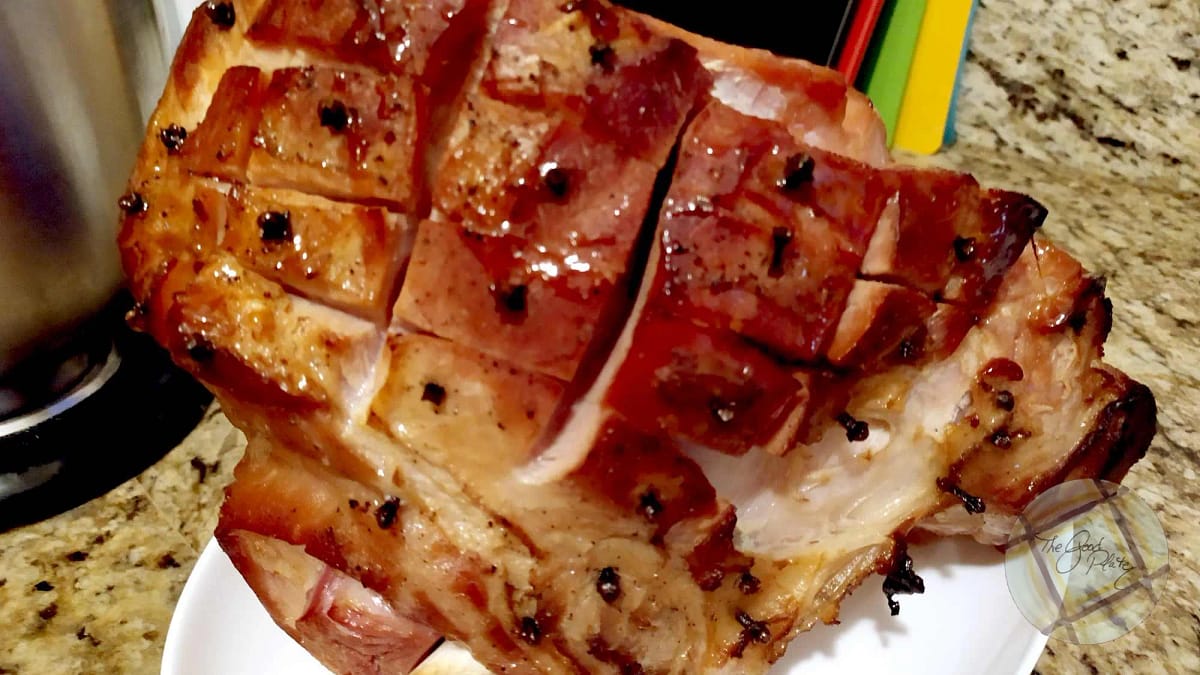 Garlic Studded Ham with Cherry Glaze in the Nesco is my take on the wonderful specialty ham studded with garlic with a peppery bite to it. If you have not had it, I encourage you to find it and have it. In the meantime, please make this and wow your family and friends. Once you have had this style of ham, you won't go back.  Roasting it in a Nesco electric roaster makes it even easier without drying out.

I have been making sour cherry and Philippe's mustard glaze for ham for years.  This year, however, I had some leftover maraschino cherry juice.  The wonderful folks at King Arthur Flour have a method to make glace cherries out of regular maraschino cherries.  It's really simple, and only uses a portion of the juice that's in the jar, so there's leftover. I don't like throwing away leftovers, especially something as tasty as that. So, I was knocking my head thinking of what to do with it – after all, there are only so many Shirley Temples a person can drink. Then, I thought, why not use it for glaze for my ham.
No Philippe's Mustard for Garlic Style Ham with Cherry Glaze in the Nesco?  No Problem.
If you have never had Philippe's mustard, it's very strong.  It's my favorite for ham and cheese sandwiches. It will remind you of spicy Chinese mustard, the kind that clears your sinuses so well. If you can't find it, or you run out as I did, you can use a good Dijon mustard, a little dry mustard, and a bit of horseradish to give it a kick. It's what really brings out this Moscow-style ham with maraschino cherry glaze.
I made this ham in my trusty Nesco roaster. It's a good thing that I did that because one of my guests needed to leave a lot earlier than expected and I didn't want them to go home empty-handed. Luckily, the Nesco electric roaster cooks foods in a third less time than a conventional oven – and keeps foods moist as well. I didn't realize that when I made the Cola Ham a few years ago – lesson learned – this ham, as you can see, turned out perfect.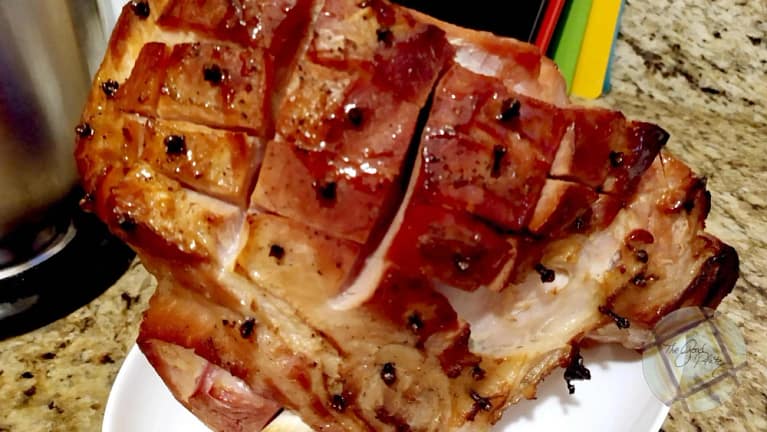 Servings (slide to adjust):
Calories per serving:
224
kcal
If you purchase any of the products through these affiliate links, I get a few pennies that help keep The Good Plate open. I use these products myself and want you to be able to easily find them.
Ingredients
1

bone-in half ham

¼

cup

Cloves

,

whole
### For the Glaze ###
2

tbsp

Maraschino cherry juice

½

cup

Brown sugar

1

tsp

dry mustard

2

tbsp

Dijon Mustard

1

tsp

Horseradish

black pepper

,

Freshly ground
### For the Pan ###
½

cup

Maraschino cherry juice

1

bay leaf

1

clove

garlic

,

sliced

2

cups

water
Ingredients necessary for the recipe step are in italic.
Instructions
2 tbsp Maraschino cherry juice,

1/2 cup Brown sugar,

1 tsp dry mustard,

2 tbsp Dijon Mustard,

1 tsp Horseradish

Combine glaze ingredients and stir well.

Preheat the roaster oven to 325.

Place rack in roaster. Place ham on the rack. Score ham on the back and on the front.

Stud ham with cloves in an interesting pattern, back only. You will have cloves leftover. Set them aside.

Slice the garlic and put it into some of the slits you created when you scored the ham, front only. You will have garlic slices leftover. Set them aside.

1/2 cup Maraschino cherry juice,

2 cups water,

1 bay leaf

Pour the remaining cherry juice, water, leftover cloves, leftover garlic slices, and bay leaf in the well of the Nesco.

Place cover on roaster and bake covered for an hour or until meat reaches 135.
Notes
Be generous with the black pepper.
Nutrition
Calories:
224
kcal
Carbohydrates:
7
g
Protein:
13
g
Fat:
13
g
Saturated Fat:
5
g
Polyunsaturated Fat:
1
g
Monounsaturated Fat:
6
g
Cholesterol:
39
mg
Sodium:
923
mg
Potassium:
260
mg
Fiber:
1
g
Sugar:
11
g