This Nesco Honey Baked Cola Ham is simple and flavorful. The ham stays moist because it is in the Nesco, and absorbs the sweetness of the cola.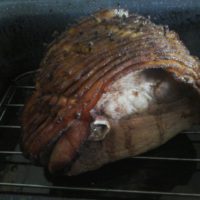 Last Updated on September 29, 2019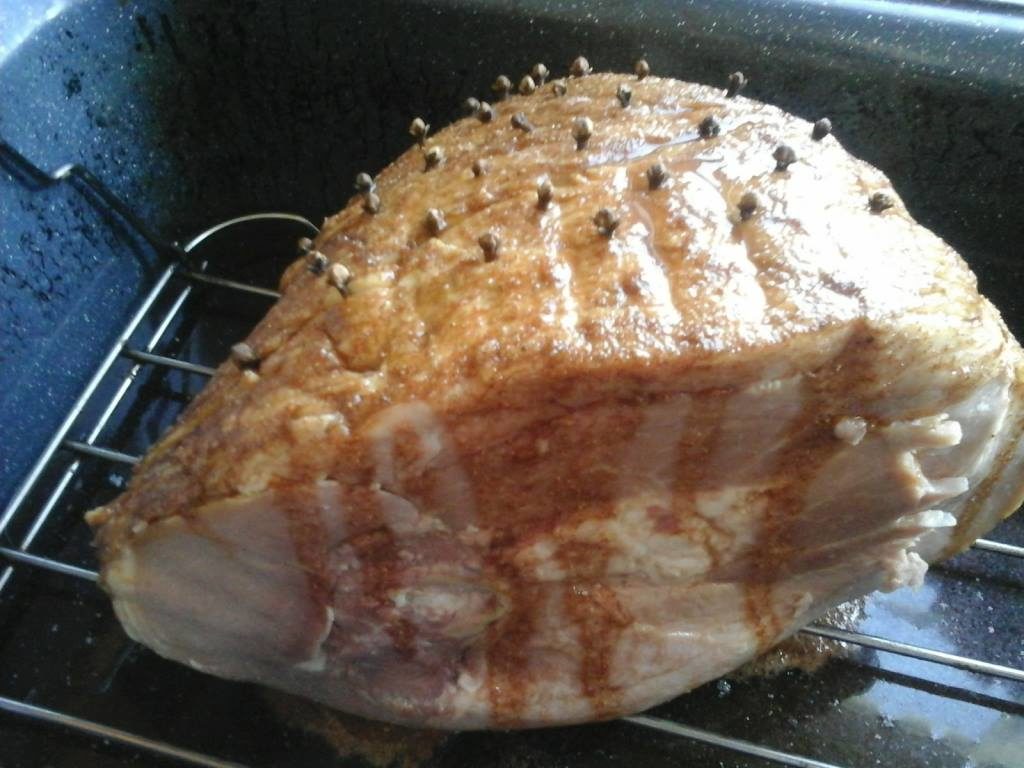 The Nesco makes a great Honey Baked ham, whether you're just warming one up from their store, or making your own. I hope you'll try my Nesco Honey Baked Cola ham.
Merry Christmas to all! I make a ham on Christmas so I can have Hoppin' John on New Year's Day. I also like to make quiche and or save the bone for pea soup.
No one can stand a ham that is all dried out. Thank goodness for the Nesco which keeps your ham nice and moist. I had heard that Coke-a-cola made for a really moist ham, so I decided to try it. Who doesn't like Honey Baked ham glaze? I wanted to make a glaze with similar properties, and I was able to do that with the help of a little coffee. Yes, coffee!
Ham Cooking Chart
Be mindful of cooking times with your ham.  An overcooked ham, even in a Nesco will be dried out and not very appealing.  For best results, use an instant-read thermometer and put it in the thickest part of the ham not touching the bone.
Remember the Nesco cooks 30% faster than a conventional oven
Reheat cooked hams packaged in USDA-inspected plants to 140F/60C and all others to 165F/73C
Type
Pounds
Minutes per Pound
Nesco
Resource: USDA Food Safety
Whole, bone-in
10 to 14
18 to 20
13 to 14
Half, bone-in
5 to 7
22 to 25
15 to 18
Spiral cut, whole or half
7 to 9
10 to 18
7 to 13
Freshly grated nutmeg is preferred and you will be glad you have it for many other dishes.  I can't recommend Penzey's whole nutmeg more.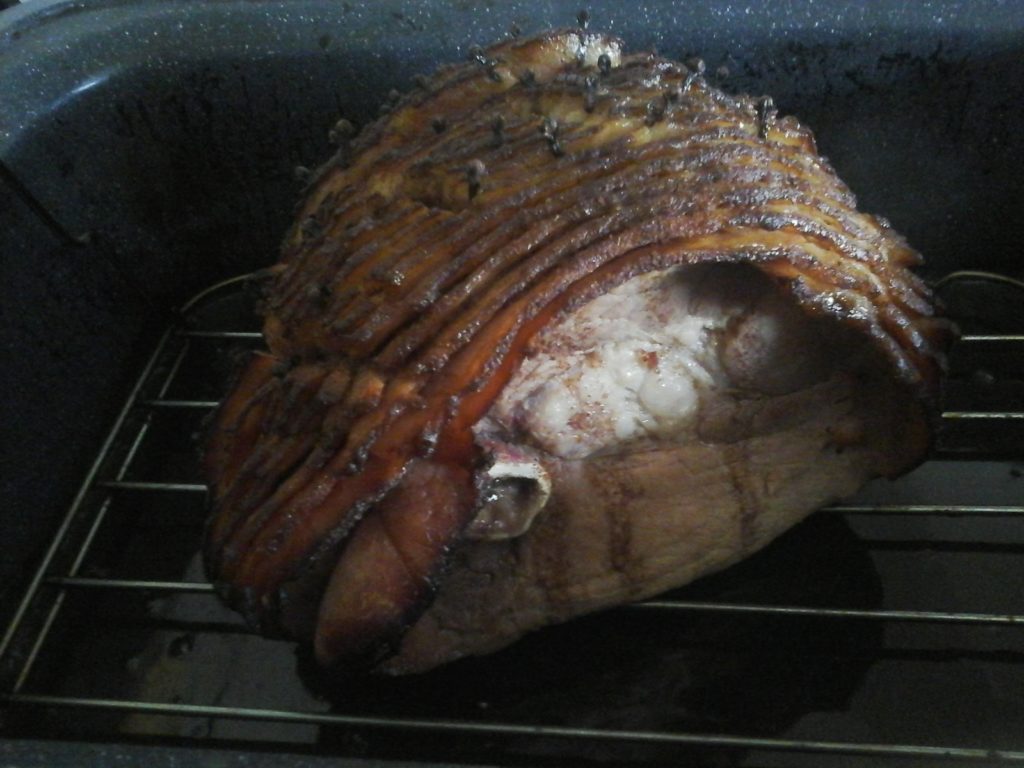 Servings (slide to adjust):
servings
Ingredients
-- Glaze --
1

tablespoon

Onion powder

1

tablespoon

Nutmeg

1

tablespoon

Cinnamon

½

tablespoon

ground ginger

½

tablespoon

Mace

½

tablespoon

Paprika

½

tablespoon

Dry mustard

2

tablespoon

dark corn syrup

6

tablespoon

Sugar

2

tablespoon

Water

1

tablespoon

Coffee strong
-- Ham --
2

bottles

Coke

,

1000 milliliters

2

tablespoon

whole clove

10

pounds

Ham sliced

,

bone-in
Ingredients necessary for the recipe step are in italic.
Instructions
Mix all the ingredients for the glaze together and set aside.

Remove the well from the Nesco. Have the rack inside the well. Heat the Nesco unit to 350.

Remove the ham from its packaging and place it fat side up on the rack in the Nesco well.

Score the ham in a diamond pattern on the top of the ham. Use your fingers to spread the slices a little bit, then pour both bottles of coke over the ham.

Spoon some of the glaze on the ham, then stud with the cloves in a nice pattern.

Put the well into the Nesco, cover and bake until the ham reaches 160 on an instant-read thermometer. Occasionally, spoon glaze on the ham.

When the ham has reached the proper temperature, raise the heat on the Nesco as high as it will go, 450, and bake the ham for 5 minutes, being careful it does not burn. The glaze should crinkle up. Turn the Nesco off.

Remove from the well, allow to rest for 10 minutes, and serve.
Notes
Watch the ham carefully so it does not burn!  Please see the above chart for suggested cooking times.
Nutrition
Nutrition Facts
Nesco Honey Baked Cola Ham
Amount Per Serving
Calories 326
Calories from Fat 54
% Daily Value*
Fat 6g9%
Sodium 2046mg89%
Carbohydrates 29g10%
Protein 41g82%
* Percent Daily Values are based on a 2000 calorie diet.