Your Instant Pot makes this rich and creamy risotto with chicken, gorgonzola, and pistachios in about 15 minutes.
Risotto with Gorgonzola and Pistachios in the Instant Pot
Your Instant Pot makes this rich and creamy risotto with chicken, gorgonzola, and pistachios in about 15 minutes.
Risotto with Gorgonzola and Pistachios is a reworking of a dish that I like to make for company and special occasions. Using arborio rice and cooking it in the Instant Pot makes short work of something that used to take more time. The original recipe, Chicken with Gorgonzola and Pistachios, is cream-based and served over noodles.
Chicken with Gorgonzola and Pistachios
Sauted chicken in a creamy sauce with Gorgonzola cheese and pistachio nuts.
My good friend, Chef John Farion CWC, gave me the original recipe. John was of Ukranian descent. As I was researching April Fool's Day, I found out that the day is an official city holiday that is celebrated with a festival in Odessa, Ukraine. Considering that John was Ukrainian and he gave me the original recipe, I couldn't think of a better way to honor him. I know somewhere in heaven, he's licking his lips.
Why Use an Instant Pot?
There are a lot of things that an Instant Pot does very well, and risotto is one of them. If you are on the fence about getting one and you like risotto, this is a very good reason to get one. When you make rice in a conventional pot on the stove, you have to add almost five times the amount of liquid because arborio rice absorbs more than long grain rice. Because the Instant Pot is a closed system, no moisture escapes which means less liquid and no babysitting!
About that Gorgonzola
Gorgonzola is an Italian cheese very similar to blue cheese. It has a milder flavor. If you cannot find it, you can substitute blue cheese, as I do in the original recipe above. I would not recommend Roquefort, however, because it would be too strong.
What Kind of Wine?
The wine used for this dish should be a dry white wine. I recommend Chardonnay, Sauvignon Blanc, Pinot Gris, or Chenin Blanc. Use whichever dry white wine you like to drink.
What about Nut Allergens?
The pistachios in this dish add a lot of flavor. If you or a guest are allergic to nuts, then don't include them while preparing the dish. Serve them as a side for those who want to partake.
What to Serve with this
It's a rich and creamy dish so you would want a simple vegetable. I think that steamed green beans, carrots, broccoli, or brussels sprouts make an excellent side dish. Just steam the vegetable and add a little butter and salt before serving. Of course, white wine, whichever one you used to make the risotto.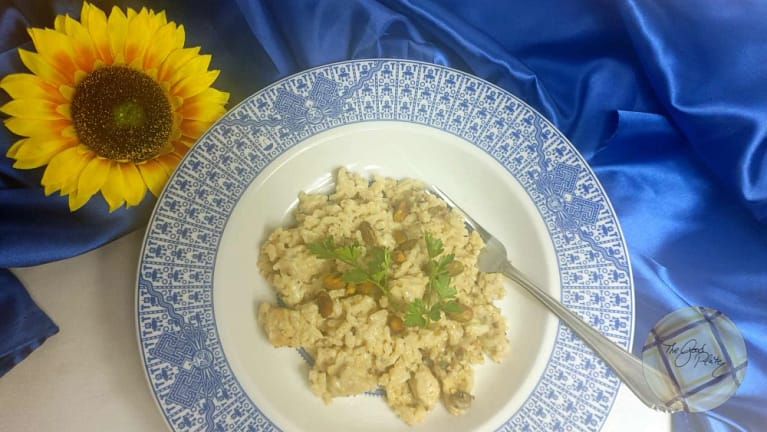 Servings (slide to adjust):
Calories per serving:
510
kcal
Ingredients
1

pound

chicken breast

,

cut into one-inch pieces

¼

cup

pistachios

,

shelled

2

tablespoon

butter

½

cup

onion

,

chopped

1

tablespoon

shallot,

minced

1

cup

mushroom

,

sliced

1

tablespoon

white wine

1

tablespoon

butter

1

cup

Arborio rice

¼

cup

white wine

1 ¼

cup

water

,

boiling

1

teaspoon

chicken base

2

tablespoon

gorgonzola

,

crumbled

¼

cup

cream
Ingredients necessary for the recipe step are in italic.
Instructions
Put the pistachios in a small saute pan and roast them on the stovetop until they are fragrant are starting to brown. Remove them from the heat. Reserve 6 to 8 pistachios and chop the remainder in a food chopper into rice size pieces. Don't turn them into powder.

1 teaspoon chicken base,

1 1/4 cup water

Put the chicken base in a heatproof measuring cup and add a cup and a quarter of boiling water. Stir to create the broth and set it aside.

If you have an Instant Pot that has a removable inner pot that can go on the stovetop, then put the inner pot on the stovetop, Otherwise, press the Saute and On button. Put a pat of butter in the pot. Let the butter melt.

Add the shallots. I used Penzey's freeze-dried shallots, but you are welcome to use fresh shallots if you have them on hand.

Add a tablespoon of white wine and saute the mixture.

Push the vegetables to the side and add the chicken.

Saute the chicken so that all sides get a bit cooked. They do not have to be completely cooked because they will be cooked under pressure.

Add the rice and saute it so it gets thoroughly coated.

Remove the pot from the heat or turn off the Instant Pot.

Return the inner pot to the Instant Pot and cover it.

Set the Instant Pot to Pasta/Rice and choose Risotto. If your Instant Pot doesn't have that setting, then set it to 8 minutes on high.

Use natural release which will allow the rice to absorb any remaining liquid.
Notes
Since this is a high-calorie dish, serve it with steamed vegetables like green beans, carrots, broccoli, or Brussels sprouts.
Nutrition
Serving:
334
g
Calories:
510
kcal
Carbohydrates:
45
g
Protein:
35
g
Fat:
19
g
Saturated Fat:
10
g
Polyunsaturated Fat:
2
g
Monounsaturated Fat:
6
g
Cholesterol:
106
mg
Sodium:
320
mg
Potassium:
605
mg
Fiber:
2
g
Sugar:
2
g