I actually prefer this with good Danish blue cheese, but you can use gorgonzola if you like.
Chicken with Gorgonzola and Pistachios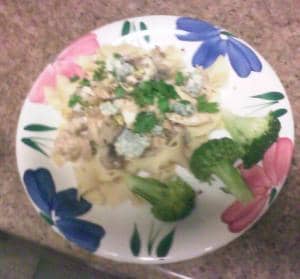 Jump to Recipe
Chicken with Gorgonzola and Pistachios was a dish that Chef John Farion made for me a long, long time ago. He was the chef at Bird's restaurant in Hollywood and had gotten the recipe from a chef he was working under when he was sous chef at the Hilton.  Sadly, we lost Chef John in 2017 at Thanksgiving.
I have made this several times. I consider it a real treat, something I make for company, or I make for people I really care about. It isn't really that time consuming, but it is a little expensive.
The recipe calls for Gorgonzola, which is a blue-veined Italian cheese. If you cannot find Gorgonzola or do not want to pay the steep price for it, you can substitute a good blue cheese. Don't try to use the already crumbled blue cheese, it is dried out, has no flavor, and is usually expensive.
It goes best with the wonderful Pennsylvania Dutch Egg Noodles, as the sauce coats each noodle delicately and the noodles hug the pieces of chicken. Yum!
If you are afraid that your guests will not like the blue cheese – yes, there really are some people who find it too strong and strange – you can add the cheese as a garnish for the people who do want the blue cheese flavor.
I made this tonight with broccoli and served it with a bottle of Two Buck Chuck. My friend, Amber, and her husband Stevie, just loved it. Spane has had it many times, and even Amber's persnickety son wanted some.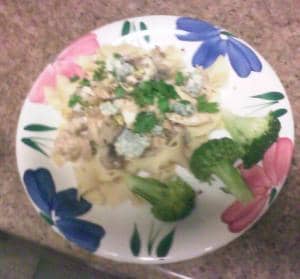 Servings (slide to adjust):
servings
Calories per serving:
611
kcal
If you purchase any of the products through these affiliate links, I get a few pennies that help keep The Good Plate open. I use these products myself and want you to be able to easily find them.
Ingredients
2

Chicken breasts Boned

1

cup

mushrooms

,

sliced

¼

cup

Gorgonzola Cheese

1

Garlic Clove

½

cup

Dry White Wine

½

cup

Heavy Cream

½

cup

Pistachio Nuts

Black Pepper

,

Freshly Ground

Wide Noodles

,

Pennsylvania Dutch Egg Noodles are best
Ingredients necessary for the recipe step are in italic.
Instructions
Shell the pistachio nuts. Heat a pan and toast the nuts in it, stirring often to prevent burning. Chop into a coarse chop and set aside.

Cut the chicken into one-inch pieces and set aside. Put the butter into a saute pan, melt, then add garlic. Saute until translucent, then add mushrooms. Saute mushrooms and add about a tablespoon of white wine. Cook the mushrooms until they brown, then remove from the pan and set aside.

Boil a large pot of water and add salt. Add pasta.

Put more butter into the saute pan, then add chicken pieces. Saute on high heat until they are browned nicely on all sides. Remove from the pan, and deglaze with wine. Cook the wine down, then put the chicken back. Add the cream, and cook down until the cream has thickened. Add half of the nuts, leaving the rest for garnish. If you do not have anyone that is averse to blue cheese, add the cheese at this point. Then add the mushrooms. Just before serving, crack black peppercorns over.

Cook the pasta until it is al dente. If it reaches that stage before the chicken is done, turn the heat off. Drain the pasta in a colander and start to plate-up.

Put pasta, then serve chicken and sauce over the pasta. Top with cheese if you have not added it to the sauce, then garnish with remaining nuts and chopped Italian parsley.
Notes
If you can't get Gorgonzola, you can substitute a good Danish Blue Cheese instead.
Nutrition
Calories:
611
kcal
Carbohydrates:
38
g
Protein:
35
g
Fat:
36
g
Saturated Fat:
15
g
Polyunsaturated Fat:
6
g
Monounsaturated Fat:
14
g
Cholesterol:
139
mg
Sodium:
467
mg
Potassium:
751
mg
Fiber:
4
g
Sugar:
3
g
This recipe is available for download at BigOven.
Enjoy!