Bonnie and Charley took Spane and me out to the movies on Saturday night, November 20, 2010, to see Megamind and have dinner at Olive Garden.  Olive Garden's wait was an hour and a half!  So, we decided to go to Outback instead.  It was a fine dinner, much better than I think Olive Garden would have been.  But, we did not get home until after 10 pm, so doing any of the dishes mentioned in the Spane's Birthday – The Prep was impossible.  How in the world was I going to have everything cooked and ready to go by 2:00 pm when the party was supposed to start?
Lotus Organizer to the rescue – thank you forever, Adel, for hammering this into my head.  I sat down Saturday night and planned the schedule for the next morning.  It was tight, and below is a picture of my schedule: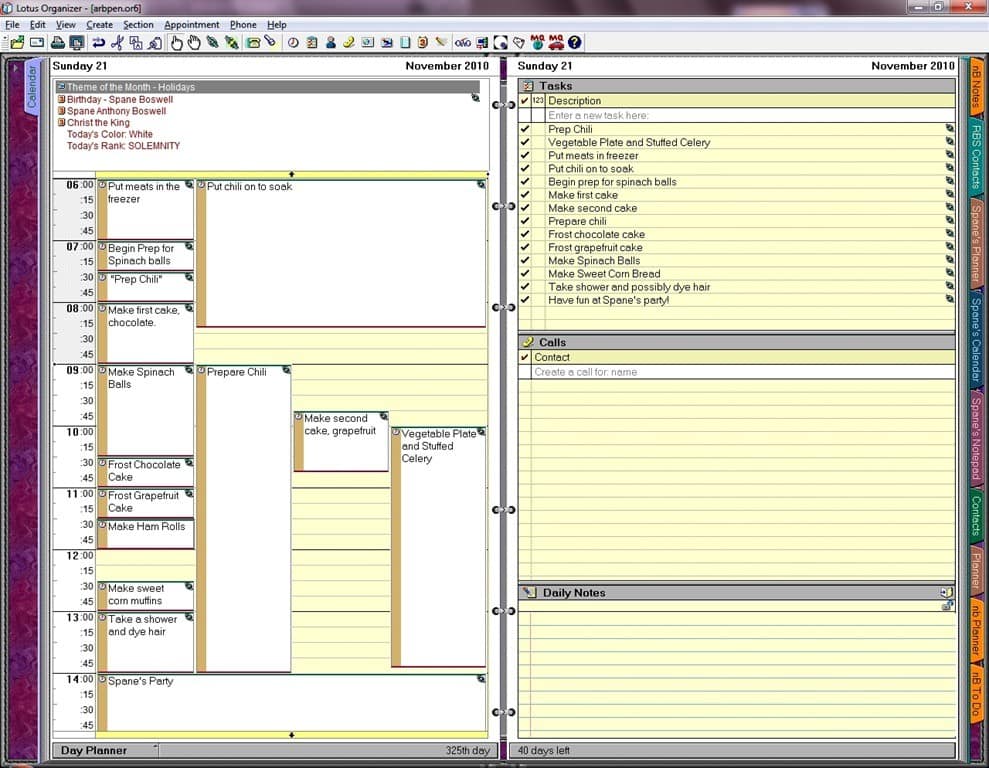 5:45 – Get up
I got up at 5:45 and got going on the schedule.  The first thing was to put the beans on for its soak.  Wait! Not soak beans overnight?  According to the U.S. Dry Bean Council
Preferred Hot Soak and Quick Soak Methods — Hot soaking helps dissolve some of the gas-causing substances, making the beans easier to digest. For each pound beans, add 10 cups hot water; heat to boiling and let boil 2 to 3 minutes. Remove from heat, cover and set aside for at least one hour (Quick Soak), or up to 4 hours (Hot Soak).
I also removed the chili grind beef from the freezer and put the stew meat and pork chops in the freezer so they would be easier to chop up later.  Partially frozen meat cuts a lot better.  It only has to be in the freezer for about an hour or so.
The next thing I did was pour myself a cup of coffee left over from the day before.  Yes, I drink leftover coffee.  Coffee does not spoil for a long time – it's too acidic.
When the coffee had woken me up a little, I floundered around until I found my glasses.  I'm not sure how I got the stuff done before I had my glasses on, but I did.
7:00 – Begin Prep for Spinach Balls
Chopping onions for the Spinach Balls and Chili.  Amber started working on the tablescape – this birthday's theme – Thomas the Tank Engine.
7:30 – Prepare Chili
The meats were sufficiently hard to cut up.  I cut up the beef stewing meat and the pork chops.
8:00 – Make first cake – Chocolate Cake with Mocha Frosting
Had all the ingredients together, mixed the cake and put it in the oven to bake.  Ezekiel got the bowl.
8:30 – Make Spinach Balls
Asked the children if they wanted to help me make the Spinach Balls. Ezekiel and Spane were my biggest helpers.  Noelle said she didn't like the way they felt, so she just made a small one.
9:00 – Put on Chili and Spinach Balls
Sautéed onions in bacon fat, and added chili mix, meats, soaked beans, and water.  Removed the first cake from the oven and set to cool.  Put spinach balls in the oven.
Ingredients
Bag Dried New Mexico chili
Bag Dried Pasilla chili
Bag Dried California chili
Bag Dried Cumin
Be careful doing this.  Those chili pack a punch.  As the cook, you will be fine, but it's a good idea to tell anyone downwind to leave for about 20 minutes.  I didn't realize that until it was too late, and Amber and the kids' eyes were watering and choking from the cooking dried chilies.
9:30  – Make second cake – Grapefruit Birthday Cake
Amber did not have a springform pan, so I just put the eggs in like I would a regular cake.  Mistake!  There was hardly any batter to split between the two pans, so we had very short layers for that cake.
10:00 – Make the vegetable plate and Stuffed Celery
I cut the mushrooms in half and the celery sticks in quarters.  I had purchased mini carrots, and they were perfect.
The stuffed celery was a recipe from Saveur magazine, originally from my favorite restaurant, Musso and Frank in Hollywood.
10:30 – Frost Chocolate Cake
I love this frosting.  It's so easy, and I found out it comes out better using a whisk than using a beater!  When I went to remove the wax paper from the bottom of the plate, the cake was so moist it broke apart!  Chocolate Jimmies to the rescue, though.  Spane thought it would look great with an invitation stuck in the top.  He was right!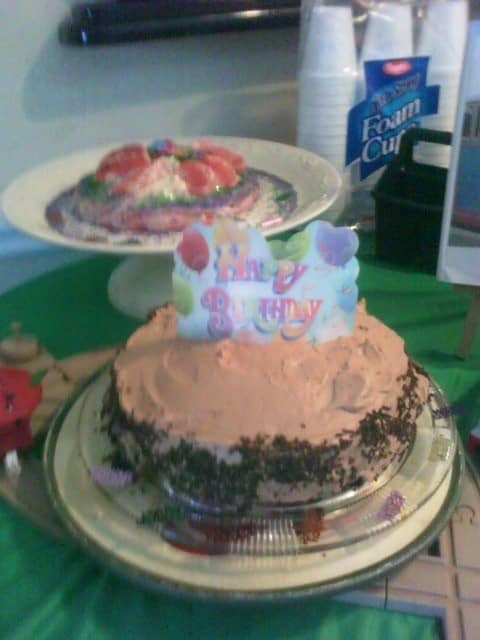 11:00 – Frost Grapefruit Cake
Even though the layers were short, the cake turned out lovely.  I used a lot of the frosting for filling, put grapefruit sections on top, and decorated the plate with purple and green sugars.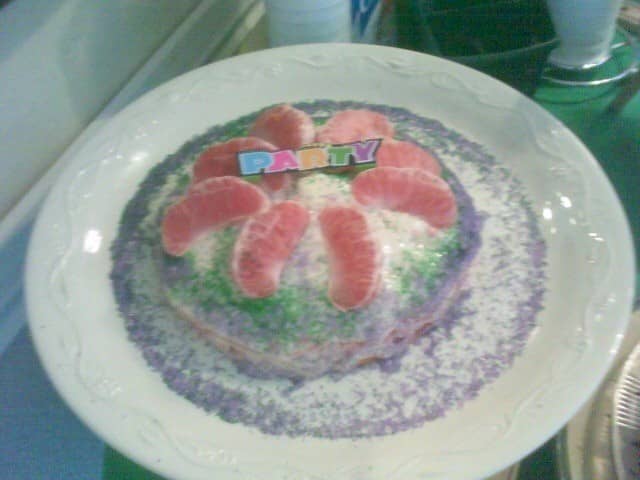 11:30 – Make Ham Rolls
I made the ham rolls and put them on a plate garnished with parsley,  Then we put a bowl of ripe olives in the middle for those who were a little afraid of the spiciness.
YouTube Video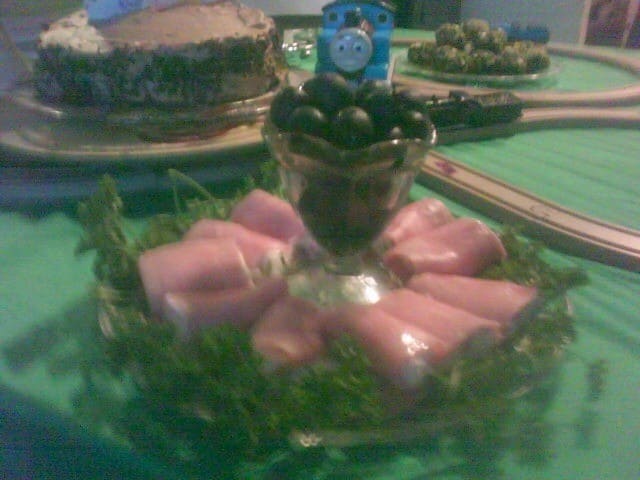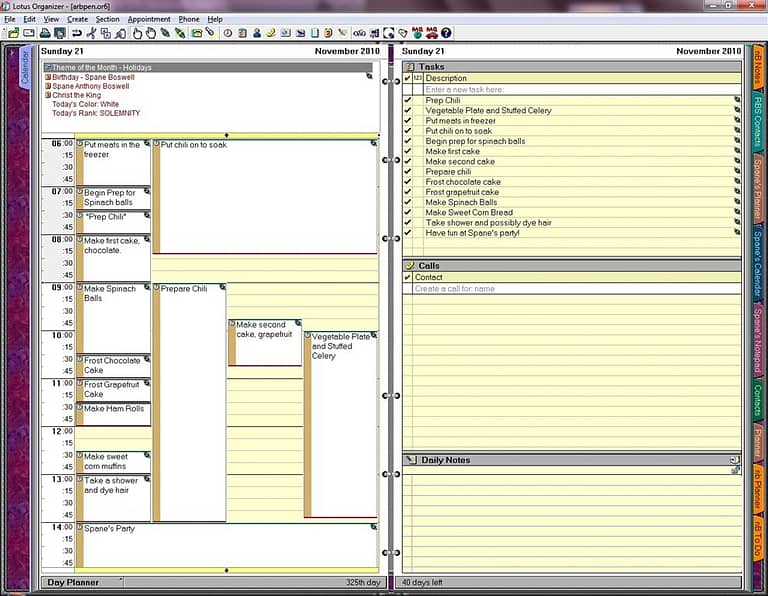 Servings (slide to adjust):
servings
If you purchase any of the products through these affiliate links, I get a few pennies that help keep The Good Plate open. I use these products myself and want you to be able to easily find them.
Ingredients
1

package cream cheese

1

package of 8 slices of smoked ham

,

not honey ham

1

can chopped jalapeños
Ingredients necessary for the recipe step are in italic.
Instructions
Bring the cream cheese to room temperature. Knead it while still in its pouch to make it more malleable.

Mix the jalapeños and cream cheese together.

Put some of the cream cheese mixtures on the top of a slice of ham.

Roll the slice of ham away from you.

Cut the ham roll in three and put on a nice platter. Do this with the remaining cheese and ham.
Notes
Quick notes
You can use fresh peppers, but the canned ones are more convenient.
12:00 – Take a shower and dye hair
Well, I didn't have time to dye my hair, but I did have time to take a shower and get dressed.
12:30 – Make Sweet Corn Bread
Usually, I make muffins, but running out of time by now, it was regular cornbread.  Yum!
1:00 – Final Tablescape
The kids did a great job helping Amber put up her wonderful idea for a tablescape.  The theme was Thomas the Tank Engine, as Spane really loves trains.  She used his plastic train tracks from child care that Maria Torres had given us years ago, and placed trains along the tracks.  She also put up a picture of Thomas on an easel on the table.
Noelle put on her party wig, and she and Spane took a picture by the lovely table.
1:30 – Spane takes his shower
Spane just did not look right for his party, so I asked his father, Douglas, to get him some clothes and supervise him while he took a shower.  He was ready just in time for the party.
2:00 – Party starts – RIGHT ON TIME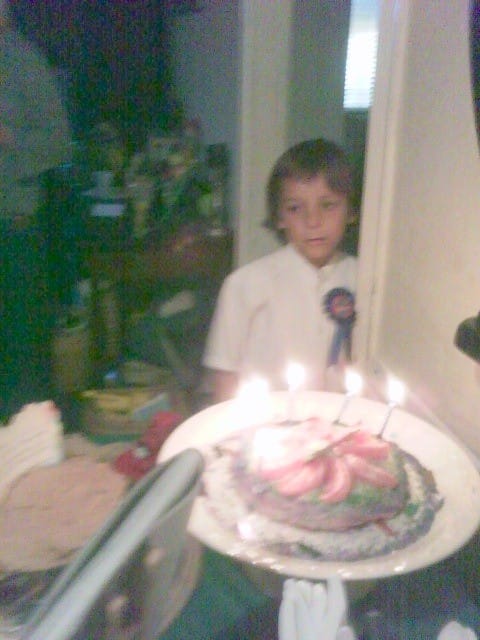 The party was a big success.  Spane got a bike from his father, a bear from Amber, a book from Noelle, Play Dough from Lillian, a puzzle from the BVM Sisters, a book from Laura, and Dreambox from me.
Check out the photos on Spane's 7th Birthday Party Album.