Gambas Al Ajillo - Barbecued Chili Garlic Shrimp is a great appetizer or main dish with a big salad.
Gambas Al Ajillo - Barbecued Chili Garlic Shrimp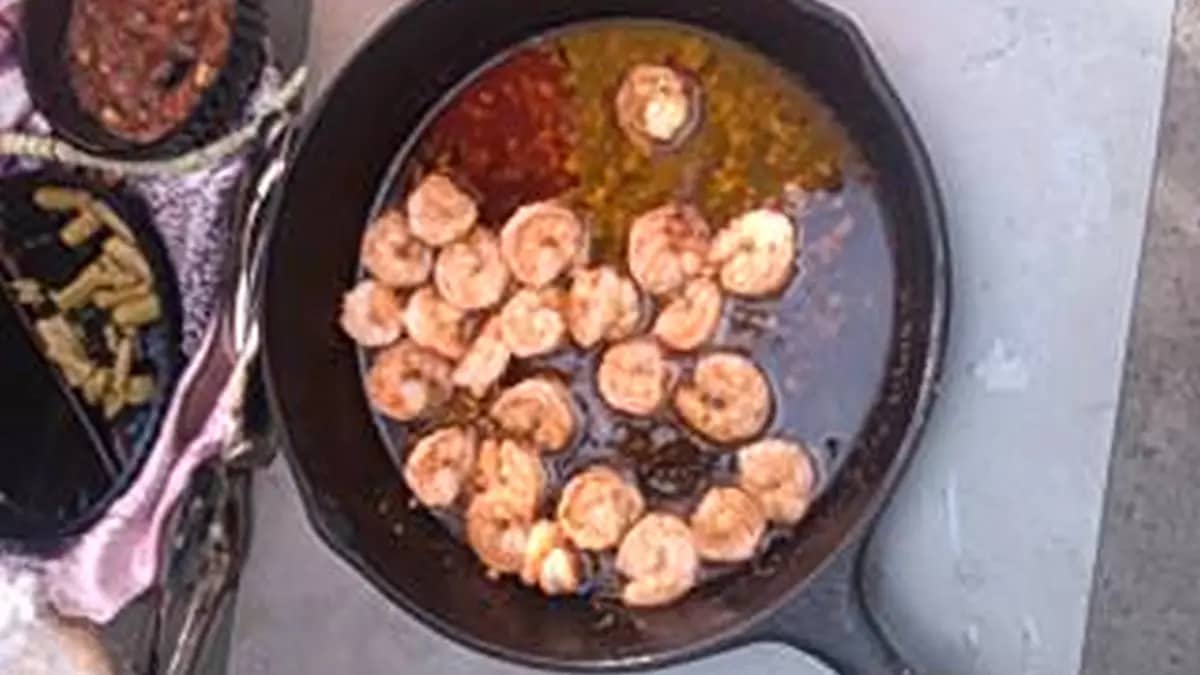 Barbecued chili garlic shrimp makes an excellent appetizer or main dish with salad. Something different to put on the grill or even on the stovetop. 
I subscribed to Saveur Magazine's digital edition and was thrilled to find this recipe in their June/July edition. I adapted it to the ingredients I had available, and it was fantastic.
When I made this for a Memorial Day party, which was gobbled up like crazy. It's one of the easiest appetizers you can make.  
Garlic
If you like a lot of garlic, you will love this.  If you haven't seen the trick to peel garlic, it's very simple.  Using two metal bowls, put the garlic in one, turn the other upside down, and cover the first, then shake like mad for a minute or so.  When you remove the top bowl, all the garlic inside will be peeled.  The larger the bowl, the more garlic you can peel.
Did you know that the smaller the piece of garlic, the more potent it is?  When you use a garlic press, the garlic is very strong.  Personally, I prefer chopping or even slicing garlic because, for me using a garlic press often produces bitter garlic.  The best way to chop garlic is to smash it first with the flat of a large knife.  Having flatter pieces makes chopping a lot easier.
Chili
Use can use just about any chili you like in this dish.  I used chipotle powder because that was what I had on hand that day.  But you could use any chili you like or have on hand.  You make the choice of how hot you would like it.  Choose the chili depending on your or your guests' heat tolerance.
For very hot, use a habanero
For medium hot, a jalapeno will be fine
For mild, a pasilla or poblano would be fine.
Cast Iron Skillet
If you use a grill, you use a pan that will not be damaged by the heat of the grill.  Although you are using the Indirect Method, I would not advise using pretty stainless steel because it might stain it. Cast iron, however, is already black and retains heat well. It will keep the dish warm after being taken off the grill.
If you are using the stovetop for this, cast iron is still a better choice because it retains heat. It can go from oven to table.
What to Serve with Barbecued Chili Garlic Shrimp
You can serve this as an appetizer, and since you have the grill already going, you could serve BBQ Chips, Pub Burgers, or even a Highway Chicken.

Hamburger Steak Stuffed with Blue Cheese
Hamburger steak stuffed with blue cheese and accompanied by frites with a pan reduction sauce is a European favorite on your table.
This dish would also be fine as a main dish served with Tomato Rice Pilaf, salad and white wine.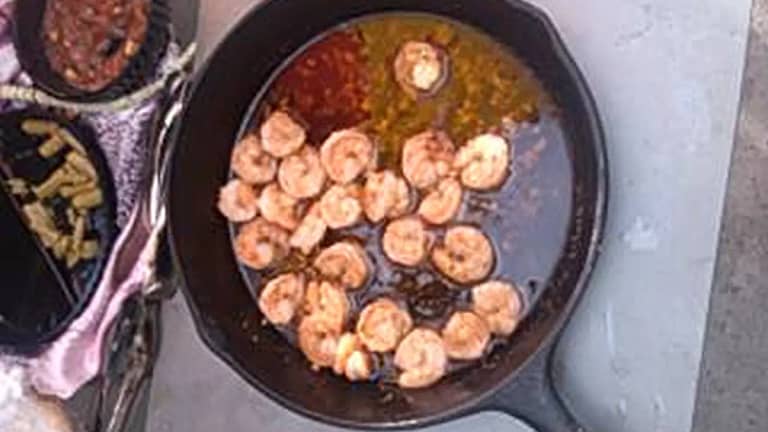 Servings (slide to adjust):
servings
Calories per serving:
407
kcal
Equipment
Ingredients
¾

cup

olive oil

10

cloves

garlic

,

finely chopped

1

tablespoon

Chipotle powder

1 1./2

lb.

raw medium shrimp

,

peeled and deveined, tails removed

Sea salt

Freshly ground black pepper

,

to taste

2

tbsp.

roughly chopped parsley

,

for garnish

Rustic country bread

,

for serving
Ingredients necessary for the recipe step are in italic.
Instructions
Heat a grill set up for the Indirect Method, keeping one side of the grill without coals.

Heat a cast-iron skillet on the grill until hot.

3/4 cup olive oil,

10 cloves garlic,

1 tablespoon Chipotle powder

Add oil, garlic, and chili.

Cook, stirring occasionally, until garlic is golden, 3-5 minutes.

1 1./2 lb. raw medium shrimp,

Sea salt,

Freshly ground black pepper

Add shrimp, salt, and pepper.

Stir to coat in hot oil, and cook until shrimp are pink and cooked through, 2-3 minutes more.

If the outside starts to burn before the shrimp are fully cooked, move the pan to the cooler side of the grill until done.

2 tbsp. roughly chopped parsley,

Rustic country bread

Stir in parsley and serve with bread on the side for dipping.
Notes
Quick notes
The original recipe is at Saveur, but differs only in the type of chili used.
Nutrition
Serving:
1
g
Calories:
407
kcal
Carbohydrates:
4
g
Protein:
7
g
Fat:
41
g
Saturated Fat:
6
g
Polyunsaturated Fat:
4
g
Trans Fat:
30
g
Cholesterol:
46
mg
Sodium:
163
mg
Fiber:
1
g
Sugar:
0
g
I will admit I have been remiss in not sharing this recipe earlier. As I was going through photos that my friend sent me from Memorial Day, I happened upon this one and forgot that I had never shared this with any of you. This dish is so simple, great as an appetizer, or you could have it with rice and something green as a main dish. I actually made this on my Weber, but you could also make it on the stovetop.