Recipe: Cheesecake Stuffed Chocolate Dipped Strawberries
Strawberry Torpedoes - Balsamic Infused Mocha Stuffed Strawberries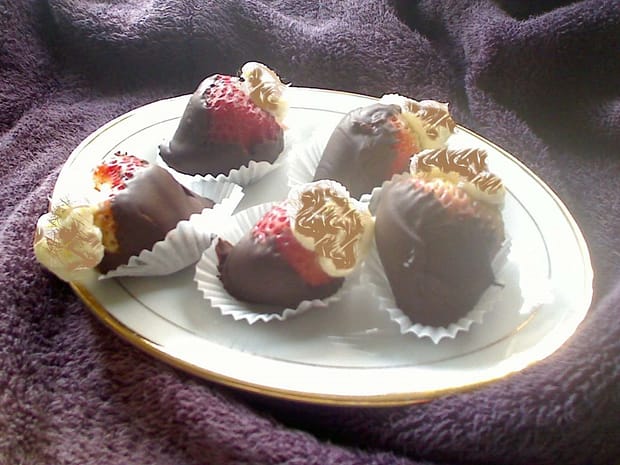 I recently joined a great MeetUp, Entrepreneurs Professionals Glendale, and wanted to bring something nice for everyone to share. One of the members, Aron Ganz of Ganz Media gave the berries their name, Strawberry Torpedoes, a much shorter name, and I am grateful for that!
This is a group of entrepreneurs and professionals, who own small to medium businesses. We are not drones of the corporate world, and realize that even though being self-employed has its difficulties, it has huge rewards. Our group, led by Lynn Sarkany of MarketFinders, meets to exchange ideas to help our businesses, share stories, and network with each other. If you are a like-minded individual, you might consider joining us. Please visit Entrepreneurs and Professionals to find out more.
I had recently found a whole bunch of baking chocolate on sale, had some strawberries and a package of cream cheese. But, instead of making the Cheesecake Stuffed Chocolate Dipped Strawberries that I made last time, I thought I would add a little more adult flavor to the dish.
I added cocoa, coffee, vanilla, almond and cinnamon to the cream cheese filling, and I injected the berries with balsamic vinegar. When you bite into these berries, they explode flavor into your mouth.
Chocolate Warning!
If you are going to make these, you might want to do it soon, as because of Africa's cocoa shortfall, the price of chocolate is going to really go up. Hopefully, you will be lucky like I was and find a bunch of it on sale.
Making the Injection
You need some sort of flavor injector to do this. They look like very large needles, and actually frightened my son when he was younger. He was scared he was going to get a shot! I highly recommend getting a good one, as you will use it to inject marinade in meats, flavor into your poultry, and things like this. You can find them at any good cookware shop, and sometimes you can find them at the grocery store at Thanksgiving and Christmas seasons.
Preparing the Berries
Since you are going to be stuffing the berries, you will want to hull them well. I use a special little strawberry huller tool that you can pick up at any good kitchen supply shop. Make sure that you get all the leaves off, and a little into the strawberry itself. You should see a little hole, and that is where you want to be.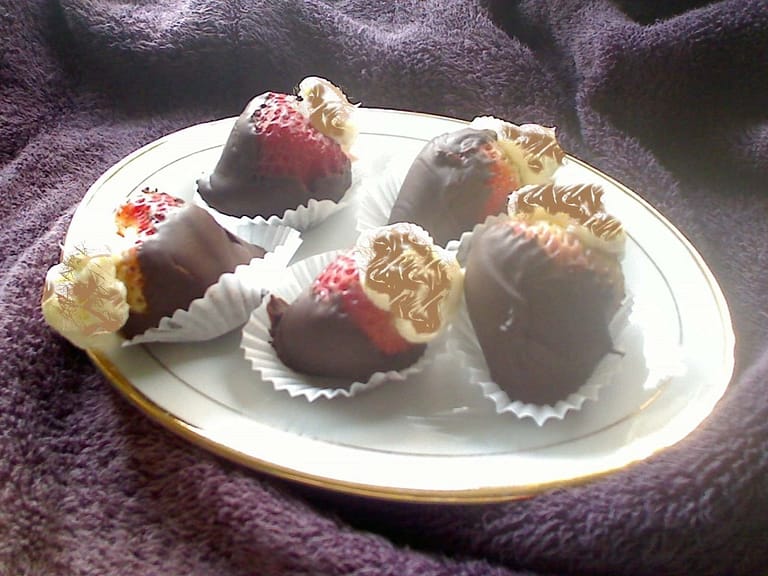 Servings (slide to adjust):
dozen
If you purchase any of the products through these affiliate links, I get a few pennies that help keep The Good Plate open. I use these products myself and want you to be able to easily find them.
Ingredients
2

large containers strawberries

1

bag semi-sweet chocolate chips

1

package cream cheese

½

cup

powdered sugar

2

tablespoons

unsweetened cocoa

1

teaspoon

good instant espresso

½

teaspoon

pure vanilla extract

½

teaspoon

pure almond extract

1

teaspoon

Saigon cinnamon

2

tablespoons

Balsamic vinegar

2

tablespoons

simple syrup
Ingredients necessary for the recipe step are in italic.
Instructions
Have ready small paper muffin liners. Line them up on a one or two sheet pans and have them near the stove.

Hull the strawberries and set them aside. Make sure that they are dry and not in standing water, otherwise, they will begin to soften.

Melt the chocolate in a double boiler, stirring occasionally until most of the chocolate is melted. Check the temperature, and if it is 100 degrees or over, stir constantly until it reaches 130 degrees. When the chocolate reaches 130 degrees it is ready to take off the heat. Let it sit for a minute, and then start dipping the fruit.

Dip the bottom of a strawberry in the chocolate, and swirl it around until most of the berry is covered in chocolate, then immediately place it in the paper muffin liner. Continue doing this with the remaining strawberries.

Let the chocolate come to room temperature before starting to stuff the berries.

Beat the cream cheese, cocoa, coffee, almond extract, vanilla, and powdered sugar on high for two minutes. You should have a silky filling at this point.

Choose a rosette piping end, and attach it to your piping bag. Put the bag in a tall glass, and fill it with the filling you just made.

Carefully fill the top of each strawberry. Make it look nice.

Mix the vinegar and simple syrup in a small bowl. You might have to tip the bowl to fill it, so try to get a deep rather than shallow bowl.

Fill the needle with the balsamic mixture. Inject each strawberry with as much of the mixture as you can, without it spilling out.

Let the chocolate harden before serving.
Notes
Quick notes
Don't try to do this on a hot day. Your kitchen and fruit should not be above 70 degrees.
Variations
You can omit the almond and cinnamon if you wish. If you cannot get Saigon Cinnamon, regular ground cinnamon will do fine.