Join me as I show you how to grind beef for pub burgers with three different seasonings: Gorgonzola, Barbecue, and Habanero Cheese.
After a hard day at work, when you don't want to come home and slave over a hot stove, what could be simpler than a good pub burger. I'm not talking about a fast-food thin as a paper burger; I'm talking about a no less than a quarter-pound burger with plenty of flavors. This is a burger that stands up and demands attention!
Grinding Meat at Home
Why would anyone want to spend the time and effort to grind their own meat instead of buying it pre-ground at the supermarket? There are a lot of reasons, including being able to trim off fat, but the most important one is meat safety. One of the reasons USDA says ground beef should be cooked well-done is because there is more surface area for bacteria to grow. Having only one muscle from one animal means there is a lot less surface. Using very clean grinding equipment, you can even safely have Steak TarTar!
Chilling is Essential
No matter what kind of grinder you intend to use, chilling the meat before grinding it is essential. Very cold meat grinds a lot better when it is ice cold than it does when it is room temperature. You also don't want the meat sitting on the counter at room temperature while you're grinding the pieces. The USDA DANGER ZONE is between 40°F / 4.44°C and 140°F / 40°C. Bacteria exponentially grow in that temperature range, so having meat below 40°F / 4.44°C definitely helps. I cut mine into pieces that will fit into the grinding tube, put them on a flexible cutting board, and into the freezer until they are very cold or just starting to harden and ice crystals are starting to develop, about 35°F / 1.66°C.
What Kind of Grinder?
There are several choices for grinding meat. My preferred way is to let the KitchenAid do it with a grinder attachment. The metal grinder attachments, in my opinion, are best because they last longer and are not part of the plastic problem.
If you don't have a stand mixer capable of using attachments, you can use a manual food grinder that attaches to your countertop or tabletop. My mother had one – child labor!
If you don't want to invest in a grinder, then you can use a food processor. Use the S blade and pulse the meat several times to chop it. Chop about a quarter of a pound at a time. If you chop more than that in a food processor, the meat will settle to the bottom of the bowl and become a paste. Remember to take out what has been chopped every time.
The last option is to use very sharp knives and hand chop, or mince, the meat. Unless you are very good with knives or some kind of Ninja, I don't recommend that method.
Burgers of Even Height Cook Better
We've all heard of Smash Burgers and they're fine, except they are usually burned around the edges. I don't know about you, but I don't expect my burger to be crunchy. YMMV. When you cook a pub burger it needs to have even height so it will cook evenly. If you think that your local restaurant is shaping burgers by hand, you are mistaken. First, it's too time-consuming, and second, it doesn't make an evenly shaped burger. I highly recommend a burger patty maker. There are plenty to choose from, but if you don't have one right now, you can also use the lid of a very large jar.
Storing Pub Burgers
So, after you've ground and seasoned all these perfectly formed burgers, what do you do with them if you're not going to eat them right away? This is where a good vacuum sealer comes in handy. But won't the burgers get crushed? Yes, they will get crushed unless they are already frozen. Flash freeze the burgers before sealing them. Put them on a flexible cutting board and into the freezer, uncovered, until they are hard. Frozen burgers pop right off a flexible cutting board. Then cut a large enough bag, seal one end, put the burgers in, vacuum and seal the other end, and into the freezer they go. Then when you want burgers, open the bag, take what you want, and re-vacuum seal the bag. Done and done.
Flavors for Pub Burgers
There are all kinds of different flavor combinations you can use depending on your taste. These are some of our favorites.
Woody's Cook-in' Sauce is a staple in my house. I used to be able to find it at the supermarket, but now, I can only find it via Amazon. It's a very concentrated smokey flavor with almost no sugar so it won't burn. You can marinate meat in it and put it on the grill without it burning, then put your own favorite sauce on at the end. It's also an excellent base if you like making your own sauce.
Do you know the cheese that comes in the box of Kraft Macaroni and Cheese? That cheese is excellent for making garlic bread. I used to buy boxes of Mac and Cheese just to get the little packet of cheese inside. Not anymore; now I get this excellent powdered cheddar cheese from the friendly folks at Hoosier Farms.
Cheddar cheese doesn't melt very well and I don't like "plastic" cheese. Putting powdered cheese in burgers means you get a bit of cheddar flavor with every bite.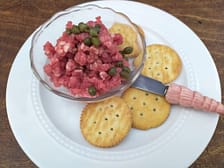 Teriyaki Burgers
Teriyaki burgers are a little trip for your mouth to Asia. They're easy to prepare and you can jazz them up any way you want.
Get this recipe
Barbecue Burgers
Barbeque burgers made with a special sauce and cooked on a cast iron grill taste like they just came off the backyard barbecue.
Get this recipe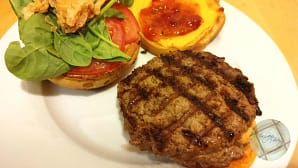 Gorgonzola Burger
These gorgonzola burgers are part of my series on Pub burgers. What may look like a lot of fat is Gorgonzola cheese. Gorgonzola cheese is very similar to blue cheese. However, it's a little lighter in flavor.
Get this recipe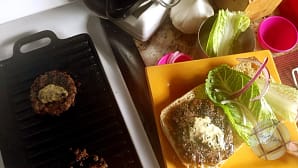 Mediterranean Burgers
Mediterranean Burgers are my take on Luleh Kabob, only formed into burgers. They have a distinctly Mediterranean flavor that goes perfectly on the grill.
Get this recipe