Hamburger steak stuffed with blue cheese and accompanied by frites with a pan reduction sauce is a European favorite on your table.
Hamburger Steak Stuffed with Blue Cheese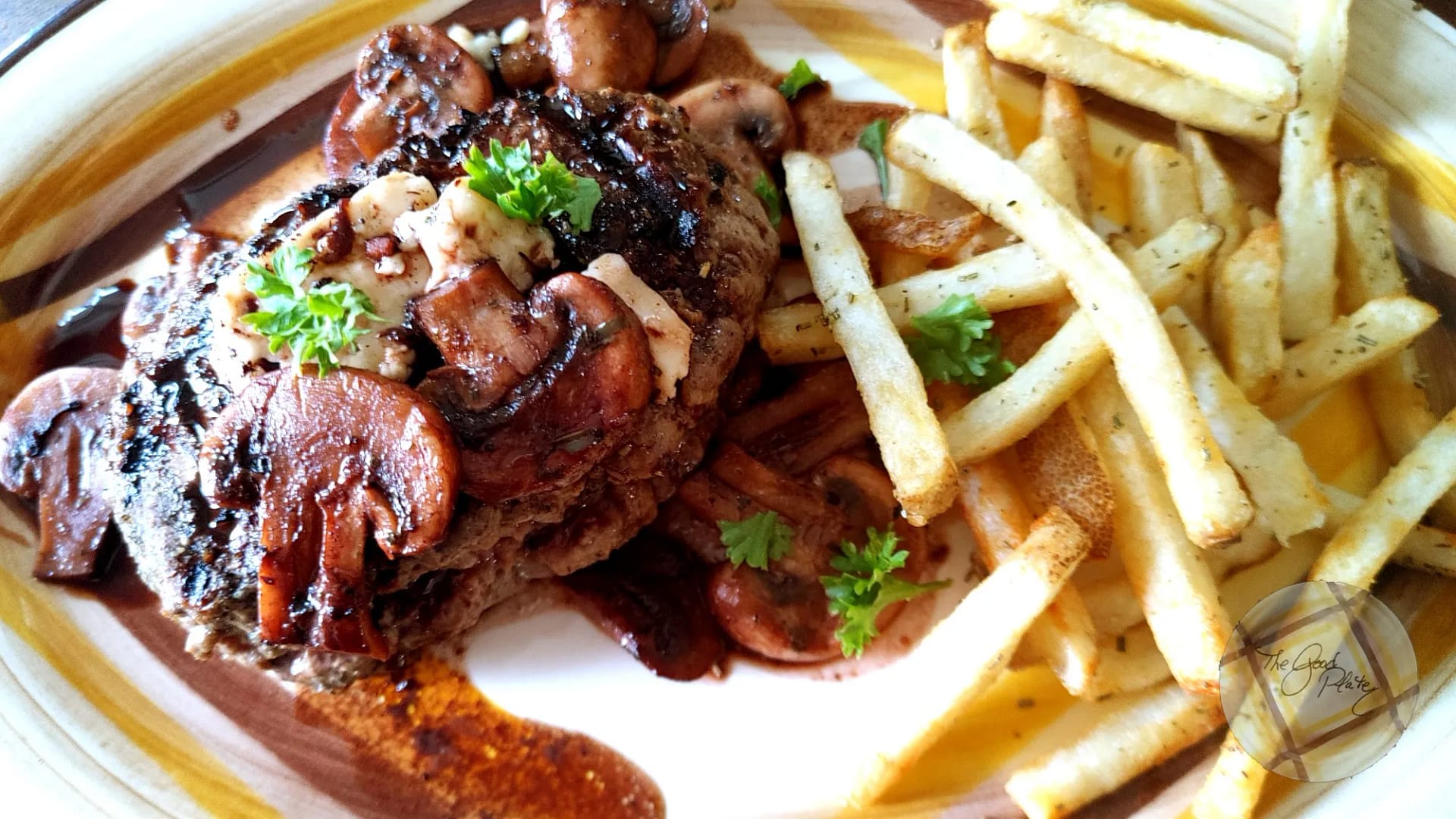 Hamburger steak stuffed with blue cheese and accompanied by frites with a pan reduction sauce is a European favorite on your table.
Steak frites, meaning "steak [and] fries" in French, is a dish consisting of steak paired with French fries. It is commonly served in European brasseries and is considered by some to be the national dish of Belgium, which claims to be the place of its invention.

Wikipedia
When I was a little girl, on our way returning to the United States, we stopped in Cherbourg, France, and I had my first taste of frites and hamburger steak. I think my mother got me a hamburger steak instead of a regular steak because I was too small to eat a regular steak by myself. Regardless, I loved them both.
What is a Hamburger Steak?
A hamburger steak is ground beef, usually about 1/3 to 1/2 pound. It differs from a bun-style burger in that it is large, often oval, and does not have typical toppings like mayonnaise, ketchup, tomatoes, pickles, lettuce, etc.
I prefer to grind my own beef instead of buying ground beef at the market.
This hamburger steak is stuffed with blue cheese. Please use blue cheese that comes in a wedge instead of the crumbled cheese. The package of crumbled cheese is the bits that have fallen off the wedge and dried out. It's more expensive and usually tasteless. I recommend Point Reyes Original Blue Cheese, an aged California cheese from the Point Reyes farmstead. Whatever part of the wedge you do not use, wrap it up in its wrapper and put it in the cheese box in your refrigerator.
What to Sides to Serve
There is something extraordinary about dipping your frites in the steak's pan sauce. You will not want ketchup again; pan sauce is so much better. I recommend Alexia Crispy Rosemary Fries to go with this. They are easy to put in your air fryer and are done by the time the hamburger steaks are done. You can't get much simpler than this. Next, you can put some of what would be on top of a bun-style burger in a salad. This hamburger steak goes nicely with dry white wine or a dry Rosé, stout, or ale.
Servings (slide to adjust):
Calories per serving:
737
kcal
If you purchase any of the products through these affiliate links, I get a few pennies that help keep The Good Plate open. I use these products myself and want you to be able to easily find them.
Ingredients
~~ For the Steaks ~~
20

ounces

Ground beef

,

freshly ground

¼

teaspoon

salt

½

teaspoon

black pepper

,

freshly cracked

⅛

cup

blue cheese,

cut in slices

1

teaspoon

Olive oil
~~ Topping ~~
1

tablespoon

Butter

1

teaspoon

Shallots

4

Mushrooms

1

tablespoon

Sherry

½

teaspoon

worcestershire sauce
Ingredients necessary for the recipe step are in italic.
Instructions
20 ounces Ground beef,

1/4 teaspoon salt,

1/2 teaspoon black pepper

Season the meat with the salt and pepper and mix lightly with a fork.

Divide the meat into 4 1/4 pound patties. Put two slices of cheese on two of the patties.

Cover the patties with the other patties and seal with a fork. Form them into oval steaks. Set them aside.

4 Mushrooms,

1 tablespoon Sherry,

1 tablespoon Butter,

1/2 teaspoon worcestershire sauce,

1 teaspoon Shallots

Put the butter into a shallow saute pan and heat to medium. When the butter is melted, add the shallots. Add the sliced mushrooms and saute them until they have browned a little. Add the sherry and keep sauteing the mushrooms until they are a nice brown and caramel color. Add the worcestershire and stir. Set aside.

Heat the grill until it is smoking. Brush it with oil. Open the windows! Put the steaks on the grill and let them sit, undisturbed for 5 minutes. Come back and flip the steaks. Put a few pieces of the remaining cheese on each steak. Check that they are done at the three-minute mark. They are rare at 130°F / 54.44°C
Nutrition
Serving:
343
g
Calories:
737
kcal
Carbohydrates:
4
g
Protein:
59
g
Fat:
52
g
Saturated Fat:
18
g
Polyunsaturated Fat:
1
g
Monounsaturated Fat:
15
g
Trans Fat:
0
g
Cholesterol:
205
mg
Sodium:
510
mg
Potassium:
983
mg
Fiber:
0
g
Sugar:
1
g