Stuffed Fresno Chilies make a great, easy-to-make appetizer with a lot of heat for a little work. Warning! They are HOT!
Stuffed Fresno Chilies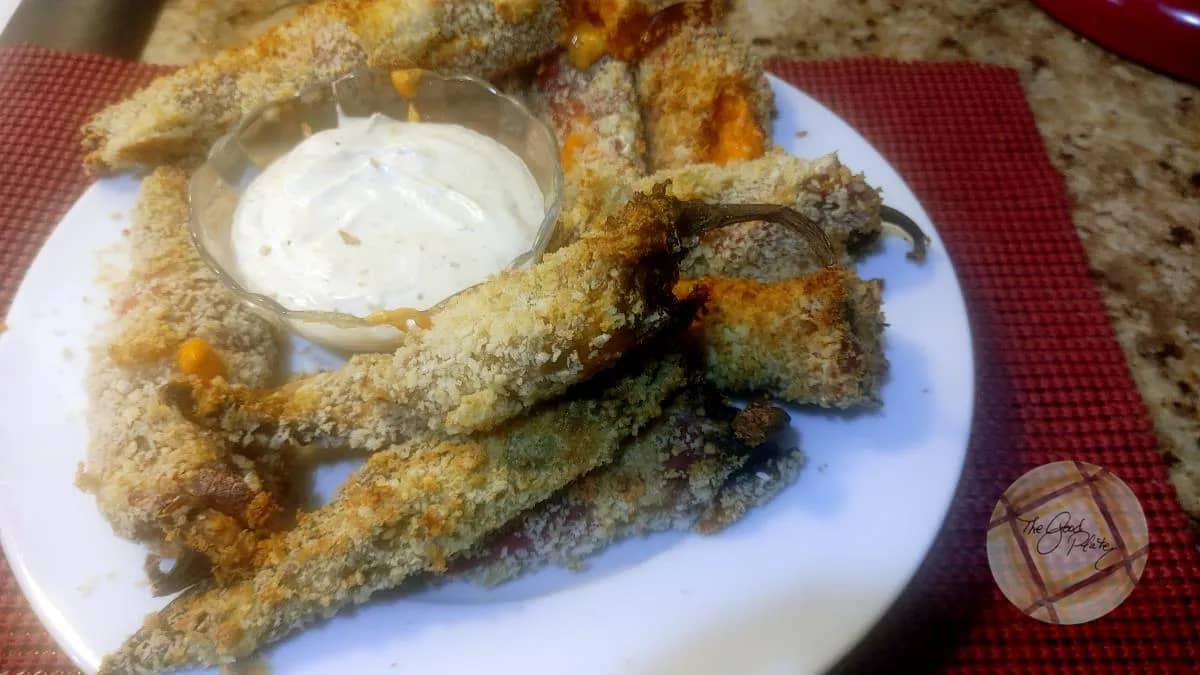 Stuffed Fresno Chilies make a great, easy-to-make appetizer with a lot of heat for a little work. Warning! They are HOT!
I will be honest with you right away. If you are sensitive to spicy foods, you do not want to try these.
Fresno vs Jalapeno Peppers
Fresno peppers look very similar to jalapeno peppers, but they are not the same plant. The chili peppers were cultivated by Clarence Brown Hamlin in 1952 and named after the city of Fresno, California where the pepper grows abundantly.
When the pepper is mature, it turns red and has thicker skin than a jalapeno. A ripe Fresno chili rates between 2,500 to 10,000 Scollvile units, while a jalapeno rates between 2,500 to 8,000 Scoville units.
Red chili peppers are varieties of the berry-fruit of plants from the genus Capsicum which are members of the nightshade family Solanaceae, cultivated for their pungency
Mature Fresno peppers are also larger than mature jalapeno peppers. More bang for your buck!
Sometimes, your store will have red jalapenos instead of red Fresno chilies. Although the Fresno chilies are a little hotter and sweeter, the red jalapeno will be just fine.
How to Prepare Chilies
On the Internet all caps denotes shouting, so I'm going to shout at you! It's important to
WEAR GLOVES!
The active component in chili peppers is Capsaicin. It is a chemical irritant for mammals, including humans, and is probably there to keep the plant from being eaten. The hottest part is the white pith that holds the seeds. The seeds themselves don't have any capsaicin, but by being so close to the pith, it gets on them.
When your bare hands and fingers touch that capsaicin, it locks into your skin cells and anything you touch gets it, too. Capsaicin does not wash off with soap and water. Rubbing your hands helps, but who wants to wash their hands in milk? Just wear gloves and be happy.
With that said, the more seeds and pith that remain on peppers, the hotter they will be. Therefore, I highly recommend removing the seeds and pith before stuffing these peppers. To make these peppers even tastier, char them in the air fryer before you deseed them.
Use a sharp knife and scrape down the insides of the pepper, leaving only the flesh. Toss the seeds and flesh in the trash right away. You don't want to handle it by accident.
Stuffing
These stuffed Fresno chilies are stuffed with a cheese mixture similar to pimento cheese. If you don't like mayonnaise, this is the one for you. However, if you would rather use the real thing, feel free to use my pimento cheese recipe.
Pimento Cheese Spread – A Tradition from the South
This Pimento Cheese Spread is a great appetizer, easily adaptable to almost any hard cheese, and a great way to use up bits of hard cheese left over.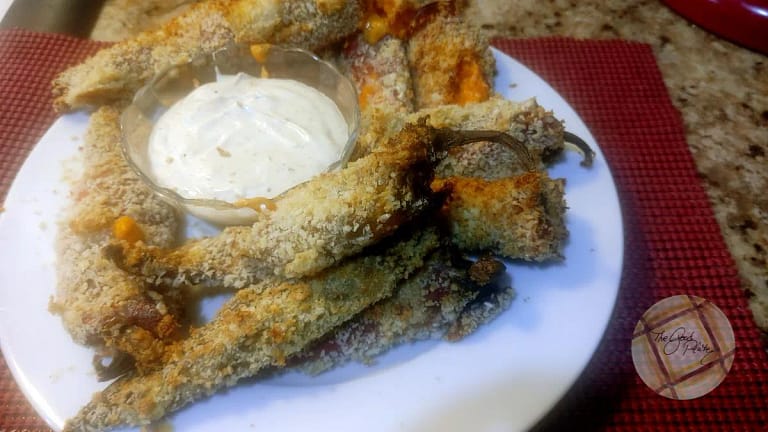 Servings (slide to adjust):
Calories per serving:
444
kcal
If you purchase any of the products through these affiliate links, I get a few pennies that help keep The Good Plate open. I use these products myself and want you to be able to easily find them.
Ingredients
~~ — Stuffing — ~~
4

ounce

Cream cheese

,

softened

4

ounce

Cheddar

,

grated

⅛

teaspoon

Mustard

¼

teaspoon

Worcestershire sauce

4

ounce

Pimento

,

with liquid
Ingredients necessary for the recipe step are in italic.
Instructions
Put the whole chilies in the air fryer at

400

°F

for 15 minutes. When the chilies have charred, put them in the bowl and cover them with the shower cap. Set them aside and let them cool, about 30 minutes.

4 ounce Cream cheese,

4 ounce Pimento,

4 ounce Cheddar,

1/8 teaspoon Mustard,

1/4 teaspoon Worcestershire sauce

While the peppers are cooling, put the cream cheese, cheddar, mustard and worcestershire in the bowl of a small food processor. Process until the ingredients are combined. Add the pimentoes with their juice and continue to process until you have a thick but not thin mixture. Set that aside.

2 Egg,

1/2 cup Panko bread crumbs,

1/2 cup Flour,

1/4 teaspoon Fresh Jax Peppered Habanero Spice

Put the flour and peppered habenero in one breading tray, eggs in the next, and panko bread crumbs in the last. Beat the eggs until they are smooth. Set the trays aside.

Put on your gloves and remove the chilies from the bowl. Remove the blistered skin. Cut each chili down the center without going all the way through. Carefully remove the seeds and pith. The pith will be yellow instead of white because the peppers were partially cooked.

Roll each pepper in the flour mixture and shake off any excess. Dip and roll each pepper in the beaten eggs and let excess drip off. Finally, roll the peppers in the panko bread crumbs.

Put the peppers on the rack of the air fryer and heat them at

400

°F

for 5 mintues or until the panko has browned and the cheese is melting.

1/2 cup Sour cream,

1/2 teaspoon Justice

To make the dip, mix sour cream with Justice.
Notes
I cannot emphasize enough how hot these peppers are if the seeds and pith are not removed.  If you are some kind of daredevil, then be my guest, but trust me, these are like eating fire.  I know – I forgot to seed one of them.
Nutrition
Serving:
201
g
Calories:
444
kcal
Carbohydrates:
28
g
Protein:
18
g
Fat:
29
g
Saturated Fat:
17
g
Polyunsaturated Fat:
2
g
Monounsaturated Fat:
9
g
Cholesterol:
197
mg
Sodium:
439
mg
Potassium:
293
mg
Fiber:
2
g
Sugar:
3
g