A great way to use up bits of cheese you have around, a classic spread. Pimento cheese sandwiches are a signature item at the professional golf Masters Tournament.
Pimento Cheese Spread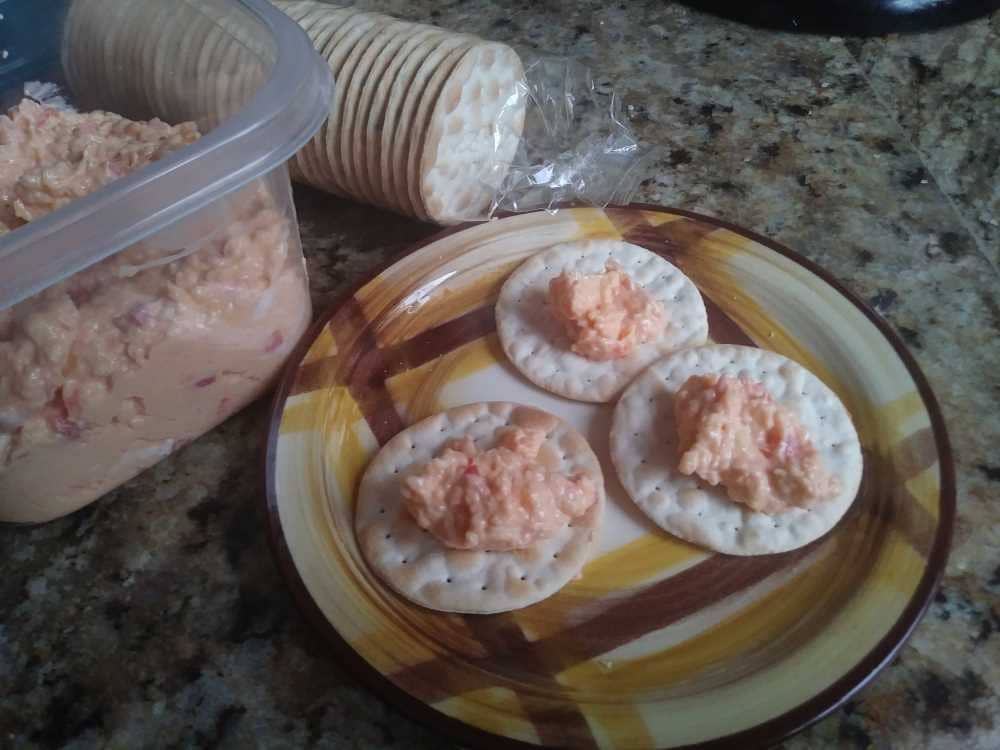 My History with Pimento Cheese Spread
When I was a little girl, my mother would sometimes make Pimento Cheese Spread for cocktail parties.  My father's family was from the Texas, my mother's from New York.  At the time, my father was a Captain in the US Army, and we were stationed in Germany.  He had aspirations to be a Colonel – and that meant having the Brass over for cocktail parties that my mother had to make all the food – they didn't have caterers in Germany that made American food that was in my mother's budget – so she made everything from scratch. Imagine a party scene from Mad Men, and you have an idea of what my mother's parties were like.  Due to my mother's great talents at entertaining, my father made it to Major before deciding to come home and have the career he always wanted – antique furniture refinisher.
If I was well-behaved and didn't get in my mother's way in the kitchen when she was making all these things, she would put aside a plate of appetizers just for me, and if I was lucky, it had Pimento Cheese Spread.
Clean Out Your Fridge
The great thing about Pimento Cheese Spread is that you can put odd bits of hard cheese you have lying around in your fridge.  You might have forgotten they were even there.  They might have a bit of mold, cut it off and you're good to go. They might have a dried up outside, just cut that off, too.  I usually have a good sharp cheddar as my main cheese, and I might have some pieces of Jack or Swiss left over in my cheese drawer.  I wouldn't put in a pungent cheese that would overbear your main cheese's flavor.  You could put a softer cheese in, too, just put it in after the pimentos go in.  Important: don't use pre-shredded cheese – it has extra ingredients that can affect the flavor and texture of this luscious spread.
Let's Get Making Pimento Cheese Spread!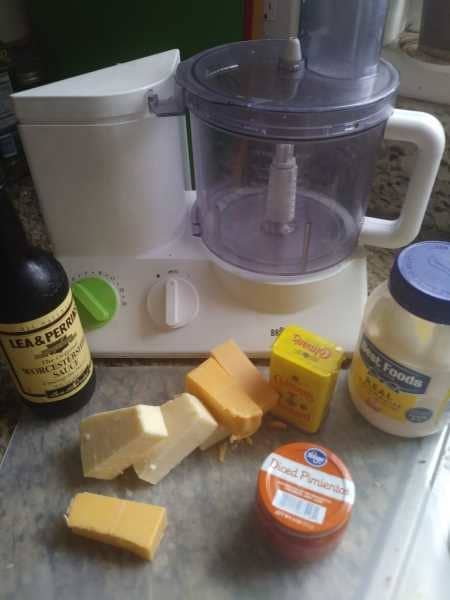 Pictured is my wonderful Braun food processor. I did a lot of research before I bought that one, and found that former Cuisinart users were much happier with this one. I am, too.  There is also have some cheese that is cut and ready to be processed, mayonnaise, Worcestershire, dry mustard and of course, the pimentos.
A pimento (Spanish pronunciation: [piˈmjento]), pimento, or cherry pepper is a variety of large, red, heart-shaped chili pepper (Capsicum annuum) that measures 3 to 4 in (7 to 10 cm) long and 2 to 3 in (5 to 7 cm) wide (medium, elongate). The flesh of the pimento is sweet, succulent, and more aromatic than that of the red bell pepper. The pimiento has one of the lowest Scoville scale ratings of any chili pepper.
Believe it or not, you do not want to use a grating disc for this, you want to use the S blade of your food processor.  If you don't have a food processor, you need strong arms and a willingness to stand around grating cheese – or a willing child to help you do it.  One of the reasons I got some of this when my mother made it was because I helped with the grating.  This is a really quick recipe that you can have prepared in a few minutes.  If you are making it ahead, take it out of the refrigerator about 30 minutes to let it soften before serving.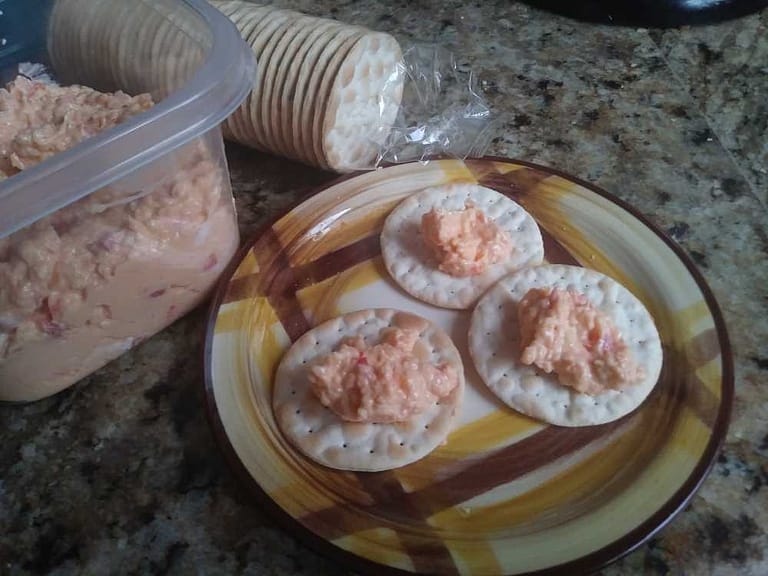 Servings (slide to adjust):
cups
Calories per serving:
67
kcal
Equipment
Ingredients
1

pound

Cheddar cheese

,

or a mixture of cheese of your choice

1

small jar

pimentos

,

with their liquid!

½

cup

mayonnaise

¼

teaspoon

dry mustard

½

teaspoon

Worcestershire sauce
Ingredients necessary for the recipe step are in italic.
Instructions
Using the S blade of your food processor, process the cheese first. Then add the pimentos with their liquid (very important). Add the mayonnaise and process. Add the seasonings and process until it is all thoroughly blended and only small bits of pimento are visible.

Put the completed spread into a nice serving bowl and serve immediately, or cover and refrigerate. You will want to let it soften for about 30 minutes before serving if it is coming out cold from the refrigerator.

Serve with mild crackers, like Water Crackers, or Melba Toast, or other mild crackers.
Notes
I recommend using a good sharp Cheddar as the main cheese, and other cheeses should be mild to not overpower the Cheddar.
Don't use pre-shredded cheese, it has extra ingredients that will affect the flavor and consistency of the final product.
Nutrition
Serving:
1
tablespoon
Calories:
67
kcal
Carbohydrates:
1
g
Protein:
4
g
Fat:
6
g
Saturated Fat:
3
g
Polyunsaturated Fat:
0
g
Monounsaturated Fat:
2
g
Cholesterol:
16
mg
Sodium:
187
mg
Potassium:
16
mg
Fiber:
0
g
Sugar:
0
g