Savory round baklava appetizers are sprinkled with Justice, and stuffed with a combination of walnuts, dried cranberry, and blue cheese then dusted with smoked salt.
Savory Round Baklava
Savory round baklava appetizers are sprinkled with Justice and stuffed with a combination of walnuts, dried cranberry, and blue cheese, then dusted with smoked salt.
I know you are looking at this, and your sweet tastebuds are going into overdrive. Well, they're not sweet. These are savory with a slight onion flavor, salty from the cheese, umami from the walnuts, and slightly sweet from the dried cranberries. If you looking for sweetness, look no further than my Round Pistachio Baklava from which this recipe comes.

Round Pistachio Baklava
These Round Pistachio Baklava made from filo dough are rich with butter, crunchy and melt in your mouth delicious.
What is Baklava?
Baklava is an Armenian pastry, from the words bakh (Lent) and halvah (sweet), according to Alexandra M. Lord's article about the rich history of the tasty dessert. Once considered an unusual and foreign pastry in the United States, it has now become a sought after treat.
Just as there are scores of different sweet baklava, there are scores of different ways of making savory filo appetizers as well. This round variety, sometimes called Ladies' Bellybuttons, would also make wonderful garlic toasts – the possibilities are endless.
Is it Filo, Fillo, or Phyllo?
However you spell it, it is pronounced: "Feel Oh". It's a paper-thin, unleavened dough. You can try your hand at making it, or you can buy it frozen at most grocery stores. It does have different spellings, Filo, Fillo, or Phyllo, but it's all the same thing. The brand that I used comes with two rolls or 21 sheets each. I think the reason it comes with 21 sheets is that many people are bound to tear at least one of the gossamer sheets.
I already mentioned that fillo is an unleavened dough. That means it is acceptable for Passover and Lent, both of which use unleavened breads.
Everything Needs a Little Justice
Justice is a mix from Penzey's that is a combination of spices in the onion family, onion, garlic, shallot, chives, green onion, and green peppercorns. It gives everything a little perkiness, especially cheese. Although it is not an overpowering flavor, for this appetizer, a very light sprinkling is perfect.
If you don't have any Justice, you could use a very light sprinkling of onion powder. I would not recommend garlic powder as it is too strong.
How Many Savory Round Baklava Appetizers Per Person?
Baklava is not a food for a diet since it has a lot of butter. These appetizers are also quite filling, so one or two person is enough. Mind you, they are very tasty, so those not minding their weight may want more. They also need no refrigeration and can sit on your counter, covered, for a few days. I would not keep them more than four days if you even happen to have any leftovers.
Recommended Equipment
I highly recommend using a silicone pastry mat. They are non-stick and since filo dough is so delicate, it makes it much easier to work with. You will also need a damp dish towel to keep the dough from drying out. I also recommend using a half sheet pan with a rack, unlike the sweet baklava, these appetizers are better crunchy so they need air around them to keep them crisp.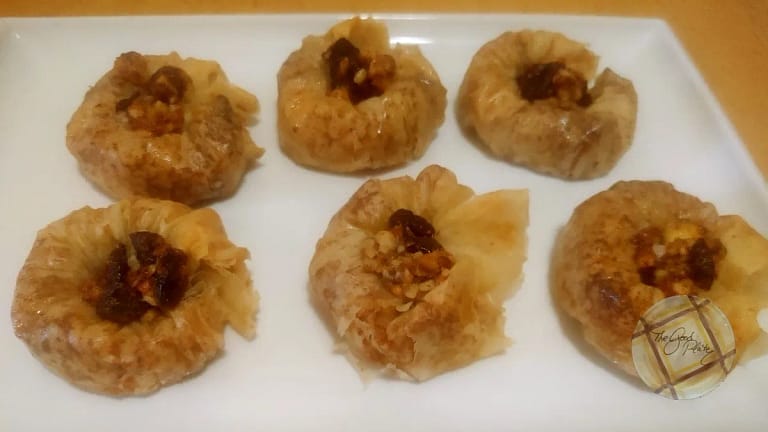 Servings (slide to adjust):
Calories per serving:
99
kcal
If you purchase any of the products through these affiliate links, I get a few pennies that help keep The Good Plate open. I use these products myself and want you to be able to easily find them.
Ingredients
~~ — Stuffing — ~~
¼

cup

Craisins

,

chopped

¼

cup

Walnuts

,

chopped

2

tablespoon

Blue cheese,

crumbled
~~ — Baklava — ~~
20

sheets

Phyllo dough

,

1/2 of a 16 oz box

½

cup

Butter

,

melted

2

tablespoon

Justice

½

teaspoon

Salt

,

finishing
Ingredients necessary for the recipe step are in italic.
Instructions
Have everything ready before you begin. The dish towel should be damp, but not wet. It is used to cover the dough to keep it from drying out. This kind of dough dries out very quickly so unless you are a super hero, you have to use a dish towel. Be aware that if your kitchen is cold, you might have to remelt your butter.

Preheat the oven to

350

°F

1/4 cup Walnuts,

1/4 cup Craisins,

2 tablespoon Blue cheese

Make the stuffing by putting the walnuts, craisins, and blue cheese in a small food processor and chop them until the cheese is pea size. Set the mixture aside.

Pull one piece of filo dough off the pile and lay it on your board. Cover the rest loosely with the damp cloth.

Bring the filo over the skewer and continue rolling the filo with the skewer until all but a 1/2 inch is rolled up.

Take two fingers of each hand and gently squeeze the filo together on the skewer. Some butter will leak out – that's okay, that's why we're using a cutting board.

After all the circles have been made, put about a half-teaspoon of the filling in the indentation of the each circle.

Brush them well with butter, then put the pan into the oven and bake for about 25 to 30 minutes, or until the filo is golden brown.

Don't let it get too dark as it will continue to cook once it is out of the oven.

Brush the baklava with more butter, then lightly dust them with finishing salt. Maldon smoked finishing salt is a good choice.
Nutrition
Serving:
23
g
Calories:
99
kcal
Carbohydrates:
8
g
Protein:
1
g
Fat:
7
g
Saturated Fat:
3
g
Polyunsaturated Fat:
1
g
Monounsaturated Fat:
2
g
Cholesterol:
13
mg
Sodium:
116
mg
Potassium:
38
mg
Fiber:
1
g