Pork loin with cranberry cherry reduction is simple to make using a sous vide immersion tool. Entertain guests while the food cooks.
Sous Vide Pork Loin with Cranberry Cherry Reduction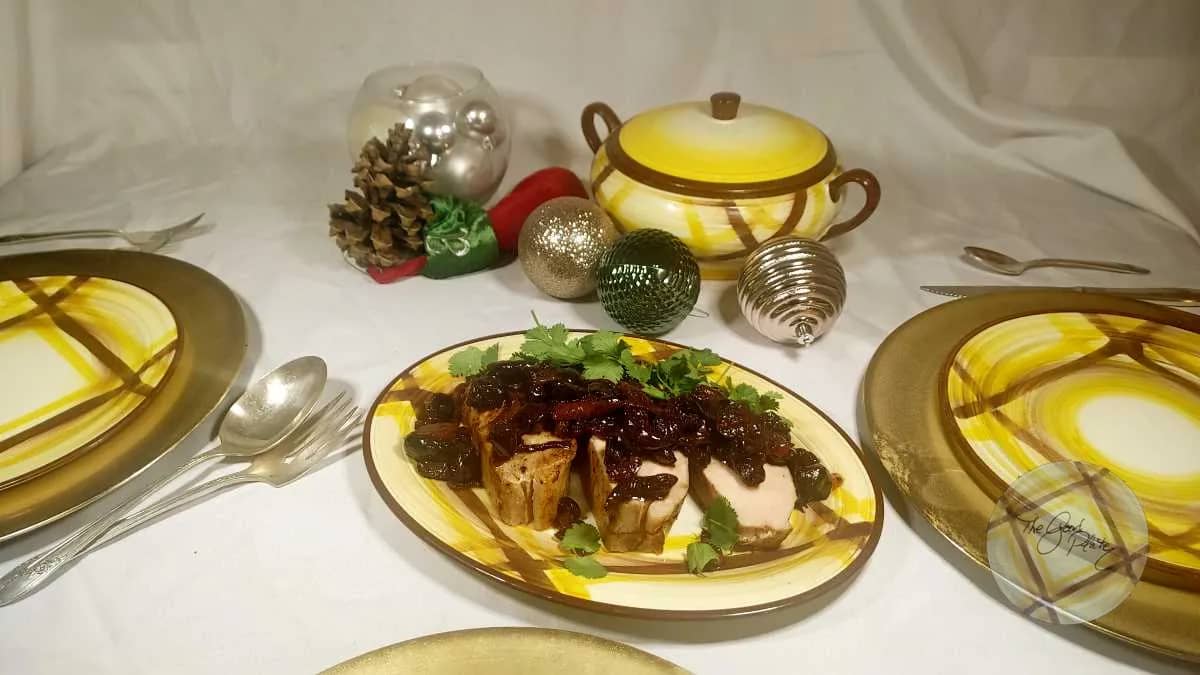 Pork loin with cranberry cherry reduction is simple to make using a sous vide immersion tool. Entertain guests while the food cooks.
Pork loin with cranberry cherry reduction is a welcome change from the traditional Christmas dinner. As I was looking through some old recipes, I remembered the pork chops with cranberry juice and cherry preserves. My refrigerator had Fresh cherries and fresh cranberries begging to be used.
Pork Loin with Cranberry Cherry Reduction
I used a two-pound loin and removed as much fat as possible. Use a sharp boning knife to remove excess fat. Pork stays moist because it is in a sealed bag and cannot dry out. The loin is a tender piece of meat so it only takes about two hours. Be sure to set the immersion cooker to the proper temperature. The USDA recommends 145℉ / 62.77℃ but I prefer 140℉ / 60℃. Cooking pork at 140℉ / 60℃ for three hours destroys bacteria so you can safely cook at that temperature.
Sous Vide Pork Loin
Sous vide is great for entertaining. Put the food in a sealed bag in a pot of water with an immersion cooker, and set it. Entertain your guests while it's cooking. When the meat is done, sear it. Make a show of doing that. What a great presentation for the holidays.
The video part of this recipe does not include footage of the sous vide process, however, the recipe card itself does have relevant pictures. You can find out more about sous vide for pork loin by following my recipe for Sous Vide Chargrilled Pork Loin.

Sous Vide Chargrilled Pork Loin
Sous Vide Chargrilled Pork Loin comes out perfectly every time. You don't have to have an outdoor barbecue to get the results you want.
Substitutions
If you cannot find fresh cherries, you can use canned cherries in water. The sour cherries are best, but if they are unavailable, red tart cherries will work, too. Just make sure you are not trying to use pie cherries with added sugar.
I used Merlot in this recipe, but you can use any dry red wine you happen to like. Shiraz, Cabernet, or even Chianti would be fine. Again, make sure it's not a sweet wine. The balsamic vinegar, cherries, and red onions sweeten the cranberries.
Please do not use canned cranberry sauce for this recipe. It's too sweet and congealed. If you cannot find any fresh cranberries, you could, in desperation, use half of a can of whole-berry sauce.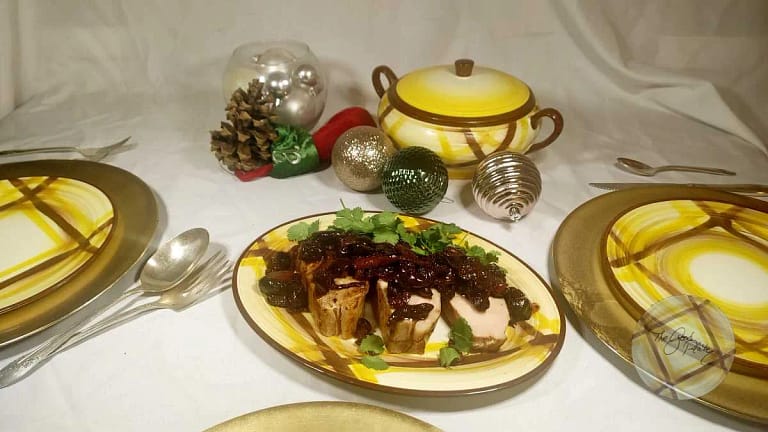 Servings (slide to adjust):
Calories per serving:
470
kcal
If you purchase any of the products through these affiliate links, I get a few pennies that help keep The Good Plate open. I use these products myself and want you to be able to easily find them.
Ingredients
~~ — For the Sauce — ~~
1

tablespoon

Butter

1

medium

Red onion

,

sliced

1

cup

Cranberries

,

raw

1

cup

Sour cherries

4

ounces

Red wine
~~ — To Sear the Roast — ~~
~~ — For the Reduction — ~~
2

tablespoons

Balsamic Vinegar

1

teaspoon

Sugar

,

optional

2

tablespoon

Butter
Ingredients necessary for the recipe step are in italic.
Instructions
Trim as much excess fat as possible from the pork loin. Put the meat in a vacuum-sealable bag, remove the air and seal the bag. If you don't have a vacuum sealer, you can use the water displacement method to remove as much air as possible. Set the cooker to

140

°F

for 3 hours.

1 tablespoon Butter,

1 medium Red onion,

1 cup Cranberries,

1 cup Sour cherries,

4 ounces Red wine

In the meantime, make the sauce. Heat a saute pan and add the butter. When the butter is melted, add the red onions. Separate them as much as possible. When the onions are translucent, add the cranberries. Lower the heat to low and cover the pan. You will likely hear the cranberries popping as they cook, for about 20 minutes. When the cranberries have all popped and started to soften, add the cherries. Cook the cherries for about 5 minutes then add the wine. Let the mixture continue to cook on low until the cherries are very soft, about 10 minutes, stirring occasionally. Set the pan aside.

When the pork is done, remove it from the bag and wipe it down with a paper towel. Wet food does not sear; it boils so it is important the pork's surface is dry as possible. If you have other food that is not ready yet, you can put the pork, uncovered, in the refrigerator which will dry it even more.

Heat a cast iron skillet to very hot and smoking. Spray it with olive oil. Add the pork and sear it on all sides, turning it about every 30 seconds so each side gets a lovely sear. Remove the pork from the pan and set it aside. Do not cover it.

Add the fruit mixture to the pan and scrape up any fond. Set the saute pan aside as it will be used later. Stir the fruit mixture in the cast iron pan and set it aside.

2 tablespoons Balsamic Vinegar,

1 teaspoon Sugar,

2 tablespoon Butter

Put the saute pan on low heat. Add the balsamic vinegar to the saute pan and scrape the bottom. When the bottom is clear and all the fond has dissolved in the vinegar, taste it for seasoning. If it is too sour, add a teaspoon of sugar. Then add the butter and swirl it around until it has emulsified with the liquid. Put the pork in the sauce and move it around so all sides get a chance to get a little sauce. Add the fruit mixture to the pan and let it turn the pork in that, too. Time for plating.
Nutrition
Serving:
384
g
Calories:
470
kcal
Carbohydrates:
14
g
Protein:
49
g
Fat:
22
g
Saturated Fat:
9
g
Polyunsaturated Fat:
2
g
Monounsaturated Fat:
9
g
Cholesterol:
166
mg
Sodium:
121
mg
Potassium:
1029
mg
Fiber:
2
g
Sugar:
8
g
Pork Loin with Cranberry Cherry Reduction Video Transcript
Good afternoon and welcome to The Good Plate's kitchen. Today we are making a pork loin with cherry cranberry balsamic vinegar. reduction and we're probably going to have this. for Christmas but, let's get started right now so I have some butter melting in the pan here. And I'm going to add these red onions to the flavor. Saute them off a bit. Separate them as much as you can because they cook better when they're separated. These have started to brown Started to turn translucent. and then we're going to add the cranberries.
These are fresh cranberries. As you could see and this is going to be fun because they're going to pop. Put them in there. And when they've all popped, we'll come back. OK, the cranberries are all nicely broken down put the top on it and let them steam a little bit. The onions it smells absolutely amazing in here. And we're going to add the cherries. and are going to add some red wine. Right. Gonna put the top on that. Then put it on low. Come back and about okay?
And we're back. The pork is nice and done. And I have already added some avocado oil to this pan and as you can see, it's. getting pretty and smoking. Now. when you put something in sous vide, it comes out looking kind of nasty It's very very hot Brown on all sides See how nice? The other side is probably done by now Yes! The wonders of sous vide. Got a perfectly cooked piece of meat that's not overdone. Wonderful thing, wonderful thing
Okay, we're going to take this And we're going to set it aside because we are now going to make the sauce that we started earlier and I'm going to reduce the heat on that. And I'm going to add Look at that how nice that turned out There's a little bit of going to remove this from here As you can see there's a little bit of fond on there And we're going to take a little bit of balsamic vinegar and add it to this. Not too much, about a tablespoon And. scrape up this fond It's. Really tasty. There we go. Now Beautiful
Now take this get the fond up, we're still getting the wonderful fond Very low Taste it You have to taste it and see if it needs anything. Yes. Need some sugar it needs a little bit of sugar not too much. A teaspoon of sugar Spoonful of sugar makes the medicine go down. There we go. One more taste That's perfect! And add butter That butter melts. Beautiful and that sauce and now that that sauce is really beautiful. I'm going to add the meat back in. Get it nicely coated on all sides.
Cherries, cranberries put them on top All right. Wish you could be here to smell it smells amazing. and I'm going to put this on a serving platter. And we will see you in the dining room in a few minutes. So stay tuned, we'll be right back. And we are at the dinner table. Here's our beautiful pork with Cranberries. and cherries. and red onions cooked to perfection. And we just wanted to say, thank you for everything all year, and from us to you a very merry Christmas. Merry Christmas! Merry Christmas! Merry Christmas! See you next time see you next year. on The Good Plate