These Round Pistachio Baklava made from filo dough are rich with butter, crunchy, and melt-in-your-mouth delicious.
Round Pistachio Baklava
Round Pistachio Baklava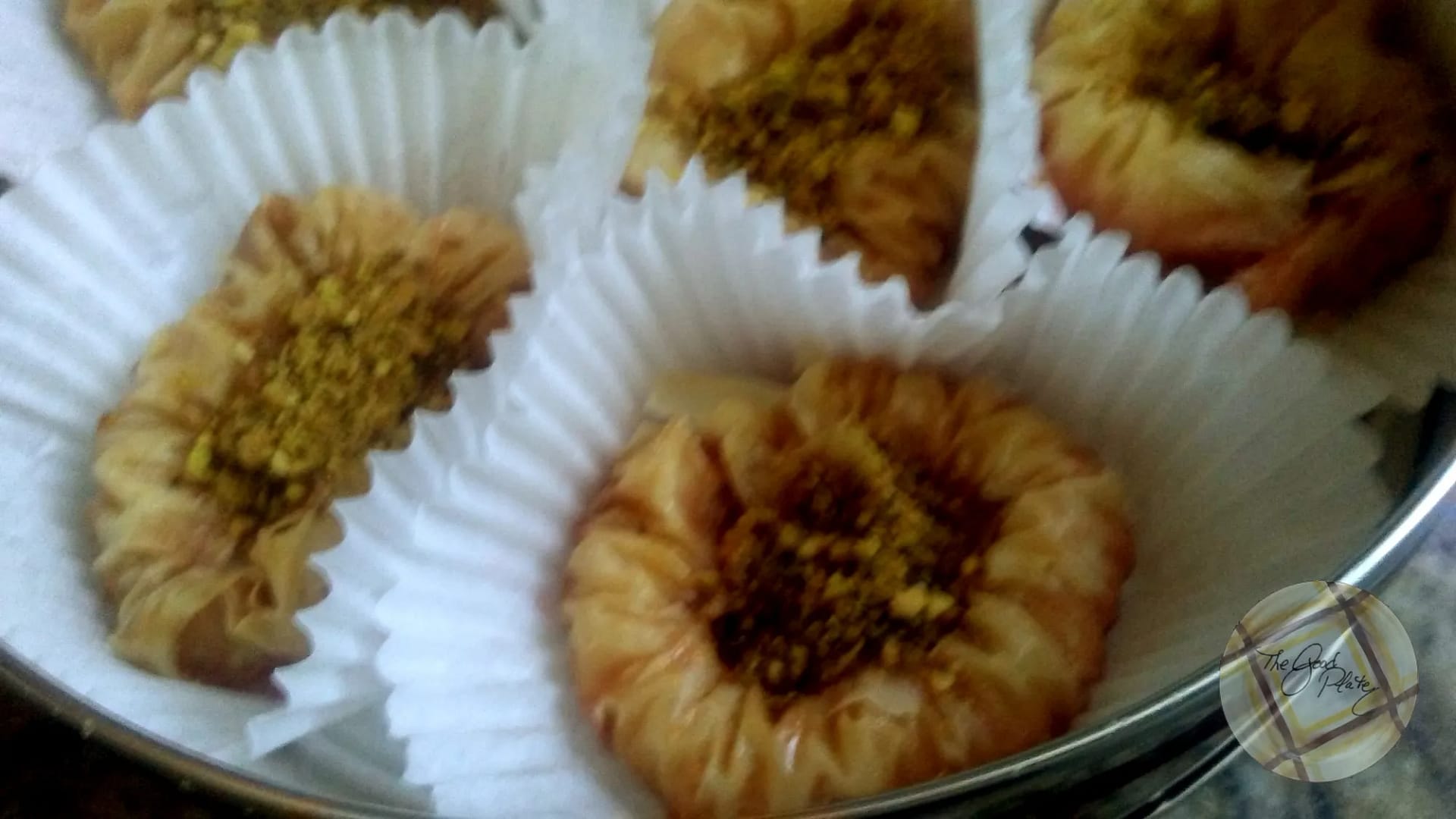 Round pistachio baklava makes a light dessert that is fun to make and fun to eat. If you have leftovers, unlikely, they also make a nice gift.
A Little History of Round Pistachio Baklava
The history of this pastry is long and contested. Some say it originated in Ancient Rome citing a recipe from Cato the Elder in 160 BC. Some say the Romans stole the recipe from the Greeks, and Byzantine Turks say it was already theirs. Wikipedia Baklava has more information.
Working with Filo
If you have already worked with filo dough, then this recipe should be a breeze for you.  If not, and you need to see the method, then head on over to the YouTube video by Heghineh. Please note that you will probably not use the entire roll of dough. Some might stick together too much, or get too torn to work with.  I would say I lost about 6 sheets.
There are a couple of things I did differently.  I used Cortas Rose Syrup that I buy at Armenian stores or at Amazon. It makes a fine cocktail with vodka over ice. I used True Orange which you can also get at Amazon.  I also messed up with the first baklava and forgot to squeeze them together, so I ate those.

What You Need to Make Round Pistachio Baklava
The recipe here is for a half box of frozen filo dough. You can buy it in the frozen dessert section of your local supermarket. You can also get frozen filo at Mediterranean stores.
You will need a soft cloth, a dish towel is about the right size. This is to keep the filo dough from drying out while you work with it. Don't skip this step!
You will need thin dowels to roll the dough – I used bamboo skewers, and they were perfect.  Buy those in the barbecue section at the supermarket. You will also need a baking pan with sides, a cake pan is a fine choice.
You will need a pastry brush to brush the filo dough with butter. A knife is not going to do it.
For the pistachios, I bought the pre-shelled variety. If you have willing helpers that won't eat all the nuts, then get the ones with shells.  Don't get ones that have flavorings or coloring, you want basic nuts.
If you happen to have pistachios left, you could make one of my other pistachio recipes. Risotto with Gorgonzola and Pistachios in the Instant Pot or Chicken with Gorgonzola and Pistachios are both good choices.
Let's Make Baklava!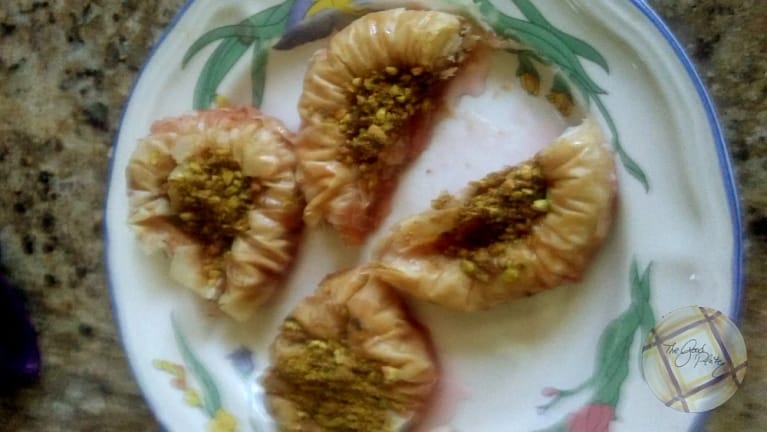 Servings (slide to adjust):
Calories per serving:
306
kcal
Equipment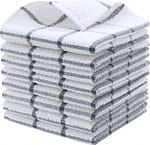 Dish Towel
Ingredients
8

oz

frozen filo dough

,

thawed, 1/2 16 oz box

½

cup

butter

,

1 stick, melted

1 ½

cups

water

1 ⅓

cups

sugar

1

tablespoon

rose syrup

1

teaspoon

True Orange,

1 small bag

1

cup

pistachios

,

shelled and crushed
Ingredients necessary for the recipe step are in italic.
Instructions
It is important that you have everything you need BEFORE you begin. Checklist: skewer, baking pan with sides, damp cloth, pastry brush, cutting board.

Preheat the oven to

350

°F

Pull one piece of filo dough off the pile and lay it on your board. Cover the rest loosely with the damp cloth.

Dip your pastry brush in the butter and butter the entire sheet. Fold the sheet over in half and butter that side as well.

Now, take your skewer, and lay it at the top of the fold. Bring the filo over the skewer and continue rolling the filo with the skewer until all but a 1/2 inch is rolled up.

Take two fingers of each hand and gently squeeze the filo together on the skewer. Some butter will leak out – that's okay, that's why we're using a cutting board.

Gently remove the squeezed filo from the skewer, and curl it to make a round circle. Put the circle in the pan, and continue doing this until all the filo is used up. You probably will not use all the sheets as some may stick together or tear too badly to use – just toss those and continue on.

After all the circles have been made, brush them well with butter, then put the pan or pans into the oven and bake for about 25 to 30 minutes, or until the filo is golden brown. Don't let it get too dark as it will continue to cook once it is out of the oven.

1 1/2 cups water,

1 1/3 cups sugar,

1 tablespoon rose syrup,

1 teaspoon True Orange

While the filo is baking, make the syrup. Put the sugar, water, rose syrup, and orange powder into a saucepan and boil until all the sugar has dissolved, stirring occasionally. It should be finished when the pan stops frothing, then take it off the stove and let cool.

If you have not already crushed your pistachios, do it now. A food chopper does the best job, but if you have a food processor, just pulse them until they are in pieces smaller than a grain of rice, but not powdered. If you don't have a food processor or food chopper, put the nuts in a bag and run a rolling pin over them to crush them. Last resort, chop them with a very sharp knife.

After the syrup and filo circles have cooled, spoon the syrup over them, about two to three spoonfuls should be enough. Then, spoon the crushed pistachios in the indentation. You can put one more spoonful of syrup over, and then let them sit and absorb the syrup before serving about 30 minutes. You will have leftover syrup, enough to make another batch, or you can save it to flavor beverages like iced tea.

If you have some nice paper candy or cookie cups, put the baklava in those. It makes for a nice presentation and people don't get their fingers very sticky trying to get one.

Store any uneaten baklava in a tightly covered container on the counter or your shelves. It does not have to be refrigerated and will last quite a long time because of all the butter and sugar.
Nutrition
Serving:
105
g
Calories:
306
kcal
Carbohydrates:
42
g
Protein:
4
g
Fat:
15
g
Saturated Fat:
6
g
Polyunsaturated Fat:
1
g
Monounsaturated Fat:
6
g
Sodium:
21
mg
Potassium:
174
mg
Fiber:
96
g
Sugar:
24
g
When I was a little girl, my mother brought me a special dessert.  It was baklava, and I loved it. It wasn't until I was a lot older and moved to a community that had a large Armenian population that I learned that there were a lot of varieties of the venerable dessert.
I had no idea how the dessert was made, and when I found out it was made with Filo dough, I thought that it was so gossamer that I would never be able to handle it. Of course, at one time, I was also convinced that I was unable to make decent rice, and frying completely perplexed me.
I have lately been watching YouTube and found the Heghineh Cooking Show. She demonstrates all kinds of good Armenian food, and one day, it was round baklava with pistachios. The way she did it and explained it, I thought, you know what, I can do that! I have already conquered rice and mastered frying, so why not Filo, too? I decided to make it for a small dinner party because I was getting kind of tired of cakes or fruit.