If you like the pumpkin cookies Kroger sells in the fall, you will like these.
Pumpkin Chocolate Chip Cookies
These Pumpkin Chocolate Chip cookies are so moist and flavorful. They are easy to make. You don't have to wait for Starbucks to announce Pumpkin Spice – make these any time of year.
My Introduction to Pumpkin Chocolate Chip Cookies
When Spane was a toddler, I had him on a reward system and he had been an exceptionally good boy. I took him to the store, and as we were passing by the bakery aisle, he insisted that he wanted the fresh pumpkin cookies. I don't like pumpkins, but since he was deserving a treat, I bought them for him. When he ate one, he loved it and made me taste one. Wow! They were great! My only problem was that they had preservatives and GMO pumpkin, I thought I could do better, and I did.
What's Special About These Cookies
Chocolate chip cookies are usually hard after they have cooled off. I like them when they have not cooled completely and are still bendable. These cookies are like little pillows, nice and soft, and chewy, with just the right amount of chocolate and not overwhelmingly sweet. They remind me of muffin tops but are denser.
You can get non-GMO pumpkin purée at your local Whole Foods or other organic food stores. If you don't care about GMOs, then regular pumpkin purée will do fine. If you want to use fresh pumpkin, you will have to purée it first and adjust the moisture as fresh pumpkin purée has more moisture than canned.
When I made this recipe, I halved it because I had a small can of purée. Using a small ice cream scoop, I still wound up with 4 dozen cookies. These cookies should be stored covered, with a bit of paper towel over them.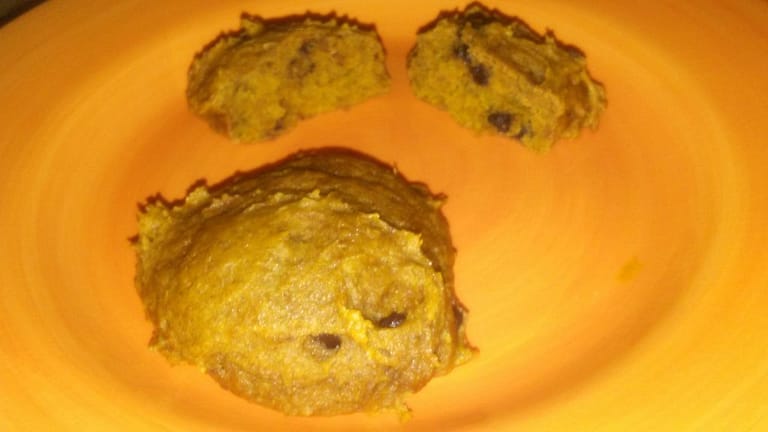 Servings (slide to adjust):
dozen cookies
Calories per serving:
122
kcal
Ingredients
3

cups

sugar

1

29 oz can

pumpkin puree

,

1

cup

butter

,

melted

1

teaspoon

vanilla

2

eggs

4

tablespoons

pumpkin pie spice

6

teaspoons

baking powder

1 ½

teaspoons

baking soda

1

teaspoon

kosher or sea salt

5

cup

all-purpose flour

1

package

semi-sweet MINI chocolate chips
— Pumpkin Pie Spice —
3

tablespoon

Ground Cinnamon

2

teaspoon

Ground Ginger

2

teaspoon

Ground Nutmeg

1 ½

teaspoon

Ground Allspice

1 ½

teaspoon

Ground Clove
Ingredients necessary for the recipe step are in italic.
Instructions
Preheat the oven to 375 degrees F. Line a baking sheet with parchment paper or a baking mat.

3 tablespoon Ground Cinnamon,

2 teaspoon Ground Ginger,

2 teaspoon Ground Nutmeg,

1 1/2 teaspoon Ground Allspice,

1 1/2 teaspoon Ground Clove

Mix the spices together for the pumpkin pie spice, put it in a small sealable container, and set aside.

6 teaspoons baking powder,

1 1/2 teaspoons baking soda,

1 teaspoon kosher or sea salt,

4 tablespoons pumpkin pie spice

Sift flour, baking powder, baking soda, and salt into a bowl, then add the pumpkin pie spice and whisk together. Set aside.

3 cups sugar,

1 29 oz can pumpkin puree,

1 cup butter,

1 teaspoon vanilla,

2 eggs

In the bowl of a stand mixer, combine the sugar, pumpkin, melted butter and vanilla and mix until smooth. Add the eggs and beat for 1-2 minutes.

5 cup all-purpose flour,

1 package semi-sweet MINI chocolate chips

Mix in 2 cups of the flour mixture, then 2 more cups and then the final cup. Add the chocolate chips and mix just until incorporated.
Nutrition
Calories:
122
kcal
Carbohydrates:
21
g
Protein:
2
g
Fat:
4
g
Saturated Fat:
2
g
Polyunsaturated Fat:
0
g
Monounsaturated Fat:
1
g
Cholesterol:
17
mg
Sodium:
147
mg
Potassium:
56
mg
Fiber:
1
g
Sugar:
11
g