My great-grandmother, Christina Jacobsen's recipe. Don't be afraid of roses. The salad dressing is unique and delicious. It's easy to make and would go well with any seafood salad.
Lobster Rose Petal Salad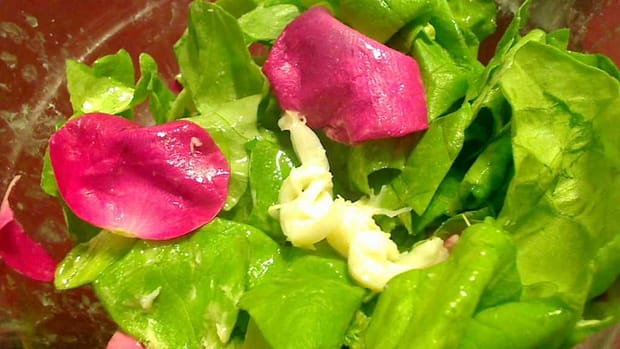 When I was a little girl, my mother used to go on about how she loved going to her grandmother's house when she would serve Lobster and Rose salad. I was always hoping that my mother would recreate the recipe, but she never did.
When my great-grandmother was making this salad, lobster was a lot less expensive. I decided that for my birthday, despite to cost, I would recreate Christina Jacobsen's recipe myself.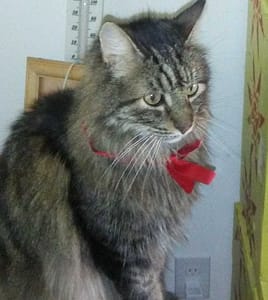 I went to the market and bought a small lobster tail. I broiled it and put it on the table to cool before putting it in the refrigerator. All of a sudden, I heard a kerplunk, looked up, and there was our Maine Coon cat, Mr. Rolo Monroe Knocker-Offer Boswell, looking guilty, with the end of the hot lobster tail in his mouth, trying to run off with it. I ran up to him and said "Hey, you can't have that. That's MY dinner!" I grabbed it and washed it off. I don't think he had gotten a chance to eat any of it.
Spane and I had the lobster and rose salad for my birthday dinner. When I tasted it, I could understand why my mother had gone on about how good it was. The combination of buttery lobster and astringent sweet rose was an incredible treat for my mouth. It was truly amazing!
If you are going to make this, get a rose or roses that have not been sprayed with pesticides. You also need to wash the rose to make sure that there are no little creatures or dirt on it. This is really a delicious salad, and the dressing is great for other seafood salads, or even as a dip. It will go great with a glass of your favorite white wine and some crusty bread. Enjoy!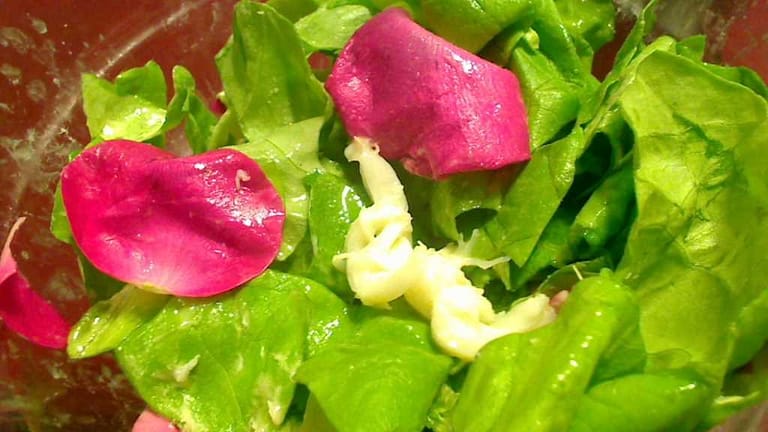 Servings (slide to adjust):
servings
Calories per serving:
274
kcal
If you purchase any of the products through these affiliate links, I get a few pennies that help keep The Good Plate open. I use these products myself and want you to be able to easily find them.
Ingredients
For the Salad
1

lobster tail

1

rose

2

cups

Boston or Butterhead lettuce

,

torn
For the Lemon Butter Dressing
1

lemon

,

juice of

½

teaspoon

dry mustard

3

tablespoons

butter

,

unsalted, melted

¼

cup

avocado oil

,

or other lightly flavored oil, not olive

dash

salt

,

sea salt or kosher salt preferred
Ingredients necessary for the recipe step are in italic.
Instructions
For the Salad
Broil the lobster tail for about 10 minutes or until the shell is red and the meat is white.

Let the lobster cool, then pick the meat off the shell. Put the meat in the refrigerator to completely cool. Don't let the cat get it! Save the shell to make stock.

When you are ready to serve, tear the lettuce into a large bowl.

Remove any dead or crumpled petals from the rose and throw them away. Carefully tear the remaining petals off and put them in the bowl with the lettuce.

Add the cooled lobster.

Toss with Lemon Butter dressing.
Notes
Because it has rose petals in it, this salad is very healthy for you. Don't be afraid of eating roses!  You could substitute crab for the lobster, or if you have enough roses, omit the lettuce.  My great grandmother did not use lettuce!
Nutrition
Calories:
274
kcal
Carbohydrates:
5
g
Protein:
12
g
Fat:
24
g
Saturated Fat:
7
g
Polyunsaturated Fat:
3
g
Monounsaturated Fat:
12
g
Cholesterol:
60
mg
Sodium:
99
mg
Potassium:
304
mg
Fiber:
1
g
Sugar:
1
g