Recipes in this Post

Cake baked in its pan, cooling
For my birthday, I wanted to make myself a special cake. I love chocolate, and I love sour cherries. The combination is fabulous.
This is my favorite cake in the world. It's a very rich cake, and takes time and effort to prepare, but well worth it. My only suggestion to you is not to make it when you have a lot of other intense dishes to make, you'll look like me when you're done! Don't let that deter you – you and your guests will be impressed with this luscious cake.
Yesterday, I made Rose Fudge Truffles and Black Forest Fudge for Founder's Night at Spane's school, prepped Rose Petal and Lobster Salad for my birthday, and made this cake. By the time we got back from Founder's Night, I was so pooped that we decided to have the cake tonight. Amber and Noelle came by, and the four of us enjoyed cake together. A good time was had by all.
[GAN_Image orientation="horizontal" maxads="1″ width="125″ height="125″ ifwidth="250″ ifheight="128″ target="new" merchid=""]

: Sour Cherry Fudge Cake
Summary: This is a very, very rich cake, and well worth the effort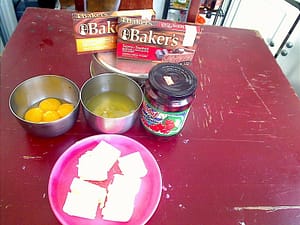 Ingredients
8 ounces Semi-sweet Chocolate
4 ounces Unsweetened Chocolate
1/4 cup Water
8 ounces Butter
2 cups Sugar
6 Egg, separated
1 cup Flour, sifted
2 cups Sour Cherries
Instructions
Preheat oven to 325. Prepare a spring-form pan by lightly buttering it on the bottom and sides.
Melt chocolates with 1/4 cup of water in double boiler, over not in, simmering water. When chocolate has melted, stir it until it looks like fudge.


Chocolates melting on Bertha

Let the chocolate mixture, eggs and butter come to room temperature.

Four, Sugar, Melted chocolates and prepared pan

Separate eggs, being sure that no yolk is in the whites. If this happens, keep those whites with the yolk for another dish, and start over. If there is any yolk or oil of any kind in with those whites, they will never foam.
Drain the cherries reserving juice for another dish.
Sift the flour into a small bowl.
Gradually add egg yolks to the chocolate, mixing thoroughly.

Mix eggs with melted chocolate mixture

Yolks and chocolate mixed

Reduce speed on mixer and carefully add chocolate, mixing thoroughly.


Chocolate added to creamed butter and sugar

Add flour gradually and mix thoroughly.
Beat egg whites in separate bowl until they hold peaks. I like to use an old-fashioned egg beater. It does a quick job, and you get a little exercise while you're beating the eggs.

Beating eggs with an egg beater

Eggs beaten to form peaks

Add one-third of whites to the batter and mix. Carefully fold in remaining egg whites.

Batter and whites, ready for folding

Folding whites into batter

Whites folded into batter

Pour into prepared spring-form pan and bake for 2 hours and 10 minutes or until a toothpick comes out clean. Let rest in the pan until cool.

Batter ready for the oven

Wow! What a cake! That's me after making Rose and Black Forest Fudge, prepping Rose Petal and Lobster Salad, and this Sour Cherry Fudge Cake
Variations
You can top the cake with powdered sugar for serving.
Preparation time: 30 minute(s)
Cooking time: 2 hour(s) 10 minute(s)
Number of servings (yield): 12
Culinary tradition: USA (Traditional)
My rating 5 stars: ★★★★★ 1 review(s)
Copyright © The Good Plate.
Recipe by Adrienne Boswell.
Microformatting by hRecipe.
[GAN_Image orientation="horizontal" maxads="1″ width="125″ height="125″ ifwidth="250″ ifheight="128″ target="new" merchid=""]