The sauce is from Joe Dogs and the recipe has been tweaked to reduce fat and calories.
Lasagna with Bechamel and Sausage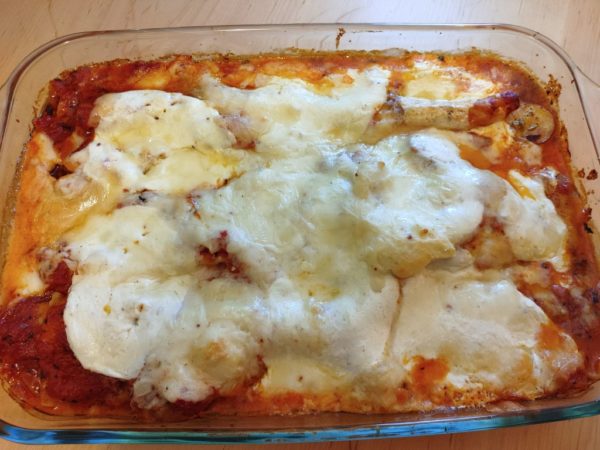 The sauce is from Joseph "Joe Dogs" Iannuzzi's Mafia Cookbook. Even though the recipe for this Lasagna with Béchamel has been tweaked to reduce fat and calories, you would never know from the taste. Enjoy this with a salad and a glass of red wine.
This was a challenge for me. I was determined to make lasagna but I wanted it to have fewer calories but as good flavor as my traditional lasagna with comes in at a whopping 708 calories per 585 grams vs this one which has only 486 calories per 339 grams. Most of those calories are in the fat which totaled 46 grams and this one comes in with only 31 grams of fat.
Lasagna alla casa di Boswell
There is nothing like homemade lasagna. Even though this dish may seem difficult, and time consuming, you will see it is well worth the effort. I've been making this recipe for years, and always gotten rave reviews.
Lasagna with Béchamel
The other difference between these two lasagnas is this one is missing ricotta. I'm sorry, I just don't like ricotta. I enjoy the flavor but I can't abide by the texture. I do all kinds of things to avoid the texture, add spinach, other cheese, sun-dried tomatoes, you name it. Finally, I decided to just get rid of it and use béchamel instead. I am very glad I made that decision because this lasagna was very good. The texture was perfect. I think you will like it, too.
Béchamel is one of the French mother sauces. You might know it as a "white sauce". It's simply butter, flour, and liquid, often milk. It uses a roux which is equal parts flour and fat. Often butter is used because it melts nicely and has great flavor. Making it is simple. You need a pan and a whisk. Melt the butter, add the flour and mix it in. Cook it on low, stirring constantly until the mixture turns white, then add the liquid. Keep stirring it until it thickens to your liking, usually until it coats the back of a spoon.
Chicken Sausage
I used chicken sausage that I bought premade. You could also make your own chicken sausage following the directions for homemade pork sausage and substitute chicken or turkey for the pork.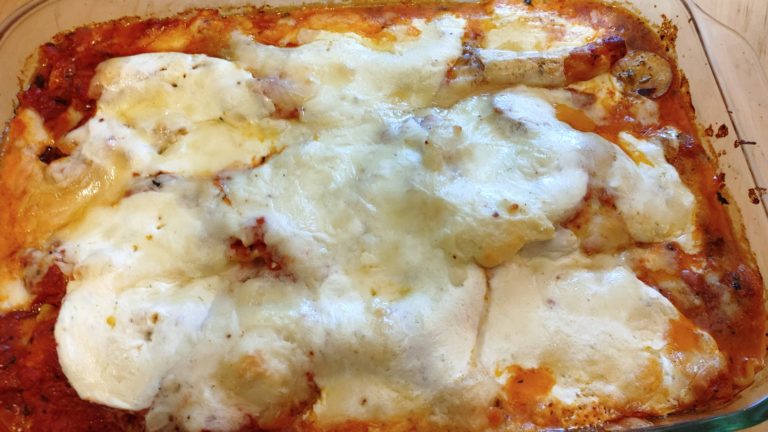 Servings (slide to adjust):
Calories per serving:
486
kcal
Ingredients
~~ — For the Sauce — ~~
2

cloves

garlic

,

crushed

¼

cup

olive oil

28

ounce

tomato

½

teaspoon

garlic powder

¼

teaspoon

dry mustard

¼

teaspoon

black pepper

,

freshly ground

2

tablespoon

basil

,

dried

1

teaspoon

chicken base

1

cup

Water
~~ — For the Béchamel — ~~
~~ — For the Filling — ~~
12

ounces

chicken Italian sausage

,

broken up

6

mushrooms

,

sliced

1

tablespoon

Shallots in Oil

1

teaspoon

fennel seeds

½

teaspoon

chili flakes

16

ounce

fresh mozzarella

,

sliced

¼

cup

parmesan

,

shaved
Ingredients necessary for the recipe step are in italic.
Instructions
Nutrition
Serving:
339
g
Calories:
486
kcal
Carbohydrates:
18
g
Protein:
30
g
Fat:
31
g
Saturated Fat:
14
g
Polyunsaturated Fat:
2
g
Monounsaturated Fat:
11
g
Cholesterol:
103
mg
Sodium:
1016
mg
Potassium:
461
mg
Fiber:
2
g
Sugar:
7
g