Air Fryer Twice-Baked potatoes are an easy-to-make, tasty side dish that you can even make ahead for fancy dinners or even just one for yourself.
Air Fryer Twice-Baked Potatoes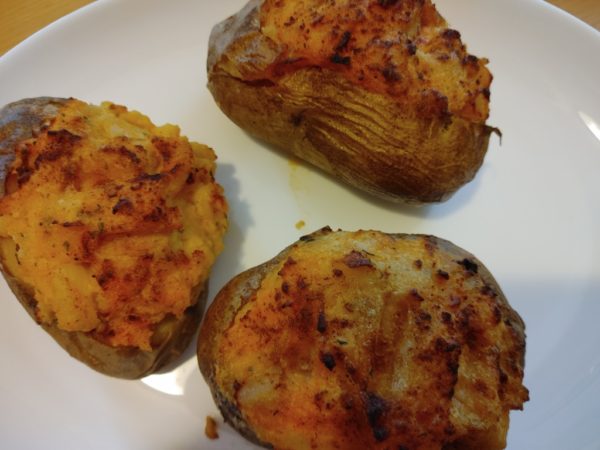 Air Fryer Twice-Baked potatoes are an easy to make, tasty side dish that you can even make ahead for fancy dinners or even just one for yourself.
My adopted mother, Helen Reeves Pearson, used to make twice-baked potatoes for fancy dinners when she would invite people important in the financial industry. I loved helping her in the kitchen and getting her recipes, especially this one because it was my favorite. Helen also gave me the base recipe for Cheesy Potatoes and her wonderful Grapefruit Pecan salad.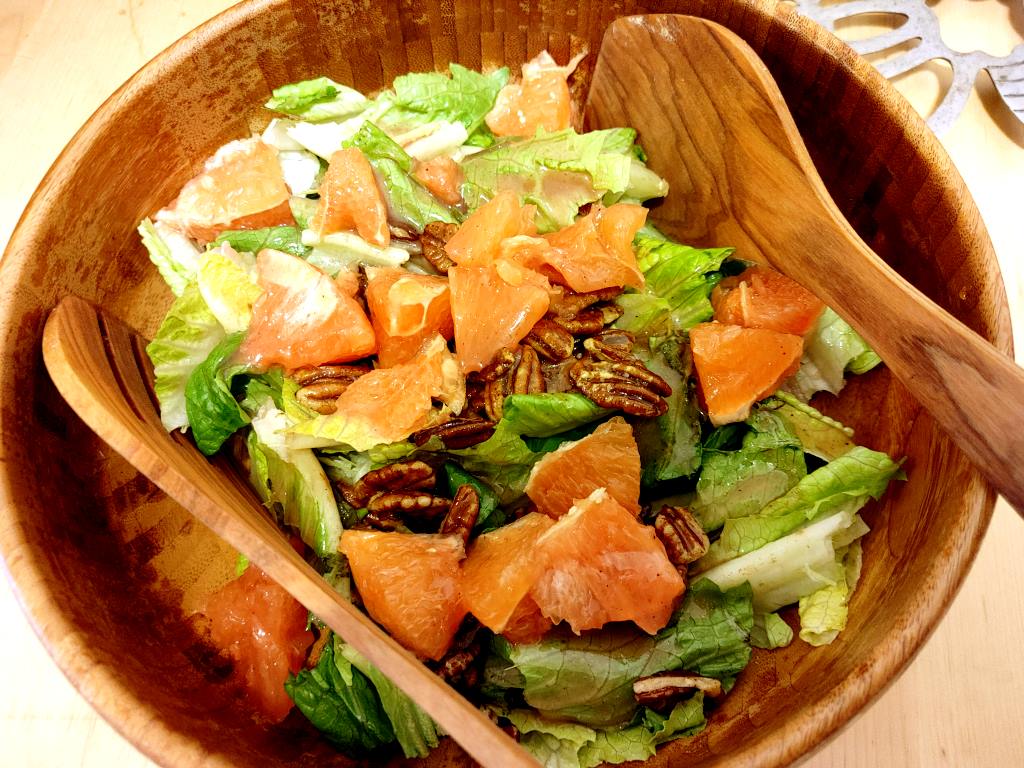 Grapefruit Pecan Salad with Raspberry Dressing
Grapefruit Pecan salad pairs perfectly with a perfectly grilled steak. Raspberry dressing enhances the tangy fruit flavor and pecans for crunch.
Why Use an Air Fryer?
Sure, microwave ovens make a quick job of baking potatoes, but at a cost. Microwave baked potatoes are missing the nice crisp skin that's so good to munch on. Because the skin isn't crisp, the skins are also more likely to break and make a bad presentation.
Conventional ovens do a great job of giving a good crisp and sturdy skin, but they take a lot longer and while they are baking the potato, they are heating up your kitchen. If you have a tiny kitchen like mine, you would never consider making these on warm days.
The air fryer takes on both of those challenges and passes them with flying colors. My GoWise 12.7-quart rotisserie air fryer perfectly bakes a medium potato in 40 minutes. Since the unit is small and sits on my counter, it doesn't heat up my kitchen at all. A conventional oven takes about an hour.
Make Them in Advance
Since you really need to cool the potatoes enough to handle them anyway, this means you can bake them and put them in the refrigerator loosely covered until you need them. Bake them in the morning, make them that night. You can even put them in the fridge overnight. The skin will crisp up when you bake them again – they are, after all, twice-baked potatoes.
What Kind of Filling?
I happen to like sour cream, jalapeno, and cheese in mine. I like the stuffing to be creamy, so I use Cheez Whiz. Yeah, I know. It's not organic, it's processed, it comes in a jar, but it really is the best thing to use if you want a creamy interior. Cream cheese mixed with another grated cheese would also be a good alternative.
Make Air Fryer Twice-Baked Potatoes Your Own
Put what you like in your baked potatoes, bacon, jalapeno pepper, paprika, garlic, etc. It's your twice-baked potatoes, you make them the way you like them. But, in the meantime, this is how I make mine. Want to make them fancy? Use a piping bag and a star tip to pipe the filling in.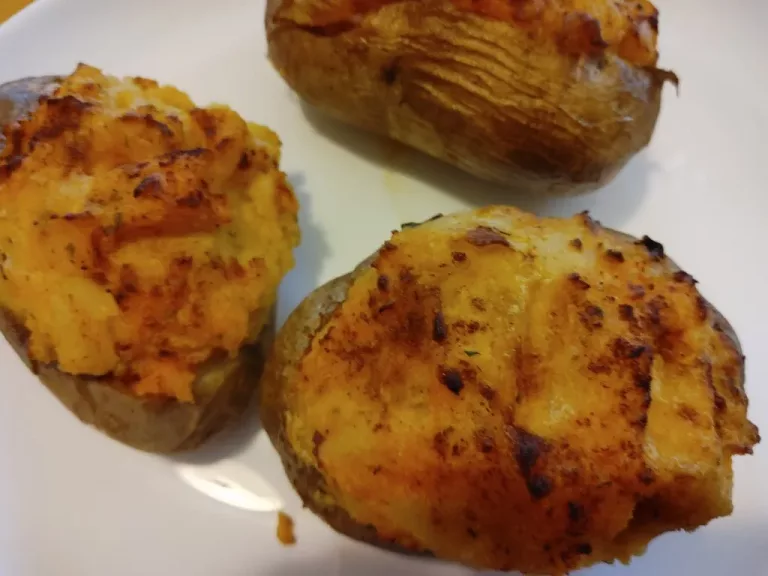 Servings (slide to adjust):
Calories per serving:
482
kcal
Ingredients
4

large

Russet potatoes

2

tablespoon

Ghee

½

teaspoon

Garlic base

¼

teaspoon

Jalapeno peppers,

Crushed

1

teaspoon

Fine Herbs

¼

cup

Sour cream

¼

cup

Cheez Whiz

1

teaspoon

Paprika

2

teaspoon

Butter
Ingredients necessary for the recipe step are in italic.
Instructions
Wash the potato skins and prick them with a fork then bake at 400 degrees for 25 minutes. Let them cool.

When they are cool, remove the top of each potato and put the flesh in the bowl of a stand mixer. Scoop out the remaining flesh from the potato, being careful not to break the skin. If you feel that you are getting too close, don't dig that far.

Melt the ghee and garlic base together. Put the mixture in the bowl with the potatoes and add the jalapeno and fine herbs. Beat on 2 until all the potato is mixed with the ghee and herbs. Add the sour cream and Cheeze Whiz and stir again on two until it is all combined.

Use a spoon to stuff the potatoes being careful not to break the skin. Pile the mixture all the way up and over, smoothing it down so it's not going to fall off during baking. If you have too much, you have taste or two for yourself. Sprinkle the paprika over the tops of each potato.

Finally, cut the butter into eight pieces and put two pieces on the top of each potato, a little bit sticking out.

Put the potatoes in the air fryer and cook for 20 minutes at 320. At the end of 20 minutes, turn the heat up to 400 and cook for an additional 5 minutes,

Remove from the oven and serve.
Notes
If you are concerned about fat, by all means, omit the Cheez Whiz or use fat-free sour cream or yogurt instead. To make it vegan, use a dairy substitute.
Nutrition
Serving:
362
g
Calories:
482
kcal
Carbohydrates:
73
g
Protein:
15
g
Fat:
15
g
Saturated Fat:
9
g
Polyunsaturated Fat:
0
g
Monounsaturated Fat:
3
g
Cholesterol:
40
mg
Sodium:
769
mg
Potassium:
1789
mg
Fiber:
7
g
Sugar:
3
g