Charoset is a part of the traditional Seder plate.  It represents the mortar used for the bricks used by the Jewish slaves in making the Egyptian buildings, temples, and tombs.  It is also a little sweet, to remind us of the sweetness of life.
Charoset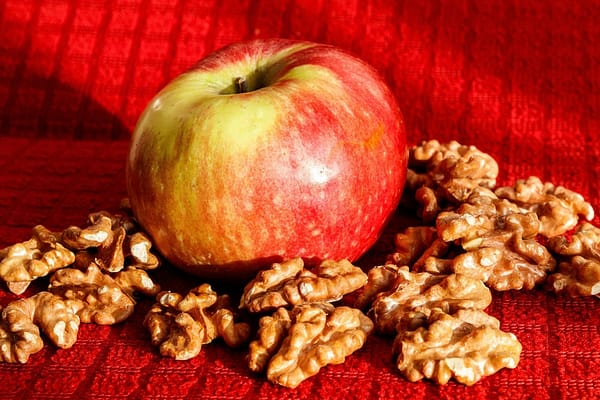 Charoset is a part of the traditional Seder plate.  It represents the mortar used for the bricks used by the Jewish slaves in making the Egyptian buildings, temples, and tombs. 
Holy Thursday, also known as Maundy Thursday,  Covenant Thursday, Great & Holy Thursday, and Thursday of Mysteries, is the Thursday before Easter celebrated by Christians to commemorate Jesus' Last Supper, in which he was celebrating Passover.  This was the very first Holy Communion and the beginning of Holy Orders when Jesus washed his disciples' feet.
It is amazing to have a seven-year-old son who had his First Holy Communion on May 15, 2011.  Part of his education was understanding what the sacrament means, both spiritually and historically.
Spane wanted to know why the Pastor was washing the feet of the men sitting on the steps leading to the sacristy.  I think a lot of people take this kind of for granted, just as the ancients took the slaves that washed people's feet for granted.  By Jesus taking on the job of a slave, he showed us, by his example, to go out and serve others.
The Passover commemorates freedom from slavery, Holy Communion commemorates our freedom from sin.
In 2010, we celebrated a "mini" Seder meal, and this year we celebrated as well.  I decided to try to make it a meal that might have been served in Jesus' time, something that would have been common in the Mediterranean.  Our menu had a lot of lemons, including the dessert, Lemon Bars.  We did not want to have dessert before going to Mass, so we had it after we got home.  It was the perfect end of a perfect day!
Our Seder Menu
The Seder Plate

Charoset
Bitter Herb (we used horseradish)
Romaine leaves
Unleavened Bread
Salt Water

The Meal

Tabouleh
Lamb Chops
Lemon Squares
The Seder Plate
Charoset
Charoset is a part of the traditional Seder plate. It represents the mortar used for the bricks used by the Jewish slaves in making the Egyptian buildings, temples, and tombs. It is also a little sweet, to remind us of the sweetness of life.
When I make it, although I only use one apple, there is enough left over for Good Friday's fast of one meal.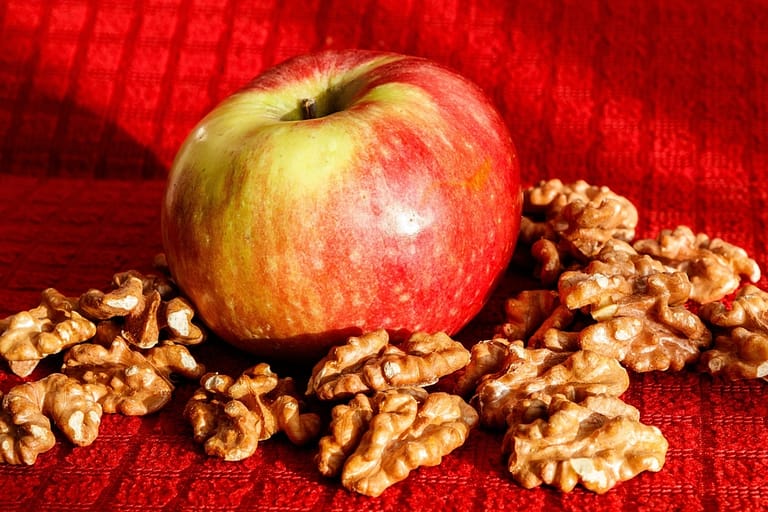 Servings (slide to adjust):
Calories per serving:
120
kcal
Equipment
If you purchase any of the products through these affiliate links, I get a few pennies that help keep The Good Plate open. I use these products myself and want you to be able to easily find them.
Ingredients
½

cup

chopped nuts

,

walnuts are a good choice

1

apple diced

1

Tablespoon

cinnamon

1

tablespoon

Red wine

,

as desired
Ingredients necessary for the recipe step are in italic.
Instructions
Combine ingredients in a food processor and process until it resembles the mortar that was used to build the pyramids.  Okay, it doesn't have to look exactly like that, but similar.
Notes
If you do not have red wine, as I did not this time, you can use Balsamic vinegar instead.  If you find it is not sweet enough, you can add a teaspoon of sugar.
Nutrition
Calories:
120
kcal
Carbohydrates:
7
g
Protein:
4
g
Fat:
9
g
Saturated Fat:
1
g
Polyunsaturated Fat:
5
g
Monounsaturated Fat:
2
g
Cholesterol:
0
mg
Sodium:
1
mg
Potassium:
128
mg
Fiber:
3
g
Sugar:
3
g
You could also make a Charoset Tart if you have a crowd. It's really good with a dollop of whipped cream on top.
Charoset Tart – A Tradition for your Holiday Table
Charoset Tart made with apples, walnuts, raisins and wine could be the new tradition on your holiday table. It's easy to make – have it any time of year.
Romaine
The lettuce symbolizes the bitter enslavement of the Jewish people in Egypt. The leaves of romaine lettuce are not bitter, but the stem, when left to grow in the ground, turns hard and bitter.
Bitter Herb
Bitter herbs bring to mind the bitterness of the slavery of the Jewish peoples in Egypt.
Salt Water
The saltwater is used for dipping the lettuce and other things on the traditional Jewish Seder plate. For us, it also symbolizes the tears shed by the slaves in Egypt.
---
The Meal
Tabouleh
The first time I had Tabouleh, it was at a potluck someone's mother had made it – I called it Christmas salad for the longest time because it was green with red and white. Since then I have had it many times, mostly purchasing at Armenian deli or once, I even bought the one that comes in a box. I was determined to make it myself, even if I had to stand and watch an old Armenian grandma do it.
Don't buy the Tabouleh that comes in the box, it does not have a bright, fresh taste. Although Tabouleh may seem difficult to make, with the proper tools, it's really a snap. All you really need is a good sharp Mezzaluna. What is a Mezzaluna you ask? Well, it's a half-moon-shaped knife that you rock back and forth over your herbs. The double-handled one is the best – I only have a single, but it did the trick.
A Mezzaluna can quickly become your best friend when wanting to chop nuts and herbs. It is my preferred tool when I am making Chicken with Gorgonzola and Pistachios for chopping up the nuts. I originally bought mine at Cost Plus World Market when they still carried them, and mine came with a nice wooden chopping block with an indentation in the center for the Mezzaluna.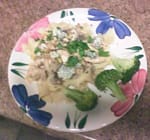 Chicken with Gorgonzola and Pistachios
Sauteed chicken in a creamy sauce with Gorgonzola cheese and pistachio nuts.
I was a little frightened of bulgur since I had never used it. Doing a little reading up on it on the Internet calmed my fears.  I was happily surprised with the Zergut's packaging that said the fine-grain bulgur was the right one for Tabouleh.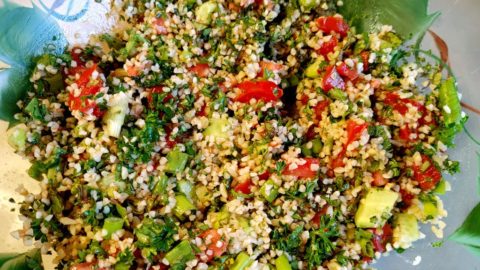 Mediterranean Grilled Lamb
I am very lucky to live in Glendale, California, which has a large Armenian population. Armenians make wonderful lamb dishes, especially kabobs grilled over their special hardwood barbeques.
For this reason, I can get lovely lamb chops at the butcher for a fair price. The butcher at my local store cut the ribs for me right out of the cold storage. They had just come in that morning!
Another thing about living in Glendale and shopping at the Armenian markets; usually only lemon basil is available. I like lemon basil, so I am fortunate in that respect. Lemon basil, if you have not had it, is truly very lemony so it goes great with meats and fish.
These chops would have been wonderful on the barbeque, but I just put them in an iron skillet and broiled them in the broiler.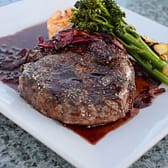 Lemon Bars for Holy Thursday or Any Day!
My friend Amber Lewis made these at her home a while back. The only problem was they were so good in the pan that they never made it onto the serving platter!
When I was working at the Scholastic Book Fair at Spane's school, I was looking through 9×13 – The Perfect Fit Dish, and there was a recipe for Lemon Bars in it. I bought the book just for that reason, and this is the recipe that was in the book.
As it turned out, we did not have enough time after our meal for dessert, so we had these when we came back from Holy Thursday Mass.