These lemon bars are so tasty you won't have time to take a picture before you eat them all up.
Lemon Bars
Lemon bars – as the warm summer breeze beckons, it's time to uncover the refreshing secrets behind these zesty treats.
Lemon bars have established themselves as quintessential summer desserts, offering a delightful combination of buttery crust, velvety lemon curd, and a dusting of powdered sugar. With each bite, your senses awaken to the vibrant and tangy essence of freshly squeezed lemons. These sweet and sour squares have become a go-to treat for gatherings, picnics, or simply as an indulgence after a long day.
The foundation of a perfect bar lies in the crust. It should be buttery, and crumbly, and provide a delicate base for the luscious lemon filling. The filling, on the other hand, is the star of the show. Made with a blend of lemon juice, zest, eggs, sugar, and a touch of flour, it magically transforms into a silky custard-like layer that tantalizes your taste buds. The harmonious balance of sweet and sour flavors is what truly sets lemon bars apart. Don't be surprised if you get a powered sugar mustache!
Lemons for Lemon Bars
There are several types of lemons available. The Meyer lemon is my favorite. Meyer lemons have a thin skin which, though very sour, is edible, in contrast to the Eureka lemon, common in most supermarkets. Meyer lemons are not true lemons, but in my opinion, make a superior lemon bar. So, if you can find Meyer lemons, use those.
I have also used red grapefruit for Ruby Red Grapefruit Squares. They're a great idea for a "pink" dessert, perfect for a girl's birthday party.

Ruby Red Grapefruit Squares
Ruby Red Grapefruit Squares are a twist on the classic Lemon Squares. Easy to make, they are sweet, juicy, and tart.
When I was working at the Scholastic Book Fair at Spane's school, I was looking through 9×13 – The Perfect-Fit Dish and there was a recipe for Lemon Bars in it. I bought the book just for that reason, and this recipe was inspired by that book.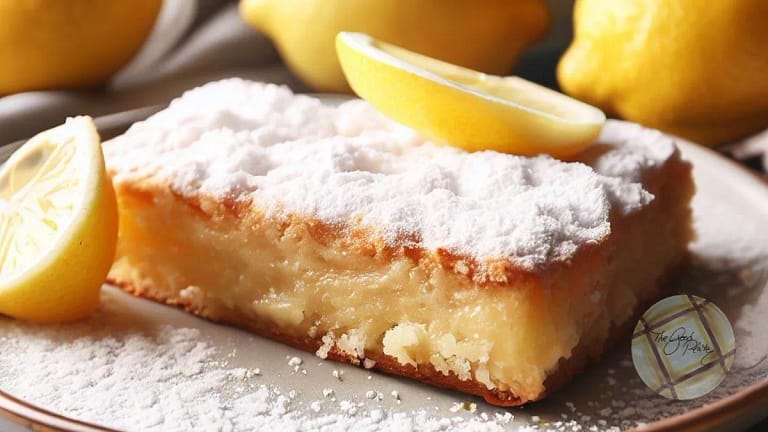 Servings (slide to adjust):
Calories per serving:
426
kcal
Ingredients
Crust
2

cup

flour

½

cup

powdered sugar

2

tablespoon

cornstarch

¼

teaspoon

salt

¾

cup

butter
Filling
4

Eggs

1 ½

cup

sugar

1

teaspoon

lemon peel

¾

cup

lemon juice

¼

cup

half-and-half

3

tablespoon

flour

1

cup

powdered sugar
Ingredients necessary for the recipe step are in italic.
Instructions
First, preheat the oven to 350 F / 176 C.  Get a 9×13 pan and line it, bottom, and sides with waxed paper or greased parchment paper.  This is important!

2 cup flour,

1/2 cup powdered sugar,

2 tablespoon cornstarch,

1/4 teaspoon salt,

3/4 cup butter

Make the crust by combining the crust ingredients in a food processor and processing until you have what looks a little like sand.  Take this and press it firmly into the prepared pan.

4 Eggs,

1 1/2 cup sugar,

1 teaspoon lemon peel,

3/4 cup lemon juice,

1/4 cup half-and-half,

3 tablespoon flour

Combine the remaining ingredients into a bowl and mix them together.  I do not suggest using a stand mixer because it is just too powerful.  Use a regular bowl and whisk.

Bake the crust for about 20 minutes or until the sides start to brown.  Remove the crust from the oven and immediately pour the filling onto the hot crust.  Put this back in the oven and bake uncovered until the mixture has set, about 15 minutes.

Remove from the oven and let sit in the pan until cooled. Carefully lift the bars by using the sides of the paper onto a cutting board.  Cut into bars, sprinkle each with powdered sugar, and serve on a nice serving dish.
Nutrition
Serving:
144
g
Calories:
426
kcal
Carbohydrates:
61
g
Protein:
8
g
Fat:
17
g
Saturated Fat:
9
g
Polyunsaturated Fat:
1
g
Monounsaturated Fat:
5
g
Cholesterol:
225
mg
Sodium:
110
mg
Potassium:
112
mg
Fiber:
1
g
Sugar:
41
g