A twist on the classic Lemon Squares, these grapefruit squares are sweet, juicy and tart. Grapefruit itself has unique digestive properties, so if you like grapefruit, you'll love these Grapefruit Squares.
Ruby Red Grapefruit Squares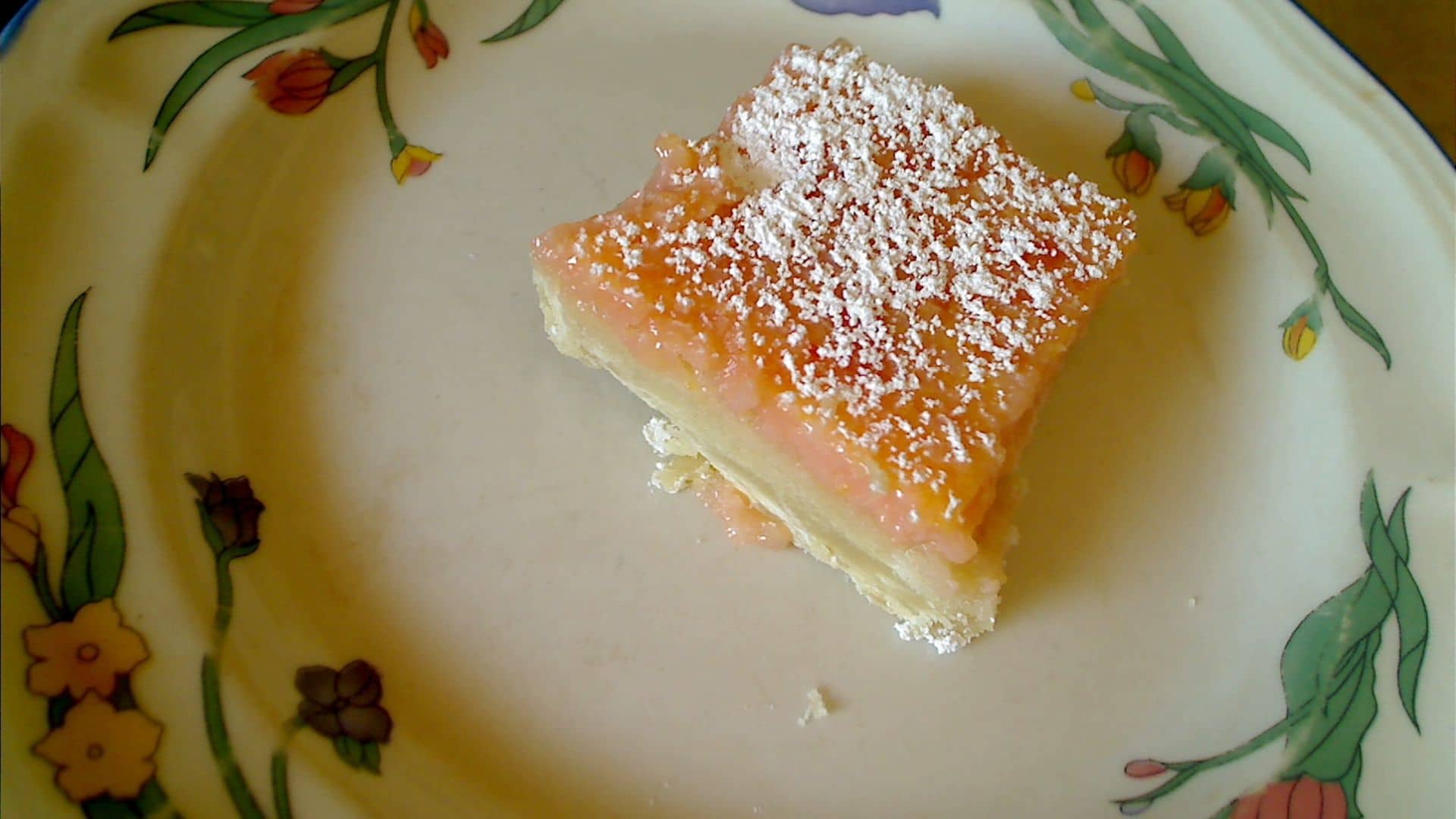 Ruby Red Grapefruit Squares are a twist on the classic Lemon Squares. They are sweet, juicy, and tart. If you like grapefruit, you'll love these Grapefruit Squares. They are also easy to make.
I've always loved grapefruit, even when I was a kid and my mother would give me half a white grapefruit with some sugar sprinkled on it. Hint – I liked the sugar more than the grapefruit. As I got older, when pink and then ruby red grapefruit became available, I liked those, even more, and without the sugar.
Grapefruit is wonderful in summer salads like this Grapefruit Beet Salad and my favorite Grapefruit Pecan Salad. So, now that you have all those wonderful grapefruits, go forth and be healthy! Yes, you can cheat and have a little bit of these grapefruit squares, too.
Why is grapefruit healthy for me?
Being a citrus fruit, grapefruit has a lot of vitamin C. It has several antioxidants including:
Vitamin C is a powerful, water-soluble antioxidant that may protect cells from damage that often leads to heart disease and cancer.
Beta-carotene is converted into vitamin A in the body and may help reduce the risk of some chronic conditions, including heart disease, cancer, and eye-related disorders like macular degeneration.
Lycopene is also found in tomatoes and ketchup. It may prevent certain types of cancer, especially prostate cancer, and the growth of tumors. It could decrease the side effects of some cancer treatments.
Flavanones help with preventing the risk of heart disease and reducing blood pressure.
Why should I not have grapefruit with certain drugs?
According to the FDA, grapefruit can block the intestinal enzyme CYP3A4, which means that for certain drugs, the drug is not broken down so more of the drug goes into your bloodstream than was prescribed. Please check with your pharmacist to see if your prescription is affected.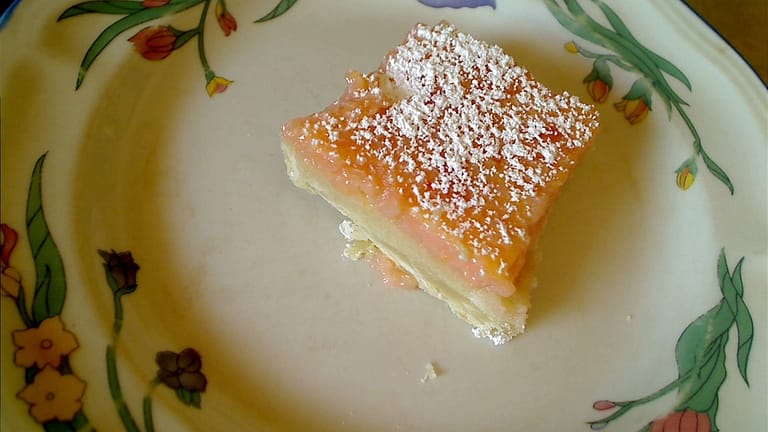 Servings (slide to adjust):
Calories per serving:
428
kcal
Ingredients
~~ Crust ~~
2

cup

Flour

½

cup

Powdered sugar

2

tablespoon

Cornstarch

¼

teaspoon

Salt

¾

cup

Butter
~~ Filling ~~
4

Egg

1 ½

cup

Sugar

1

teaspoon

Grapefruit peel

¾

cup

Grapefruit juice

¼

cup

Half-and-half cream

3

tablespoon

Flour

1

cup

Powdered sugar
Ingredients necessary for the recipe step are in italic.
Instructions
First, preheat the oven to 350°F / 176.66°C. Get a 9×12 baking dish and line its bottom and sides with waxed paper or greased parchment paper. This is important!
Make the Filling
4 Egg,

1 1/2 cup Sugar,

1 teaspoon Grapefruit peel,

3/4 cup Grapefruit juice,

1/4 cup Half-and-half cream,

3 tablespoon Flour,

1 cup Powdered sugar

Combine the filling ingredients into a bowl and mix them together. I do not suggest using a stand mixer because it is just too powerful. Use a regular bowl and whisk.

Use your discretion to add pink or red coloring gel. A little bit goes a long way.
Make the Crust
2 cup Flour,

1/2 cup Powdered sugar,

2 tablespoon Cornstarch,

1/4 teaspoon Salt,

3/4 cup Butter

Make the crust by combining the crust ingredients in a food processor and processing until you have what looks a little like sand. Take this and press it firmly into the prepared pan.

Bake the crust for about 20 minutes or until the sides start to brown. Remove the crust from the oven and immediately pour the filling onto the hot crust. Put this back in the oven and bake uncovered until the mixture has set, about 15 minutes.

Remove from the oven and let sit in the pan until cooled. Dust with powdered sugar. Don't put it into the refrigerator unless you have already cut the squares, otherwise, the crust will be difficult to cut.
Notes
This dessert is very rich and a little bit goes a long way.
Nutrition
Serving:
144
g
Calories:
428
kcal
Carbohydrates:
61
g
Protein:
8
g
Fat:
17
g
Saturated Fat:
9
g
Polyunsaturated Fat:
1
g
Monounsaturated Fat:
5
g
Cholesterol:
225
mg
Sodium:
110
mg
Potassium:
118
mg
Fiber:
1
g
Sugar:
40
g
Cravings
Lately, I have been craving lemon squares. It was hot at the start of July in California, and I really didn't want to turn on my oven. One of the markets I occasionally go to has lemon squares, but, of course, when I really wanted them, they're out. So, I had to make my own. When I made them back in 2011, my lemon squares were just the way I liked them, but I still didn't want to turn on the oven.
When I went to the local store, they had some lovely ruby red grapefruits on sale, just as you walked in the door. How could I resist? I love grapefruit, and it's beneficial to your health. As much as I enjoy grapefruit, I decided that even though it was hot, I could turn my oven on to make Ruby Red Grapefruit Squares.