An amazing composed salad that can be vegan if wanted.
Grapefruit Beet Salad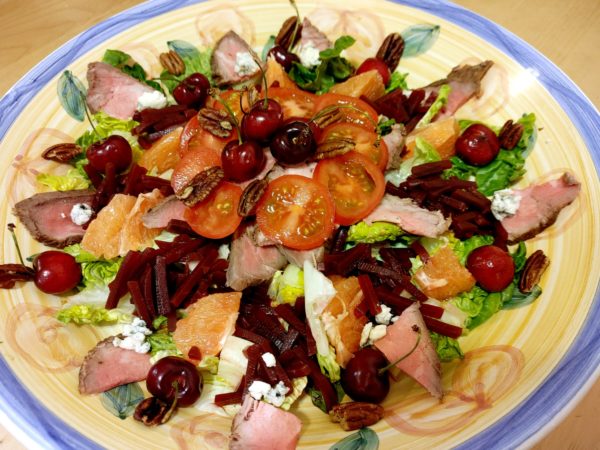 Grapefruit Beet Salad is a composed salad that is hearty enough to serve by itself with some crusty bread. Want it vegan? Omit the cheese and roast beef.

This salad has everything in it that I really love. I was inspired by someone in my Facebook New York Times Cooking Community group who also loves grapefruit and beets. It should be served very cold for the best flavor.
Grapefruit and Beet Salad – The Grapefruit
I don't know about you, but ever since I was a little girl, I've always liked pink or, better yet, red grapefruit because of its sweetness. My only complaint about grapefruits was getting the wedges out of the fruit without making a mess.
My mother had a grapefruit knife. All it ever did was stab her as she tried to get the pieces out nicely.  There was also a grapefruit spoon that was supposed to help you eat the grapefruit.  It never worked very well for me. I even remember my mother having a special spoon with teeth on it to get the grapefruit flesh out – I don't have to tell how that failed, do I?
Enter the Grapefruiter from Chef'n.  This tool makes it very easy to get the grapefruit out without making a mess or hurting yourself. Chef'n makes a great tools for your kitchen, and I have a lot of them, including this one.  If you like grapefruit, you'll love this tool.
Make it Vegan
When I made this salad, I happened to have some leftover Sous Vide Roast Beef, and I had a bit of crumbled blue cheese in my cheese drawer.  Blue cheese and beef go together very well, so I included them.  However, if you want to make your salad vegan, feel free to leave them out.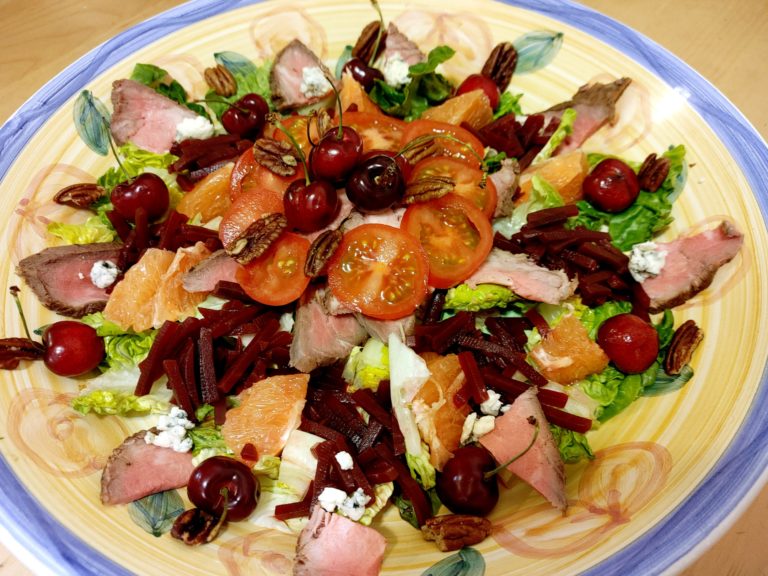 Servings (slide to adjust):
Calories per serving:
335
kcal
Equipment
If you purchase any of the products through these affiliate links, I get a few pennies that help keep The Good Plate open. I use these products myself and want you to be able to easily find them.
Ingredients
1

head

Romain lettuce

,

torn

1

Grapefruit

,

peeled and seeded

1

Beet

,

julienned

¼

pound

Roast beef

,

cut

¼

cup

Blue Cheese,

crumbled

¼

cup

pecans

½

cup

Cherries

,

not stemmed or pitted

1

Tomato

,

sliced

¼

cup

Girard's Raspberry Vinaigrette
Ingredients necessary for the recipe step are in italic.
Instructions
Using a large salad bowl, or large pasta bowl, lay the torn lettuce in a daisy pattern.

Alternate grapefruit sections and beets on the middle ring on top of the lettuce. On top of each beet portion goes a slice of roast. On top of each grapefruit section with a cherry. Put a bit of crumbled cheese on top of each piece of beef. Put a pecan on top of each cherry.

For the center of the salad, lay the rest of the beef, top if with the sliced tomato, cherries, and pecans.

Present the salad, then toss with dressing and serve.
Notes
Be sure to have a bowl ready on the table for cherry stems and pits.
Nutrition
Calories:
335
kcal
Carbohydrates:
28
g
Protein:
9
g
Fat:
21
g
Saturated Fat:
4
g
Polyunsaturated Fat:
2
g
Monounsaturated Fat:
5
g
Cholesterol:
20
mg
Sodium:
899
mg
Potassium:
481
mg
Fiber:
3
g
Sugar:
17
g