German Blue Cheese Red Potato Salad - red-skinned, white-fleshed potatoes nestled with crispy bacon and blue cheese in cider vinaigrette.
German Blue Cheese Red Potato Salad
Recipes in this Post
Independence Day
When Spane and I went to the store and I picked out our 4th of July dinner, I got to thinking that I really missed German Potato Salad. When my family was stationed in Kaiserslautern in Germany, it was something that we had quite often. I've had it since coming back to the United States, but it never seemed as good. I thought maybe I could improve on it.
But, why would I want to have German Potato Salad on a holiday that celebrates Independence from British rule? Well, because there were plenty of Germans involved in the Revolutionary War, among them Friedrich Wilhelm von Steuben. There were also French involved in helping us win, hence the inclusion of Blue Cheese
German Blue Cheese Red Potato Salad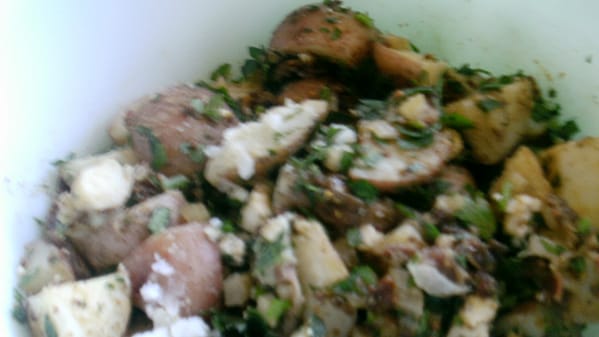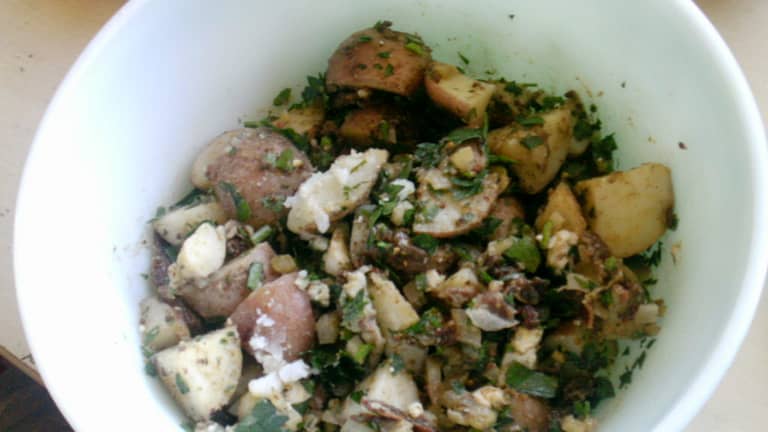 Servings (slide to adjust):
servings
Calories per serving:
290
kcal
Ingredients
8

medium Red potatoes

2

slices

Bacon

1

Onion chopped

1

tablespoon

mayonnaise

1

teaspoon

wholegrain mustard

1

tablespoon

Cider Vinegar

1

tablespoon

Blue cheese

¼

cup

Italian parsley chopped
Ingredients necessary for the recipe step are in italic.
Instructions
Have ready a steamer large enough to accommodate the potatoes. Prepare the pan with water.

Cut the potatoes in eights, cut each in half, then those halves, and half again. Put them into the pan. Put the potatoes on to heat.

While that is happening, cook the bacon until crisp in a skillet, or microwave. Do NOT throw away the fat!

When the potatoes are fork-tender, put them in a bowl with the chopped onions. Crumble the bacon overall.

If you cooked the bacon in a pan, heat the pan on low, then add the vinegar and mustard to the pan, and whisk until well mixed. Then add the mayonnaise and whisk briskly to combine. If you used a microwave oven, put the fat in a saucepan, and heat it as previously described.

Pour the mixture over the potatoes, and toss to combine. Refrigerate until ready to serve.

Just before serving, add the crumbled blue cheese, and chopped parsley.
Notes
Quick notes
Try to get German whole grain mustard. Yellow mustard will not work in this, it's too sour.
Variations
If you want to make this vegetarian, you could use olive oil instead of bacon fat, and add walnuts for crunchiness.
Nutrition
Serving:
1
g
Calories:
290
kcal
Carbohydrates:
43
g
Protein:
7
g
Fat:
10
g
Saturated Fat:
4
g
Polyunsaturated Fat:
1
g
Trans Fat:
4
g
Cholesterol:
13
mg
Sodium:
218
mg
Fiber:
5
g
Sugar:
4
g