This is an old family recipe from my good friend.
Tabbouleh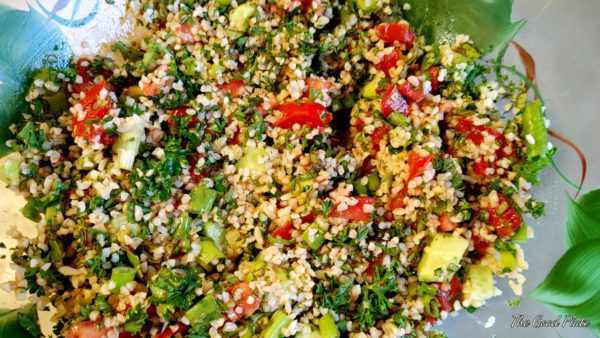 Tabbouleh salad
Tabbouleh salad is made from bulgar, parsley, tomato, mint, and onion dressed with lemon juice and olive oil. It has a wonderful bright taste and it's great with barbecue or anything else you can think of.

The first time I had Tabbouleh was at a Christmas party where one of my co-worker's wife had made it. I fell in love with it and not knowing what it was, I called it Christmas salad because of the bright green herbs, white bulgar, and red tomatoes.
It's an ancient salad from the Levantine. Because of its popularity, there are many different ways of making it. Sometimes, it's a lot of parsley and little bulgar, sometimes it's a lot of bulgar and not so much parsley. There is a version that uses pomegranate seeds instead of tomatoes.
Spices for Tabbouleh
My friend's mother makes wonderful Tabbouleh so I asked her what was so special about it.  She said it was the addition of sumac.  Sumac adds a tart, lemony flavor. You can find Sumac in Meditteranean food stores, some gourmet stores, and of course, Amazon. It's a spice worth having, so try to get it.
The other spice that I put in is Aleppo pepper. It comes from a burgundy chile also known as the Halaby pepper. It is not overly hot and just adds a little spice to whatever you are making. I find it especially good with tomatoes, so it just had to go into this salad.
Bulgar is made from wheat, so if you have celiac disease, this is not the salad for you. Bulgur is a cereal food made from the cracked parboiled groats of several different wheat species, most often from durum wheat. It comes dried like pasta and has to be rehydrated for Tabbouleh. Use the fine type for this salad.
I really like Tabbouleh with summer foods like barbecued chicken, kabobs, ribs, you name it. It makes a wonderful substitute for the ubiquitous coleslaw, so give it a try sometime.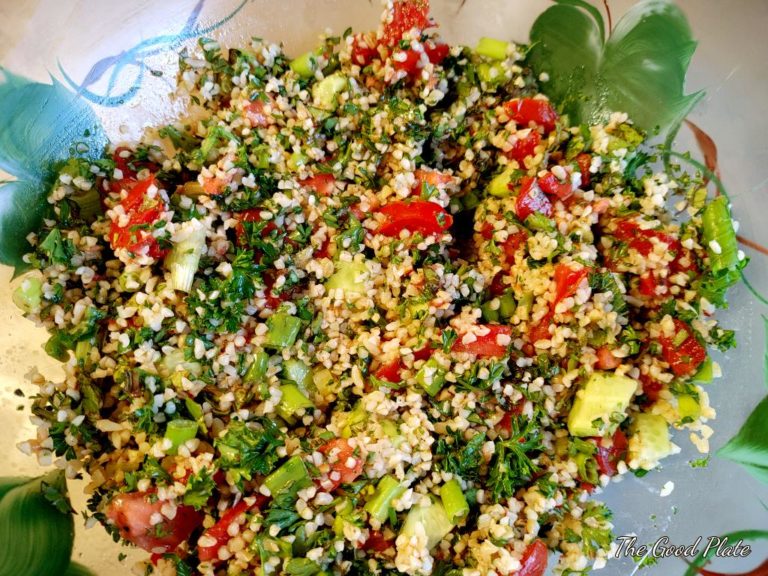 Servings (slide to adjust):
Calories per serving:
249
kcal
If you purchase any of the products through these affiliate links, I get a few pennies that help keep The Good Plate open. I use these products myself and want you to be able to easily find them.
Ingredients
¾

cup

Bulgur

,

fine grind

2

cups

Water

,

cold

2

cups

parsley

,

minced

½

cup

Green onion

,

thinly sliced

¼

cup

Mint

,

minced

1

Cucumber

,

chopped

2

Tomatoes

,

chopped
~~ For the Dressing ~~
¼

teaspoon

dry mustard

¼

teaspoon

sugar

¼

teaspoon

sumac

¼

teaspoon

Aleppo pepper

½

teaspoons

Salt

½

teaspoon

Black Pepper

,

freshly ground

2

tablespoon

Tomato paste

¼

cup

olive oil

2

tablespoons

Lemon juice

,

(juice of 1 lemon)
Ingredients necessary for the recipe step are in italic.
Instructions
For the Dressing
1/4 teaspoon dry mustard,

1/4 teaspoon sugar,

1/4 teaspoon sumac,

1/4 teaspoon Aleppo pepper,

1/2 teaspoons Salt,

1/2 teaspoon Black Pepper,

2 tablespoon Tomato paste,

1/4 cup olive oil,

2 tablespoons Lemon juice

In a medium bow, put the mustard, sugar, sumac, Aleppo pepper, salt, black pepper, and tomato paste. Mix it well with a small whisk. Add the juice of the lemon and mix well again. Now, while whisking all the while, slowly start pouring the olive oil into the mixture. You will see it will start to thicken, so just continue whisking and adding the olive oil. Taste for seasoning.

Pour the dressing over the salad and toss well to combine. It is best to use your clean hands.

Cover and chill for at least 1 hour before serving. You can line your serving bowl with crisp lettuce if you wish before serving.

Enjoy!
Notes
If you are making this in the summer, and have fresh, sweet, summer tomatoes, you can omit the sugar.
Nutrition
Calories:
249
kcal
Carbohydrates:
28
g
Protein:
5
g
Fat:
14
g
Saturated Fat:
2
g
Polyunsaturated Fat:
1
g
Monounsaturated Fat:
10
g
Cholesterol:
0
mg
Sodium:
455
mg
Potassium:
556
mg
Fiber:
8
g
Sugar:
4
g