This curry powder is easy to make from spices you already have in your cabinet.
Curry Powder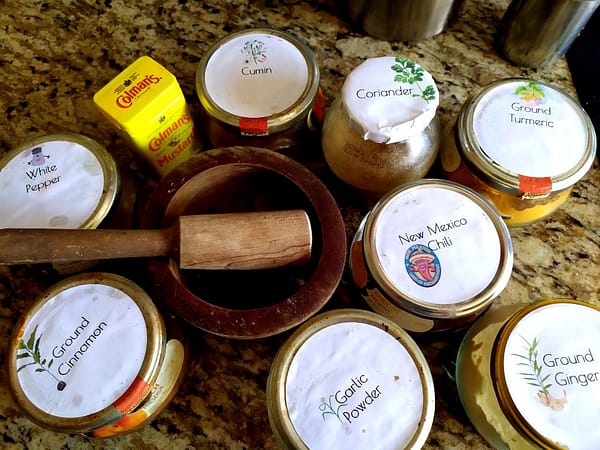 This curry powder is surprisingly easy to make at home. You probably already have all the ingredients in your spice cabinet already, and you can easily change the ratios to suit your taste and needs.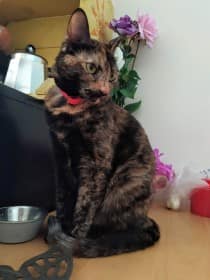 When I was making the Croquettes Two Ways, I wanted to make the chicken croquettes curried as I have made the regular Chicken Croquetas many times and was ready for a change. I had all my mise en place sitting on the counter and reached for the curry powder. It was just air.
The week before, my jar had crashed to the floor, the glass shattering into a million pieces. I had placed the jar on the table across from the spice cabinet.  Our five-year-old Tortie, Chloe, decided she wanted to try cooking, too, so she used her paw to move the jar over the edge.  Chloe was scared and ran off leaving me to sweep up the glass and Rosie, our robotic vacuum, to suck up the rest.  Just a few weeks before that,  whilst cleaning out my spice cabinet I had thrown away an old can I had been keeping as a backup.  So, now I had no curry powder and no backup either.
About Curry Powder
Curry powder is not a spice itself, it is a mixture of spices.  It does not have any curry plant in it.  Despite the curry plant smelling like a good curry, it has a bitter taste and is dried to use in wreath making.
I enjoy making spice mixes.  I like putting in what I want so it tastes the way I want, without a lot of salt or preservatives. How hard could it be to make curry powder, right? I have a good friend, Mini Dhingra Guleria, who makes authentic Indian curry paste.  Please visit her, but in the meantime, let's make curry you can store in a jar.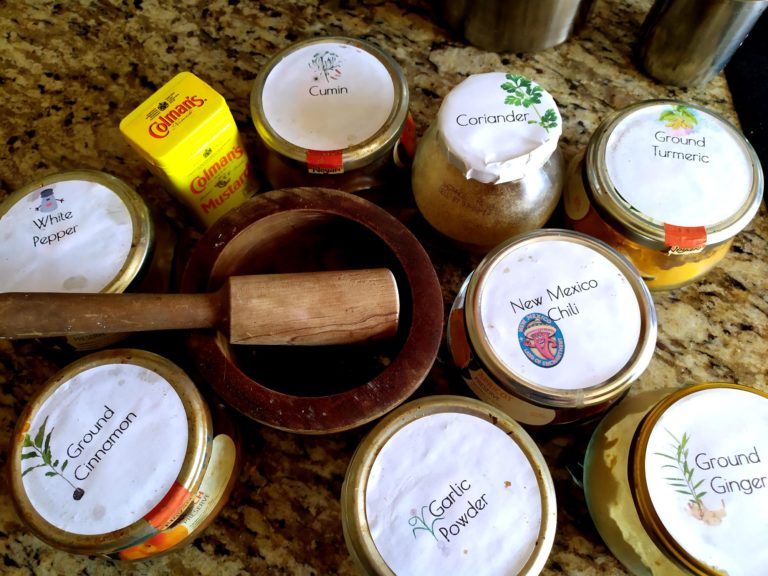 Servings (slide to adjust):
Calories per serving:
7
kcal
Equipment
If you purchase any of the products through these affiliate links, I get a few pennies that help keep The Good Plate open. I use these products myself and want you to be able to easily find them.
Ingredients
½

teaspoon

mustard powder

1

teaspoon

ground cumin

1

teaspoon

ground coriander

1

tablespoon

ground turmeric

1

teaspoon

ground ginger

½

teaspoon

garlic powder

1

teaspoon

cinnamon

1

teaspoon

white pepper

1

teaspoon

New Mexico chili

½

teaspoon

ground anise
Ingredients necessary for the recipe step are in italic.
Instructions
Mix all the spices together in a mortar and pestle or another grinder. Use as needed and store the rest in a glass jar away from heat and light. Enjoy!
Notes
Add or reduce the chili powder to your preference.
Nutrition
Calories:
7
kcal
Carbohydrates:
1
g
Protein:
0
g
Fat:
0
g
Saturated Fat:
0
g
Polyunsaturated Fat:
0
g
Monounsaturated Fat:
0
g
Trans Fat:
0
g
Cholesterol:
0
mg
Sodium:
3
mg
Potassium:
30
mg
Fiber:
0
g
Sugar:
0
g