High-Octane Iced Coffee: Discover the flavorful fusion of layers of foam, iced Coffee Espresso and Armenian Coffees
High-Octane Iced Coffee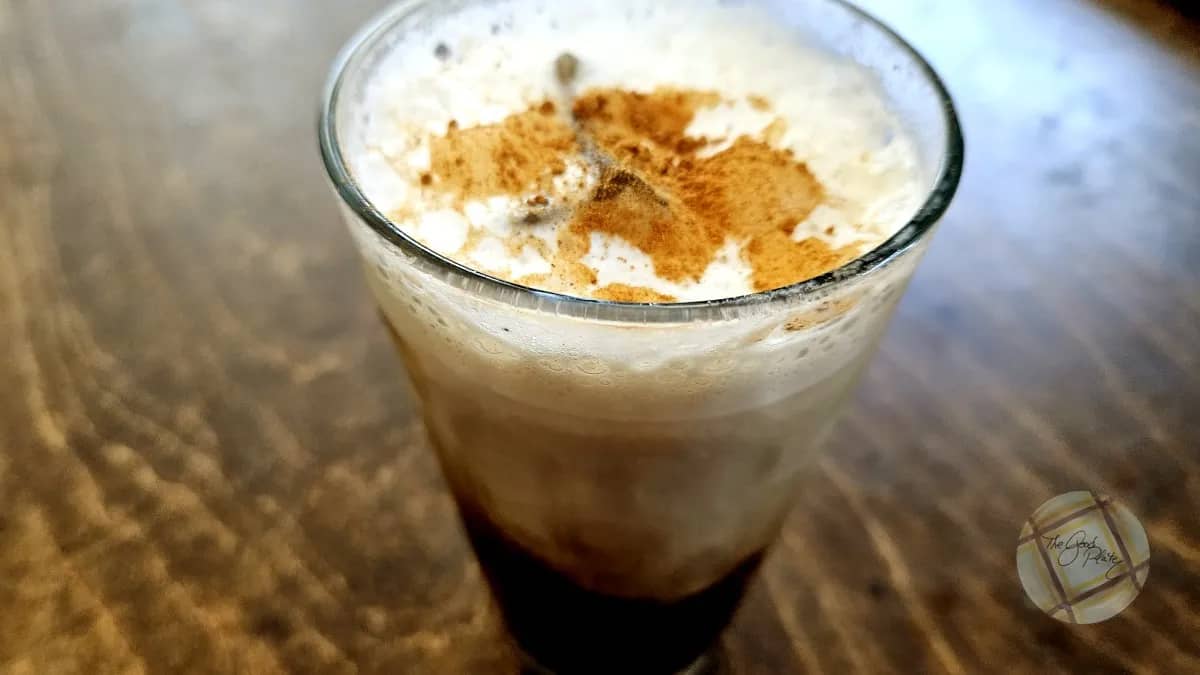 In the world of caffeinated indulgence, few beverages can match the invigorating punch of High-Octane Iced Coffee. This delightful concoction seamlessly blends the rich intensity of traditional Armenian coffee with the bold flavors of espresso, resulting in a refreshing and revitalizing experience that is sure to awaken your senses.
Warning – High-Octane Iced Coffee is STRONG
Be warned – this high-octane iced coffee is delicious and strong with a heavy dose of caffeine. Not only is Armenian coffee high in caffeine, but Cuban coffee is used here, too. If you have ever seen Fluffy's video about Cuban coffee, you will get an idea of how strong this really is. If you have issues with caffeine, then this is not the coffee for you.
High-Octane Iced Coffee
An article in Atlas Obscura about the coffee being sent to Ukrainian troops inspired this recipe. It's a mixture of double espresso, and Armenian or Turkish coffee, made in a cezve. Vadym Granovskiy invented the mixture that he sends to Ukraine's front lines. Granovskiy happens to be a 2014 finalist in the Cezve/Ibrik Championship, managed by World Coffee Events. 
The combination of a double espresso and Armenian coffee sounded amazing and since I had everything I needed to make it, when a friend from Eastern Europe visited one hot summer day, I decided to try it iced. Amazing! It is now my favorite way to make iced coffee.
I had a very good friend, Chef John Farion, who was Ukrainian. Sadly, he passed in 2018, before Russia invaded Ukraine. He took me to see the amazingly beautiful Ukrainian Easter Eggs at the Ukrainian Art Center in Los Angeles. He also inspired the name of our newsletter, What's Cookin'? Something Good! as this was the question he always encouraged people to ask him and his answer. John gave me the recipe that inspired the Risotto with Gorgonzola in the Instant Pot. Ironically, John did not like coffee, but he might have liked this.

Risotto with Gorgonzola and Pistachios in the Instant Pot
Your Instant Pot makes this rich and creamy risotto with chicken, gorgonzola and pistachios in about 15 minutes.
Living in Glendale, not far from Los Angeles, I am fortunate to have Armenian coffee available to me any time I want it. You may think Armenian coffee is Turkish coffee, as both are made in a cezve, which is a small pot that goes on the stovetop. However, their preparation is different, and they are definitely not the same. The coffee in the Atlas Obscura article is Turkish coffee, but I used Armenian. Armenian coffee is also made on the stovetop, but it is removed when froth comes to the top, then that is repeated two more times. It means that the coffee is well brewed and any grounds are on the bottom of the pot, not in the cup.

Coffee, Coffee, Coffee
My favorite ways for making coffee, including Armenian! I make coffee in my French Press, drip and stove top espresso pots. Choices!
Tools to make High-Octane Iced Coffee
For the Espresso
Make the espresso either in a moka pot on the stovetop or in an espresso machine. I have used both methods. It depends on how much room you have on your stovetop and how much attention you want to pay to make coffee. To make the espresso extra strong, I use Cafe La Llave, Cuban coffee.
For the Armenian
You need an Armenian coffee pot or cezve to make Armenian coffee. Its special shape keeps the powdery coffee grounds at the bottom of the pot. Brew the coffee on low heat to keep it from burning. Armenian coffee is very strong, a fine powder. It is unlike other ground coffee.
For the Foam
I like using a manual frother because it can froth cold milk. The frother on espresso machines heats the milk, and this is supposed to be iced coffee, not room-temperature coffee. You can find manual frothers at cookware shops like Sur La Table.
For the Ice
There are a few ways you can go with the ice. You can chill the coffee in the refrigerator for a few hours and then combine them to make the coffee. You can put large ice cubes in a container and stir the coffee to cool it down. Be sure to serve the coffee in tall glasses filled with ice. If you are lucky, you might have a little coffee and milk left over for another glass.
Let's make High-Octane Iced Coffee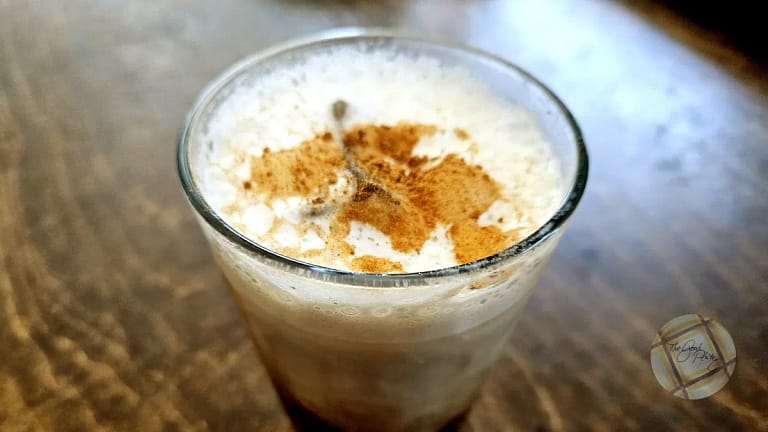 Servings (slide to adjust):
Calories per serving:
74
kcal
Ingredients necessary for the recipe step are in italic.
Instructions
To make the Espresso in a Moka Pot
20 grams Cuban Coffee,

424 grams Water

Remove the top of the moka pot. Remove the coffee filter, and fill the lower container with water up to the little bump on the inside. Fill the coffee filter with the Cuban coffee and put that into the water container. Screw the top on and heat the coffee on low heat until the top part of the pot is almost full, then remove it from the heat and let it sit for 30 seconds.
To Make the Espresso in an Espresso Machine
Put the Cuban coffee in your espresso machine with the appropriate amount of water to make 2 demitass cups of espresso.
To make the Armenian coffee
14 grams Armenian Coffee,

15 grams Sugar

Put the coffee in the cezve or Armenian coffee pot with the sugar and water. Heat it slowly on the stove top and wait until it boils, then remove it, let it settle for a few seconds, put it back almost to a boil, take it off, and put it back one more time. Then let it settle on the counter.
Nutrition
Serving:
305
g
Calories:
74
kcal
Carbohydrates:
11
g
Protein:
2
g
Fat:
2
g
Saturated Fat:
1
g
Polyunsaturated Fat:
0
g
Monounsaturated Fat:
1
g
Trans Fat:
0
g
Cholesterol:
10
mg
Sodium:
42
mg
Potassium:
125
mg
Fiber:
0
g
Sugar:
11
g
Using a Moka Pot Transcript
If you've never made Espresso in one of these machines I'm going to show you how.
First thing you want to do is fill the water up to see where
that little kind of looks like a little pimple thing is?
It's a little notch and that's where you want to fill the water up to.
And then you take your
coffee holder and then you're going to put one.
Notice they're not full completely.
Because I'm strange I always put three.
Yes, is this going to be strong? Absolutely.
Okay, pack it down a little bit.
Make sure that the part's there so it doesn't get right.
And then we put the top on.
It's on there real good.
It's on there good.
Okay, and then we take it over to the stove.
And we put it on the stove.
I have one of these nice little things that my little pots don't fall through.
Okay, and then we're going to put the flame on.
And put it on low.
And we until it's done.
Which should be a few minutes.
And then we'll go on to the next thing.