Even though I don't like sugar in my regular coffee, sugar really enhances the rich flavor of this coffee, so I recommend it here.
Armenian Coffee
As I sit here writing, I am enjoying a cup of coffee. My friends think I am a little crazy because of the many different ways I have of preparing it.
I remember watching commercials for coffee when I was a little girl. At the time, I thought it was nasty, and I was right – in America, coffee was nasty. The commercial I remember was for Yuban, and one hostess could only get her guests to drink one cup while the Yuban hostess's guests asked for refills.
Coffee was still pretty nasty for me as an adult; I had to add sugar and half-and-half to make it palatable. One day, visiting friends in San Francisco, I had a really good coffee at Square One restaurant. I liked it so much that I had three cups, and I couldn't sleep that night. I had no idea why that coffee was so good. Coming back to Beverly Hills, I had another good cup and asked the waiter what kind it was. He brought me a package, and the package said it was Arabica coffee. I found out later that it was Robusto beans that were in most American coffee, and they just don't taste as nice. You have to remember that I found all this out without the Internet – this was a few years before it became available.
My favorite coffee is Cafe La LLave from Don Francisco. It is available in supermarkets and is usually less expensive than the other espresso blends – and tastes better, too. How do I make coffee? Let me count the ways:
French Press – very nice and even makes crema
Stove Top Espresso pot – when I don't feel like dealing with the espresso machine
Espresso machine – when I am in the mood to impress
Percolator – when I want that comforting sound from childhood and that wonderful aroma that comes out of it.
Drip Coffee maker – I don't use this often, sometimes at someone else's house
Melita Ready Set Joe – I put the filter thingy on top of the cup, put a filter in it, put coffee in the filter, and poured hot water on top. Mmmm! Even my boss gets excited when I make it.
And sometimes, when the mood hits, I have to have Armenian coffee. If you have never had this, it is truly a treat. The important thing is the coffee must be very finely ground, almost a powder. I would not try to use my beloved La Llave for this, I buy Edna's, or sometimes, I get it freshly ground at my local Armenian store.
I have a little Armenian coffee pot that I put on the stove and some nice demi-tasse cups that I serve it in. The method is really simple and very satisfying: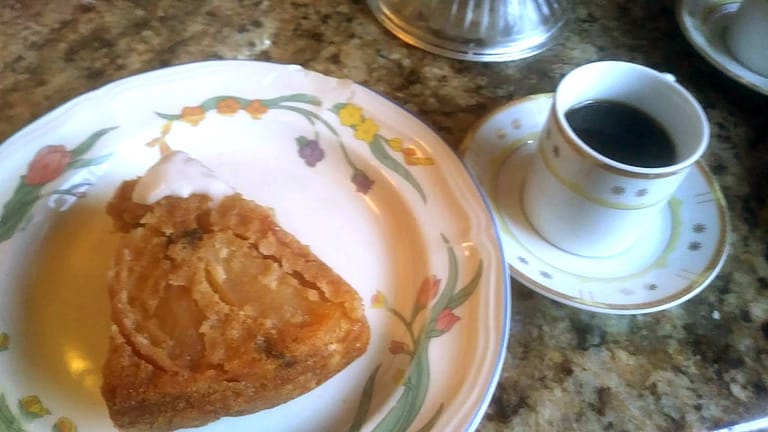 Servings (slide to adjust):
Calories per serving:
30
kcal
Equipment
If you purchase any of the products through these affiliate links, I get a few pennies that help keep The Good Plate open. I use these products myself and want you to be able to easily find them.
Ingredients necessary for the recipe step are in italic.
Instructions
Put three teaspoons of Armenian coffee in the pot, with three teaspoons of sugar. Put water in the pot, and put it on the stove.

Heat it on medium heat – and don't leave it for a second!

When it comes to a boil the first time, move it off the flame, stir it a bit, and put it back on.

When it comes to a second boil, remove it from the flame again, let it settle down, and put it back for one more boil.

After it boils the third time, pour it into the cups.
Notes
If you omit the sugar, there are no calories at all.
Nutrition
Serving:
68
g
Calories:
30
kcal
Carbohydrates:
7
g
Protein:
0
g
Fat:
0
g
Saturated Fat:
0
g
Polyunsaturated Fat:
0
g
Monounsaturated Fat:
0
g
Trans Fat:
0
g
Cholesterol:
0
mg
Sodium:
6
mg
Potassium:
95
mg
Fiber:
0
g
Sugar:
3
g