Apple Brown Betty with "Red Hots" Sauce. Neither the fried apple peels nor the Red Hots sauce are necessary to enjoy this.
Apple Brown Betty with Red Hots Sauce
Last Updated on December 31, 2022
This award-winning Apple Brown Betty is served with deep-fried apple skins and Cinnamon "Red Hots" sauce. Share with a friend. It will get rid of the doldrums quick as can be!
My Apple Brown Betty with "Red Hots" Sauce won third prize at the annual Dessert and Appetizer Fil-Am Kiwanis competition. Last year, I won first place for Chicken Liver Pate with Cornichons and Blue Cheese Butter. Last year I won $200.00, this year, because of the economy, the first prize was only $100.00, so my third prize was $50.00 – I don't mind about the money, getting the recognition was enough for me.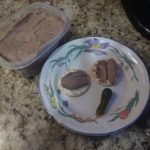 Chicken Liver Pâté with Cornichons and Blue Cheese Butter
French chicken liver pâté, little pickles, and blue cheese butter with crunchy French baguettes won the Best Appetizer Award.
I have been making this dessert all winter. I love the simplicity and the warm comfort food quality of it. In the past, I threw out the peels – this time, I did something different and fried them, then dusted them with sugar and cinnamon before putting them on top of the finished Brown Betty. They were fantastic!
Equipment You Need
If you like this recipe, and I think you will, you might find yourself getting tired of peeling apples with a knife or a vegetable peeler. There is a tool for this, and it can also peel other fruits and vegetables. It's called an apple peeler/corer, and not only does it peel, but it also cores and can even slice your apples, so you don't have to.
The other piece I recommend is a food processor. Breaking up bread into very small pieces is difficult. A good food processor does the job in seconds.
What Type of Bread
When I make this, I go to my local Armenian bakery and get raisin bread. It's nothing like the sliced raisin bread you get at the supermarket. It's actually more like panettone. If you can't find it, I would recommend using your favorite sandwich bread and extra raisins.
Let's make Apple Brown Betty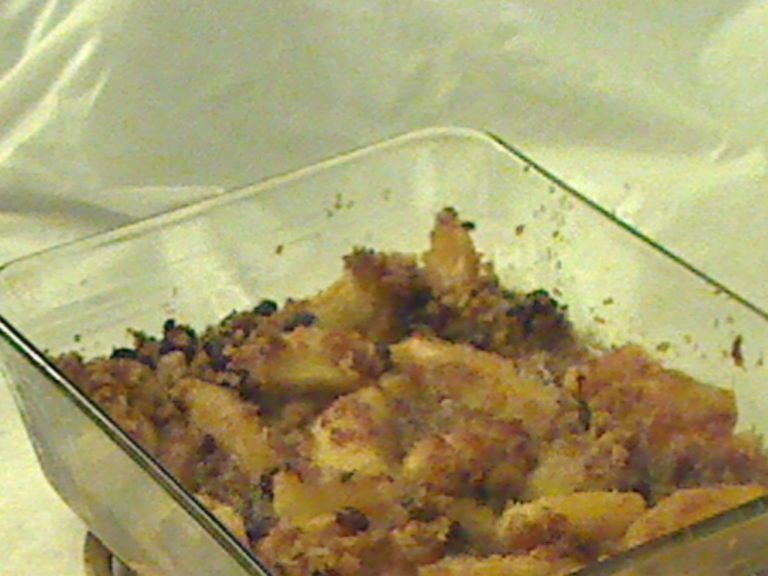 Servings (slide to adjust):
servings
Calories per serving:
704
kcal
Ingredients
For the Betty
For the Deep Fried Apple Peels
1

tablespoon

Flour

Vegetable oil
For the Red Hots Sauce
1

tablespoon

Sugar

1

teaspoon

Cinnamon

1

cup

light brown sugar

1

tablespoon

flour

2

tablespoons

butter

1

cup

boiling water

1

teaspoon

Saigon cinnamon

2

teaspoons

Vanilla extract,

DO NOT use imitation Vanilla

1

teaspoon

Cayenne

½

teaspoon

Rum flavor
Ingredients necessary for the recipe step are in italic.
Instructions
For the Apple Brown Betty
Peel the apples and reserve the peels. Core and chop up the apples into 1-inch pieces. Put the apples into a large bowl.

3/4 cup Brown sugar,

1/8 teaspoon Mace,

1/2 teaspoon nutmeg,

1 1/2 teaspoons Cinnamon,

1/4 cup dried cranberries,

1/2 cup butter,

1/4 teaspoon Sea salt

Add the brown sugar, mace, nutmeg, cinnamon, cranberries, salt, and melted butter.

Put the raisin bread into a food processor and process it into crumbs. Put almost all the crumbs into the bowl. Mix all well.

Put the mixture into a 2-quart casserole dish. Top with the reserved crumbs. Dot with the remaining butter, which was cut up into small pieces.

Bake for 1 1/2 hours or until the apples have softened. Remove from the oven.
For the Apple Peels
Heat oil in a frying pan to

350

°F

Dredge the peels in the flour.

Fry the peels in oil until they have browned, then remove them to paper towels. As they cool, they will crisp up.

1 tablespoon Sugar,

1 teaspoon Cinnamon

Dust the peels with sugar and cinnamon. Place on top of Betty for garnish.
For the Red Hots Sauce
1 cup light brown sugar,

1 tablespoon flour

Mix sugar and flour in a small pot.

Stir in water. Cook gently stirring constantly, until slightly thickened.

Add butter and simmer for 6-8 more min. Remove from heat.

1 teaspoon Saigon cinnamon,

1 teaspoon Cayenne,

1/2 teaspoon Rum flavor,

2 teaspoons Vanilla extract

Whisk in cinnamon, rum flavor, cayenne, and vanilla.

Serve warm. Makes one and a half cups. This is very good with "Red Hot Sauce" and ice cream.
Notes
If you can't find good Armenian Raisin bread, then use Panettone, and soak some extra raisins in a little water with a tiny bit of cardamom. A good, buttery egg bread would make a good substitute, too.
You could also make this Betty in a Nesco oven, leaving your regular oven available for other dishes. Yeah, Nesco!
Nutrition
Serving:
1
g
Calories:
704
kcal
Carbohydrates:
54
g
Protein:
2
g
Fat:
55
g
Saturated Fat:
13
g
Polyunsaturated Fat:
6
g
Trans Fat:
33
g
Cholesterol:
47
mg
Sodium:
195
mg
Fiber:
4
g
Sugar:
39
g