These chocolate praline scones are a great treat for breakfast, warm right out of the oven with a cup of coffee or milk.
Chocolate Praline Scones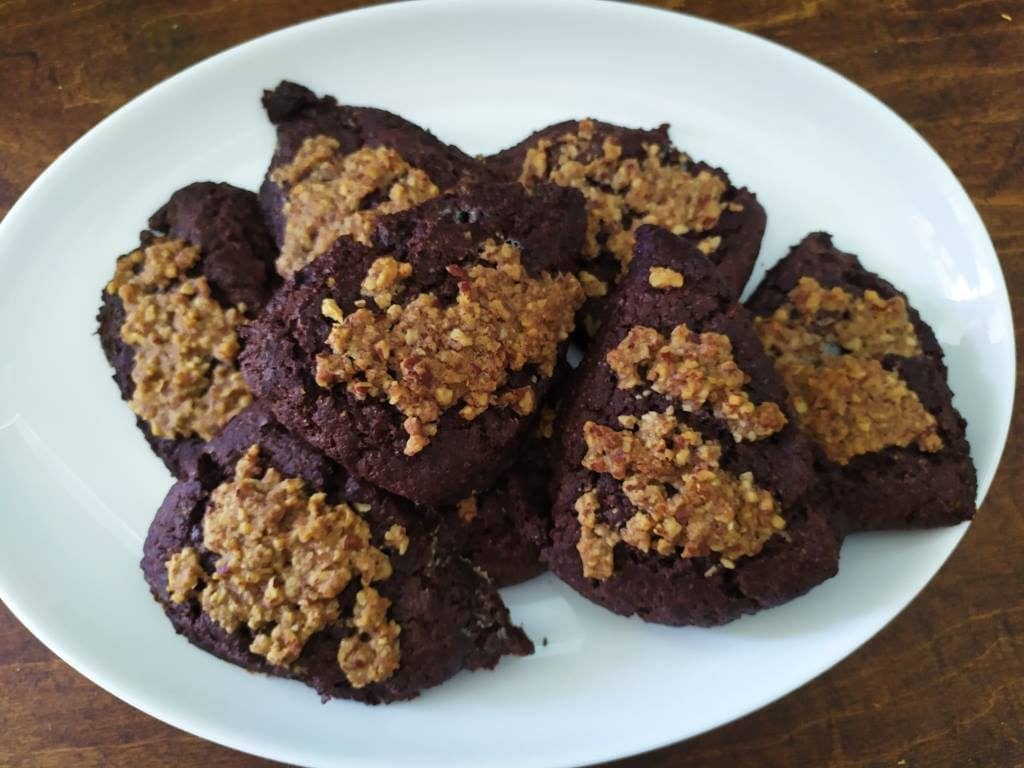 Sometimes, you wake up in the morning, and you want something really tasty. These Chocolate Praline Scones look like they took a while to make, but they come together in a jiffy. You can have them for breakfast, and if you don't eat them all, have them for dessert with a little ice cream.
One morning I got up and I was craving chocolate. It's not like I had a lot of time before work to make a full-fledged cake, even my chocolate bundt cake takes almost an hour to bake.  I didn't want cookies because, well, they're cookies. Scones fit the bill because they are easy to make in a food processor and are on the table in less than half an hour.
What could be better than chocolate scones? Chocolate Praline Scones, that's what. I bought a whole bunch of bags of pecans on sale at the supermarket, and I want to use them up.  There is nothing sadder than a pecan that has gone rancid. Of course, pecans scream caramel so you have to have some kind of praline on them as well.
This whole thing, including the pecans, comes together very quickly and easily, especially if you have a small food processor in addition to or one that fits inside your big food processor as mine does.  You will also need a cookie sheet and parchment paper if you want a really easy cleanup.
This is not something you would want for breakfast every day, but when the mood strikes…
Servings (slide to adjust):
Calories per serving:
326
kcal
If you purchase any of the products through these affiliate links, I get a few pennies that help keep The Good Plate open. I use these products myself and want you to be able to easily find them.
Ingredients
4

ounces

butter

,

(1 stick) cold unsalted butter

1

cup

all-purpose flour

2

teaspoons

baking powder

1

teaspoon

kosher salt

½

cup

rye flour

⅓

cup

Cocoa

½

teaspoon

espresso instant coffee

¾

cup

whole milk

½

cup

sugar

1

teaspoon

Vanilla extract

½

teaspoon

Almond Extract
-- Praline --
¼

cup

pecans

3

tablespoons

brown sugar

2

teaspoons

cinnamon

1

teaspoon

flour

1

tablespoon

butter

,

cold
Ingredients necessary for the recipe step are in italic.
Instructions
Preheat oven to 400F/204C and line a baking sheet with parchment paper; alternatively grease a baking sheet with butter.

Cut the butter into 1/4 inch pieces, and put it in the refrigerator for about a half an hour to completely chill. Measure out dry the ingredients and put that in the refrigerator as well.

Take the chilled butter and dry ingredients and put them in the bowl of your food processor. Process until you see pea-sized bits of flour and butter. Add the milk and process until it forms a nice ball.

Take the dough out of the bowl and put it on a floured work surface. The dough might be sticky, so flour your hands as well.

Bring the dough into a ball and flatten it out. You should have something that looks like a pillbox hat. Turn the dough a few times to get it started. Have ready a sharp knife or good dough cutter. Cut the dough in half, then cut each half in half, and so on until you have eight pieces. Put the pieces on the prepared baking sheet.

Put the pecans, butter, brown sugar and cinnamon in a small food processor and process until the pecans are about the size of tomato seeds.

Slightly flatten the tops of the scones and press the pecan topping on each scone.
Notes
We love scones in the morning. They are quick to make and very forgiving.
Nutrition
Calories:
326
kcal
Carbohydrates:
42
g
Protein:
5
g
Fat:
17
g
Saturated Fat:
9
g
Polyunsaturated Fat:
1
g
Monounsaturated Fat:
5
g
Cholesterol:
38
mg
Sodium:
426
mg
Potassium:
186
mg
Fiber:
3
g
Sugar:
23
g