Our favorite winter dessert, so quick and easy!
Apple Brown Betty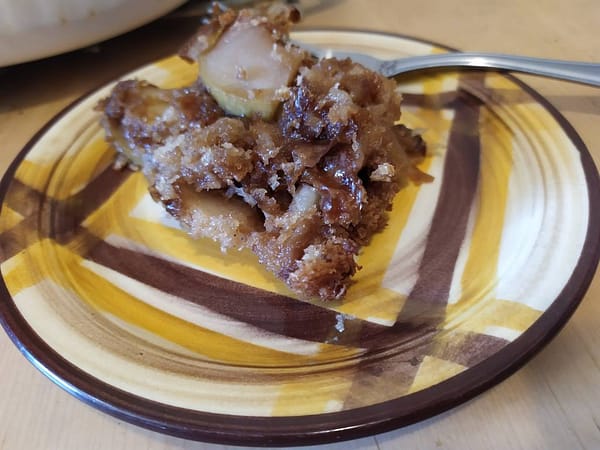 This is probably my favorite winter dessert.  I look forward to the end of hot summer days when I can turn on my oven and make Apple Brown Betty. It's an old recipe, first published in 1864. I've been making it since 2011 when I won an award for it.  I love the fact that it's very simple to make and with the help of some tools, in the oven in under 10 minutes.
Bread is Important
When I make this, I use the raisin bread I buy at the Armenian bakery, Colorado bakery in Glendale. It's very similar to brioche or panettone, not at all like the regular sliced raisin bread (I love that bread, but not for this).  If you want to try your hand at making this delicious bread, head on over to Hegineh, who has a great recipe for raisin buns.
Apples
It doesn't make any real difference what kind of apples you use.  If you care about the pieces of apple staying together and not turning to apple sauce, use a baking apple like a Granny Smith. I usually use whatever I have on hand, or what's in the manager's special section. I rather like a mix of sweet apples like Golden Delicious mixed with the baking apples.  It makes it a little sweeter without having to add more sugar.
The Right Tool for the Job
I bought an apple peeler because I make this a lot and got tired of peeling apples forever it seemed. You can usually find inexpensive ones, but the nicer ones like I have can also be used for peeling potatoes and making curly fries and curly fried onions. I believe in equipment that does more than one job.
The best way to break up the raisin bread is with a food processor.  It's super quick. Otherwise, make the crumbs with your hands by tearing it apart.  Children like doing this, so if have kids and don't have a food processor, let the kids have some fun.
The Award Goes to…
You are more than welcome to make the Brown Betty with Hots Sauce, with it's fried apple skin garnish. It's very good, too.  I also make a Cranberry Brown Betty which is perfect for Thanksgiving.
Servings (slide to adjust):
Calories per serving:
302
kcal
If you purchase any of the products through these affiliate links, I get a few pennies that help keep The Good Plate open. I use these products myself and want you to be able to easily find them.
Ingredients
Ingredients necessary for the recipe step are in italic.
Instructions
Preheat the oven to 350 F/ 176 C. Butter a casserole.

Gather your mise en place, including a large bowl with a lid, an apple peeler, and a food processor.

Break up the raisin bread and up it into the bowl of a food processor. Process it until it has turned into large crumbs. Don't over-process.

Melt the butter and pour it over the mixture. Put the lid on and shake, shake, shake to make sure that all the ingredients are well mixed. If you don't have a bowl with a lid, make sure the bowl is quite deep and mix with your hands.

Cover the casserole with foil and bake it with the foil on for an hour. Remove the foil and let it continue to cook until the apples are soft and the top has browned a bit.

Remove it from the oven and let it sit to cool a while before eating it. Great with ice cream!
Notes
If you don't have a food processor, you can break the bread up with your fingers.  Children are very good at this task.
If you cannot find Armenian Raisin bread, use Panetonne or brioche.  Don't use regular raisin bread.
Nutrition
Calories:
302
kcal
Carbohydrates:
45
g
Protein:
2
g
Fat:
13
g
Saturated Fat:
8
g
Polyunsaturated Fat:
1
g
Monounsaturated Fat:
4
g
Cholesterol:
31
mg
Sodium:
177
mg
Potassium:
241
mg
Fiber:
3
g
Sugar:
31
g