The secret ingredient makes this go from boring to excellent.
Tuna Salad Sandwich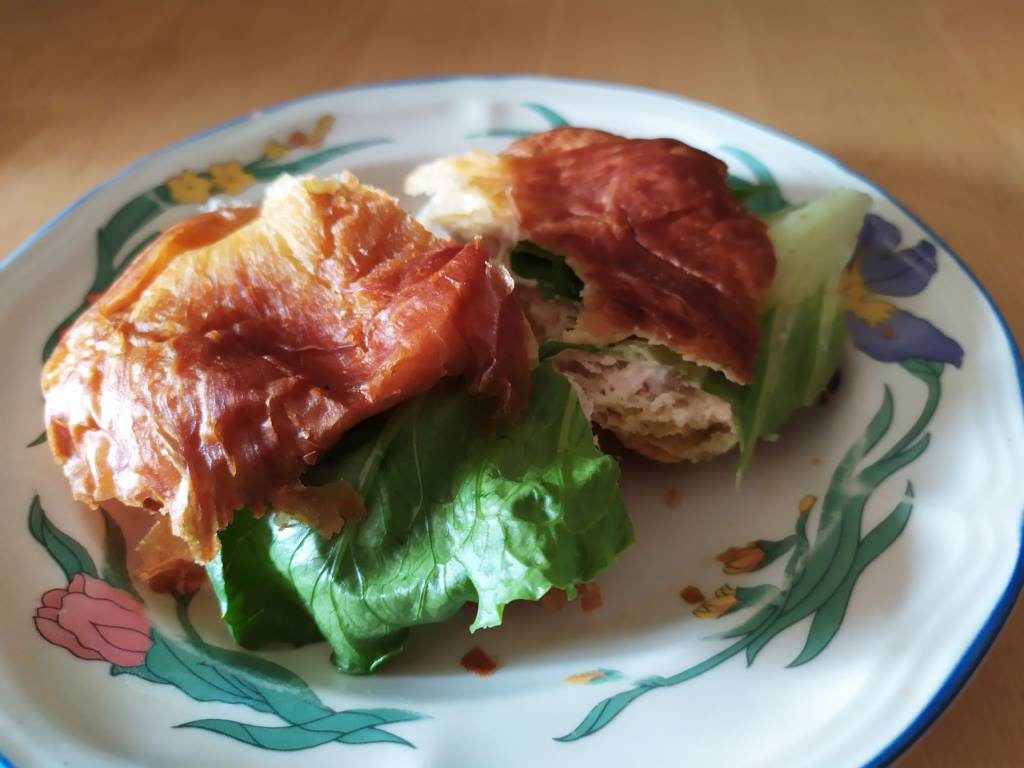 A Tuna salad sandwich always seems so bland but full of mayonnaise and other ingredients to hide the lack of tuna flavor. I believe I have found the solution to this.
Hint – even though that croissant looks great, it's not the croissant that made this tuna salad sandwich so good.  Read on to find out my fix.

I'm not really sure exactly why tuna doesn't have flavor anymore. Maybe people are afraid of the taste of fish, "Fish! Ew!" Perhaps their mothers gave them tuna in water because it has virtually no flavor and those children grew up with those kinds of tuna sandwiches and thought that's the way tuna is supposed to taste. Ok, I'll give you the lower grades of tuna don't taste that great – except to the cat. But even the higher grade albacore that tastes great raw in sushi or charred on the grill fails miserably in a can of water. Tuna in oil is much tastier, but – oh God forbid, oil!  We have been bamboozled into thinking that fat is killing us when in fact, it's sugar.
My philosophy is that everything is okay as long as it's in moderation. If you're eating 60 or 70 grams of sugar a day, yeah, your health is going to suffer.  But if you limit it to maybe 20 grams of sugar and 40 grams of fat a day, you should be good.  And, yes, it's okay to have something sweet once in a while, and it's okay to have something high fat once in a while, too – not just every day.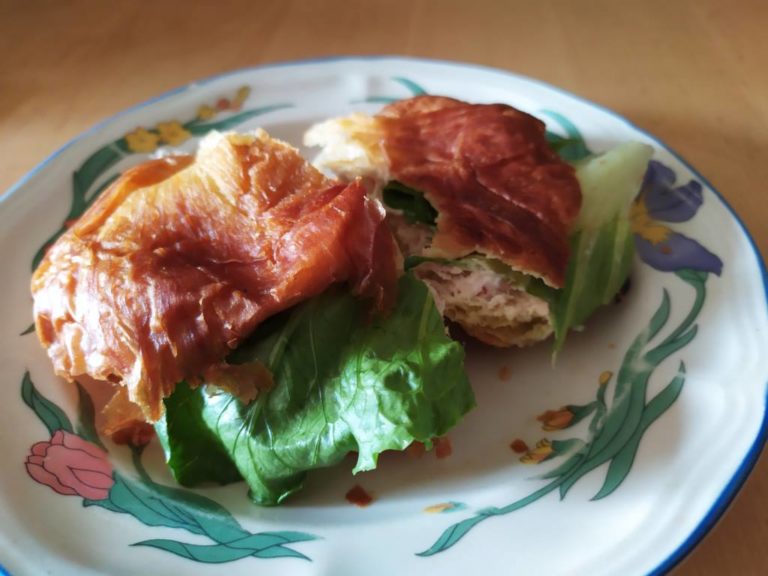 Servings (slide to adjust):
Calories per serving:
204
kcal
Ingredients
~~ -- Salad -- ~~
1 5

oz

can Albacore Tuna in Oil

,

drained

1

tablespoon

Mayonaise

⅛

teaspoon

Anchovy paste

1

tablespoon

Red onion

,

chopped

½

teaspoon

Justice

½

teaspoon

Sunny Paris Herb Blend

⅛

teaspoon

Aleppo pepper
~~ -- Sandwich -- ~~
4

leaves

Lettuce

2

Croissant
Ingredients necessary for the recipe step are in italic.
Instructions
Mix the salad together and let it chill for a while so the flavors to meld.

Cut the croissants and stuff them with the tuna salad and a few pieces of lettuce.
Notes
If you don't want even a little bit of spice, omit the Aleppo pepper.
Nutrition
Calories:
204
kcal
Carbohydrates:
4
g
Protein:
24
g
Fat:
10
g
Saturated Fat:
2
g
Polyunsaturated Fat:
4
g
Monounsaturated Fat:
3
g
Cholesterol:
30
mg
Sodium:
116
mg
Potassium:
345
mg
Fiber:
0
g
Sugar:
1
g