This is my best friend's mother's recipe. This is a WOW dish that blows guests away and is requested year after year.
Jeane Hugh's Sweet Potatoes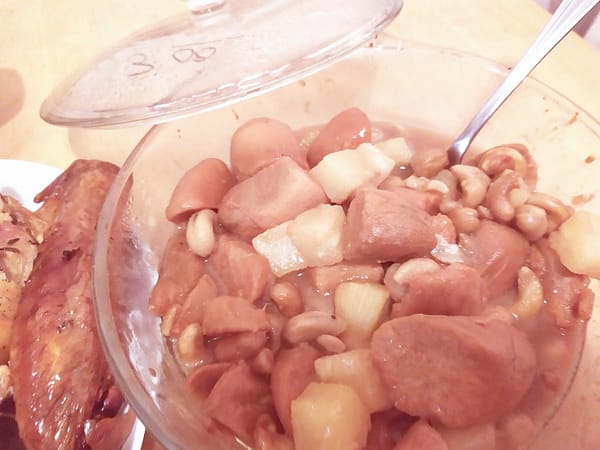 Caramel Sweet Potato Casserole is a little different than the one you usually see at the holiday table. Is it sweet? You betcha! But it's more interesting because it has caramel, pineapple, and cashews – marshmallows are optional.

This is a recipe I got from my other adopted mother, Jeanne. Jeanne is my best friend's mother.  My mother died when I was 15. Jeanne was happy to treat me like I was one of her kids even though I was an adult by the time I met her. I learned a lot from her, too.  Since I was an only child, I learned what it was like to be part of a bigger family, an adopted sister. Her husband, Raymond, was like a father to me as well. He even sat me down for the "boyfriend" talk my own father was never able to give me.  I have wonderful memories of sharing food with them at their holiday table. They weren't the richest folks in the world, but they had big hearts bursting with love. You don't need to be rich if you have a lot of love.
Caramel Sweet Potato Casserole at the Thanksgiving Table
Thanksgiving was a big deal in that family. Mom drafted everyone she could to help her bring it all together. One of the favorites, but time-consuming, was the sweet potato casserole. Jeanne would buy a bag of caramels and a bag of pecans. We would all take turns removing the paper from the caramels and getting the nuts out of the shell – and woe to anyone who tried to sneak either one, Mom has an eagle eye!
Expediency sometimes means taking short cuts that can often affect flavors of food.  That didn't happen here when I used a jar of caramel sauce instead of taking the paper off of caramel candies. It was just as good, if not better because the caramel sauce gets into every nook and cranny.  You can easily use pecans in this as Mom does.  Marshmallows are optional.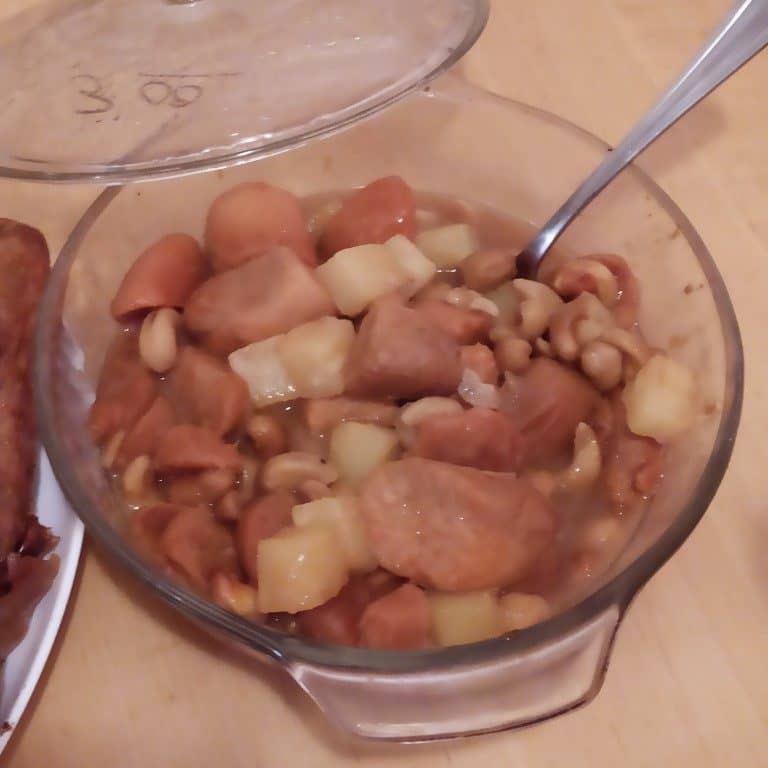 Servings (slide to adjust):
Calories per serving:
224
kcal
Ingredients
1

can

Sweet potatoes

,

drained

1

cup

caramel sauce

1

can

pineapple chunks

,

drained

½

cup

cashews

¼

cup

Brown sugar

¼

cup

butter

,

chopped
Ingredients necessary for the recipe step are in italic.
Instructions
Drain the yams and the pineapple chunks.

Place the yams in a covered casserole dish. Add pineapple and cashews, distributing them nicely with the yams. Pour the caramel sauce over and mix, Sprinkle brown sugar over all and dot with butter.

Cover the casserole.

Bake at 350 for about 30 minutes or until it's all nice and bubbly.
Notes
If you don't have a covered casserole, use foil.
Nutrition
Calories:
224
kcal
Carbohydrates:
37
g
Protein:
2
g
Fat:
9
g
Saturated Fat:
4
g
Polyunsaturated Fat:
1
g
Monounsaturated Fat:
3
g
Cholesterol:
16
mg
Sodium:
64
mg
Potassium:
213
mg
Fiber:
2
g
Sugar:
19
g