This will become your new go-to potato recipe.
Twice Baked Potato Casserole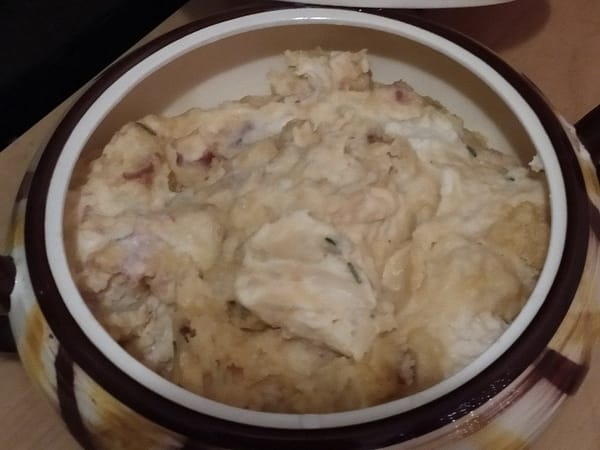 Twice Baked Potato Casserole is great for a special occasion.  My adopted mother used to make twice baked potatoes in the potato skin and everyone loved them. They were one of her specialties that she served at important dinner parties.  I took her basic recipe and made it quicker and easier, but still just as delicious.
My Adopted Mother's Recipe
My adopted mother, Helen Reeves Pearson, was very active in the community. She was a member of several service organizations including The United States Navy League. My boss knew I liked to cook and thought we would get along well. I offered to help at their dinner party. At first, she said something haltingly in Spanish and then apologized because her Spanish wasn't very good – I told her mine was even worse.  We looked at each other, laughed and were fast friends after that. My mother died when I was 15, and Helen became my adopted mother, mentor and friend.
Sadly, when she died, her husband was already in decline. The family "friend" managed to sell everything they had and keep it for himself. He never bothered to let any of their friends have any kind of memento. The only thing I have of hers are some of her recipes and I treasure them for the treasures they are. I am honored to be able to share some of these recipes with you.
Tried and True – and Tricks
Helen taught me many things.  She taught me how to use a hot glue gun, and she taught me that some things, you just have to use a certain ingredient to get the result you want.  For her, it was spicy Cheez Whiz. She had tried substituting good cheddar, but it didn't turn out as good, so Cheez Whiz it was.
Helen would bake the potatoes in the oven until they were done, and then she would take out the flesh, add her ingredients, put them back in the shell and bake them again – twice baked.  I was going to do that, but running out of time for my dinner party, I took a short cut and it turned out great!  So, now, I present to you – Twice Baked Potato Casserole!
Servings (slide to adjust):
Calories per serving:
474
kcal
Ingredients
6

potatoes

,

large baking

3

tablespoons

unsalted butter

4

slices

bacon

,

cooked and chopped

1

cup

Cheez Whiz

1

cup

sour cream

1

tablespoon

chives

,

fresh or freeze-dried

¼

teaspoon

Tabasco

1

teaspoon

Justice

1

teaspoon

paprika
Ingredients necessary for the recipe step are in italic.
Instructions
Bake the potatoes until they are just soft. Leave them to sit to cool off so you don't burn yourself.

If you have an ovenproof casserole, put them in an heat them at 350 for about 20 minutes, otherwise, heat them in the microwave and spoon them into a nice serving dish.
Notes
You may need to add more sour cream or cheese depending on
how big your potatoes are.
Nutrition
Calories:
474
kcal
Carbohydrates:
27
g
Protein:
12
g
Fat:
35
g
Saturated Fat:
19
g
Polyunsaturated Fat:
1
g
Monounsaturated Fat:
7
g
Cholesterol:
87
mg
Sodium:
1241
mg
Potassium:
597
mg
Fiber:
2
g
Sugar:
6
g