Roasting duck in a roaster oven gives great skin and stays the duck stays moist. The raspberry sauce is a great accompaniment for the rich poultry.
Roast Duck with Raspberry Sauce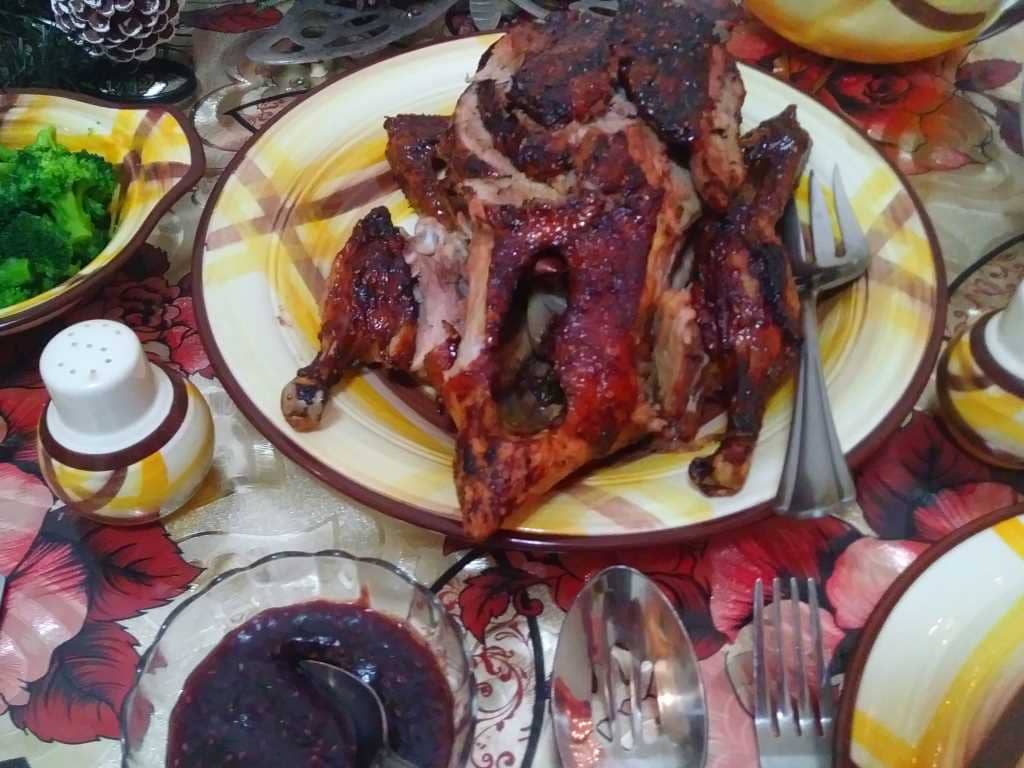 This roast duck was roasted in an electric Nesco roaster oven and served with raspberry sauce. Being roasted in an electric roaster means that the skin gets nice and crisp to go with the sweet and sour raspberry sauce. It's a winner!

About Ducks
Have you had duck before? Duck is delicious if you like the dark meat of chicken or turkey. If you are a "breast only" person, you won't like a duck. It's a little bit gamey, and that's what gives it a special flavor. It's very rich so some kind of acid does very well with it. You might have heard of Duck à l'Orange, a classic French dish that uses orange as the acid. Here we are using raspberries and balsamic vinegar to offset the richness.
Just as a turkey comes out beautifully in an electric roaster, so does duck, and having a nice rack means the duck doesn't just sit in its own fat and never crisp up. There are some necessary steps to take when you want to roast a duck.
How to Roast a Perfect Turkey in a Nesco Electric Roaster
How to get your turkey's skin crisp but keep the meat moist in a Nesco roaster oven - with a timetable.
Ducks, like geese, are waterfowl so they need a lot of fat to keep warm. That fat is under the skin and it has to come out. You will want to carefully prick the skin with a fork, being careful to not go all the way to the flesh, just the skin. There is no need to baste a duck, the fat coming out from the skin bastes it. A self-basting bird! What will nature think of next?
Duck Roasting Times  at 350 F / 176 C

Weight

Not Stuffed

Nesco Unstuffed

Stuffed

Nesco Stuffed

4-6 lbs.

2 to 3 hrs.

1 ½ to 1 ¾ hrs

2¼ to 2¾ hrs.

1 ½ to 2 hrs
What to do with the leftover duck?
If you are lucky enough to even have some leftover duck, make Duck Fried Rice. Just remove any skin, cut it up and add it to Same Day Fried Rice for a real treat.  You'll want to make duck again just for that reason!





Let's make Roast Duck in a Nesco with Raspberry Sauce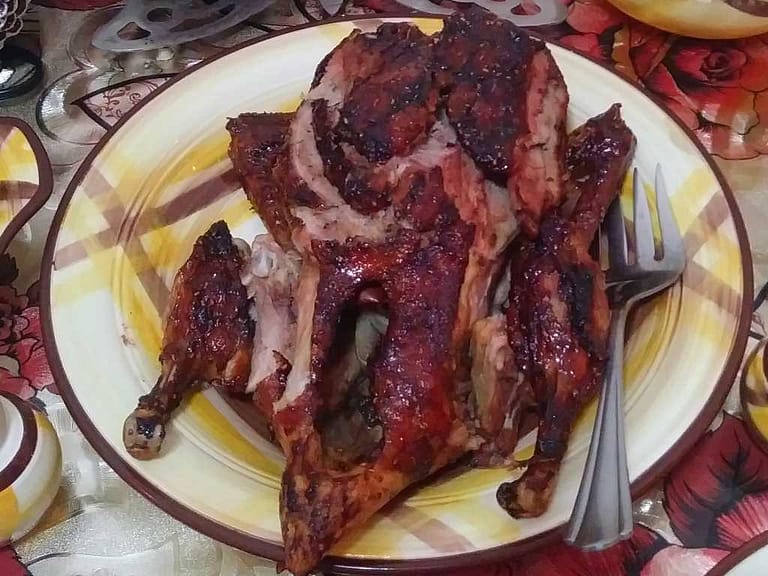 Servings (slide to adjust):
Calories per serving:
517
kcal
If you purchase any of the products through these affiliate links, I get a few pennies that help keep The Good Plate open. I use these products myself and want you to be able to easily find them.
Ingredients
1

domestic duckling

½

teaspoon

salt

½

teaspoon

black pepper
For the Sauce
⅛

teaspoon

chicken base

¼

cup

hot water

1

tablespoon

balsamic vinegar

1

cup

frozen raspberries

,

lightly sweetened

⅓

cup

seedless raspberry preserves

¼

teaspoon

ground ginger

⅛

teaspoon

ground allspice

1

tablespoon

butter
Ingredients necessary for the recipe step are in italic.
Instructions
Remove the cookwell from your Nesco and preheat the base at 350.

Rinse the inside of the duckling and pat dry with paper towels. Skewer neck skin to back tie legs to tail. Twist wing tips under the back. Place duckling, breast side up, on a rack in the cooking well of the Nesco. Using a fork, prick the skin generously. Do not prick the flesh, skin only. Sprinkle with salt and pepper.

Roast at 350 degrees F for 20 minutes per pound or until an instant-read thermometer reads 165 F. Remove the duck from the well, cover it and let it rest about 15 minutes before carving it.

Meanwhile, for sauce, in a small saucepan combine all the sauce ingredients except the butter. Bring to a boil. Cook, uncovered, over medium-high heat about 8 minutes or until sauce is reduced to 1/4 cup. Simmer, uncovered, about 5 minutes, stirring occasionally. Remove saucepan from heat; stir in butter until melted. Put it in a nice serving dish, and serve it with the carved duck.
Nutrition
Calories:
517
kcal
Carbohydrates:
38
g
Protein:
11
g
Fat:
36
g
Saturated Fat:
12
g
Polyunsaturated Fat:
7
g
Monounsaturated Fat:
15
g
Cholesterol:
62
mg
Sodium:
401
mg
Potassium:
350
mg
Fiber:
4
g
Sugar:
33
g