Brussels Sprouts Stir-Fry is packed with flavor and nutrients and will make even the pickiest eaters fall in love with these mini cabbages.
Brussels Sprouts Stir-Fry
Brussels Sprouts Stir-Fry is packed with flavor and nutrients and will make even the pickiest eaters fall in love with these mini cabbages.
When it comes to Brussels sprouts, many people have mixed feelings. Some love their nutty flavor and crispy texture, while others shy away from them due to childhood memories of overcooked, mushy sprouts. If you fall into the latter category, it's time to give Brussels sprouts another chance, and what better way to do that than with a Brussels Sprouts Stir-Fry?
Brussels Sprouts are Good For You
I was one of those people who hated Brussels sprouts. They were always bitter and overcooked. Then, one day, I had some with butter sauce and they were fantastic. Apparently, farmers had heard the complaints and bred the bitterness out of them. Luckily, all the breeding did not affect their nutritional value.
Brussels sprouts are very good for you. They are part of the cruciferous family of vegetables. These are the vegetables whose four-petaled flowers look like a cross. The whole family of vegetables is very healthy. Maybe that's why they're to look at – Brussels sprouts look like mini cabbages; broccoli looks like little trees, romanesque is a fractal math journey, cauliflower has a pretty name, bok choy stands at attention, even Wasabi that is so good with your sushi is cruciferous.
The glucosinolates in cruciferous vegetables have been shown to kill cancer cells and stop tumor growth. Many observational studies show significantly reduced rates of many types of cancer in people with high cruciferous vegetable intake, including breast, lung, pancreatic, and stomach cancers.

WebMD
Stir-Fry vs Steam
When you stir-fry foods you cook very quickly at high heat. Stir-fry brussels sprouts is different from deep-fry because stir-fry does not use a lot of oil. Only enough oil is used so the food does not stick to the pan. Since oil gets hotter than water, the temperature goes above 285℉ / 140 ℃, when the Maillard reaction occurs which causes caramelization and browning. That little bit of caramelization makes these brussels sprouts slightly sweet, with crunchy little outer leaves. This is far from the bitter vegetables steamed beyond recognition you may have grown up with.
If you are feeling even braver, try the Brussels Sprouts salad with Caesar Dressing. It's a great salad for the summer, and doesn't have kale – yes, kale is very good for you, but a lot of us think that kale tastes like dirt.
I found this recipe originally at the NY Times Cooking site, but according to me, it was missing a few things. You are welcome to try Stir-Fried Brussels Sprouts at the NY Times and compare them. I think mine are better!
What to Serve with Brussels Sprouts Stir-Fry
If you want to have an Asian feast, try some of these main dishes, like Spicy Shrimp Stir-fry, Chinese Roast Pork, Chinese BBQ Cornish Hen, or Asian Short Ribs. Other sides could include Same-Day Fried Rice or Air-Fried Egg Rolls.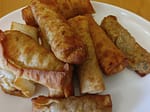 Air-Fried Egg Rolls with Steak, Rice and Cabbage
Air-fried egg rolls with steak, rice, and cabbage are tasty, easy to make, and healthy. Make them part of your Asian feast.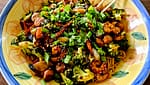 Spicy Shrimp Stir-fry
Spicy Shrimp Stir-Fry is an explosion of flavors. This easy recipe harmonizes fiery spices with the natural sweetness of shrimp.
Brussels Sprouts Stir-Fry Recipe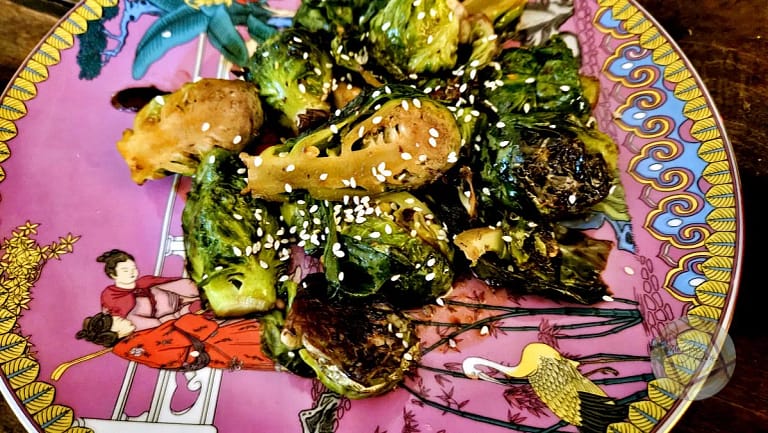 Servings (slide to adjust):
servings
Calories per serving:
132
kcal
Equipment
Ingredients
1

tablespoon

peanut oil

1

tablespoon

sesame oil

4

cloves

garlic

,

sliced

1

tablespoon

ginger

,

fresh

1

pound

brussels sprouts

,

halved or quartered if large

½

cup

water

2

teaspoons

soy sauce

1

teaspoon

chili flakes

1

teaspoon

sesame seeds
Ingredients necessary for the recipe step are in italic.
Instructions
Make sure your wok or pan has a tight-fitting lid. Also, have the water close to you.

1 tablespoon peanut oil,

1 tablespoon sesame oil,

4 cloves garlic,

1 tablespoon ginger

Heat the wok to high heat. When the wok is almost smoking, add the oil. Add the ginger and garlic and sauté quickly.

When the garlic has turned translucent, stir the Brussels sprouts so they get coated in the oil. Spread them into an even layer so they will cook evenly.

Add the water and quickly cover the wok. Cook without stirring until the water has almost completely evaporated, 4 to 6 minutes. After silent simmering, there will be loud popping sounds that quiet to a crackle. At that point, you will know the sprouts are done.

2 teaspoons soy sauce,

1 teaspoon chili flakes

Uncover the wok and add the soy sauce and red pepper flakes.

Sprinkle the sesame seeds on top and serve.
Nutrition
Serving:
132
g
Calories:
132
kcal
Carbohydrates:
14
g
Protein:
5
g
Fat:
8
g
Saturated Fat:
1
g
Polyunsaturated Fat:
3
g
Monounsaturated Fat:
3
g
Cholesterol:
0
mg
Sodium:
204
mg
Potassium:
506
mg
Fiber:
5
g
Sugar:
3
g