Yogurt Fruit Trifle looks good, tastes good, and it's good for you. Make it with fresh fruits in season or frozen fruit in the winter.
Yogurt Fruit Trifle
Last Updated on May 21, 2023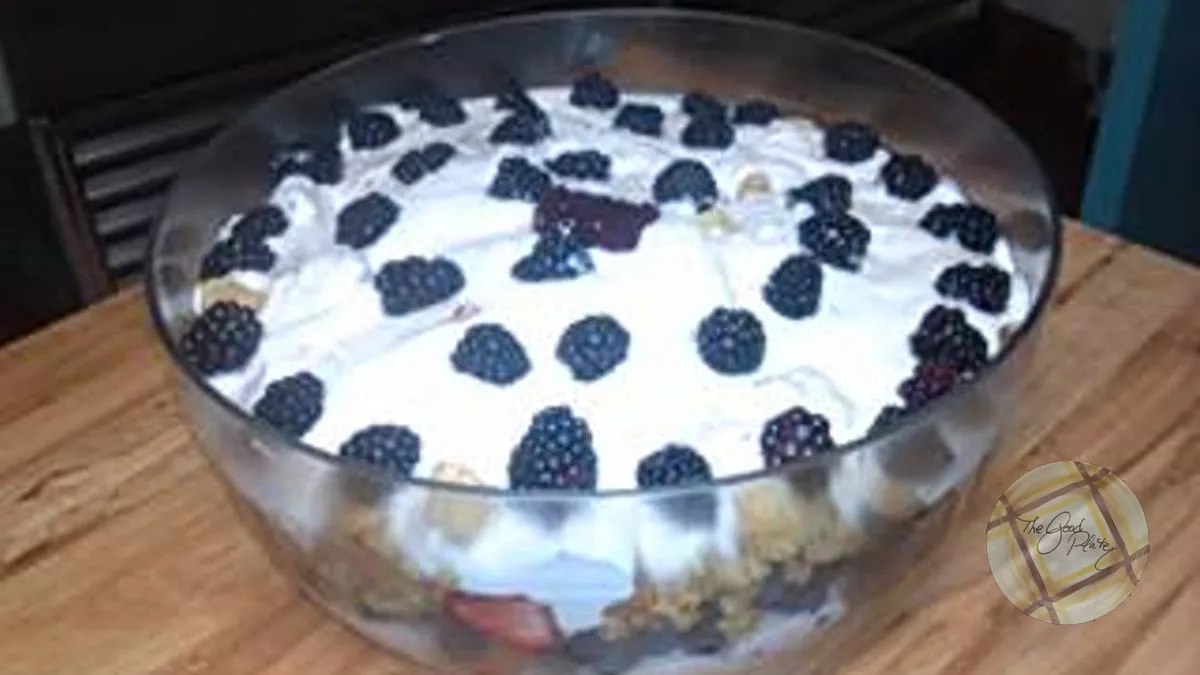 Yogurt Fruit Trifle looks good, tastes good, and it's good for you. Make it with fresh fruits in season or frozen fruit in the winter.
I love having Yogurt Fruit Trifle for breakfast, especially when I have guests and can use my glass Trifle bowl. It looks very pretty, almost like dessert. Great breakfast. The combination of sweet and tangy yogurt, fresh and juicy fruit, and crunchy crumble makes for a delightful and nutritious breakfast, brunch, or even dessert.
Trifle bowls are not just for trifle desserts. They can easily stand in as salad bowls. They have high sides, so they show off what's in them. They're perfect for layering foods. You will often see them with a layered salad in them.
Trifle is a layered dessert of English origin. The usual ingredients are a thin layer of sponge fingers or sponge cake soaked in sherry or another fortified wine, a fruit element (fresh or jelly), custard, and whipped cream layered in that order in a glass dish.
Of course, if you have a pretty glass bowl, feel free to use it. Tall glasses would also work. Champagne flutes could be impressive, too.
The important thing here is that the end result should look lovely and layered.
Yogurt Fruit Trifle
This trifle uses fresh fruit, balsamic vinegar, and yogurt instead of the traditional English trifle. This makes it much more healthy.
Fruit
I like to use strawberries, blueberries, raspberries, blackberries, and other berries that are in season. Another candidate is fresh melon, whether honeydew, cantaloupe, or other fresh melon. If you have bananas that are not as new as you would like them to be, this is a great use for them as they add sweetness. It's also a great way to use up fruit in your refrigerator. I like to crown this with pomegranate seeds as they give it a regal look. You don't have to follow this recipe exactly; use what you have.
Yogurt
The best yogurt to use for this is plain yogurt. You can use my recipe for yogurt via sous vide and strain it with cheesecloth to make it as thick as you want. Be careful about buying Greek yogurt. Greek-style yogurt is popular because it's thick. That thickness comes from draining away most of the whey, not from gelatin or other additives.
Muesli
Muesli is quite healthy and made from whole grains. I like to top my yogurt with it. If you can't find good muesli, granola works very well, too. Do you have some leftover Million Dollar Pound Cake? Don't throw it away. You can make a little extra balsamic vinegar syrup and dunk dried-out cake in it, and use that as part of your trifle.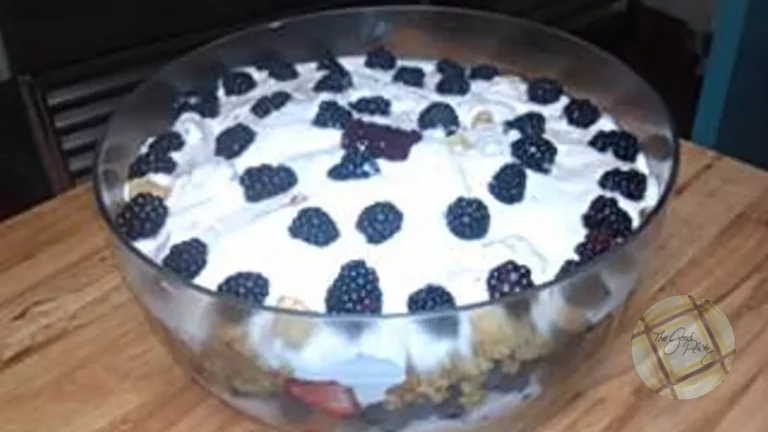 Servings (slide to adjust):
Calories per serving:
178
kcal
Equipment
Ingredients
1

tablespoon

balsamic vinegar

2

cups

strawberries

,

sliced

1

teaspoon

Sugar

1

cup

blueberries

1

cantaloupe

,

seeded and cubed

2

bananas

,

sliced

2

tablespoons

Lingonberry preserves

4

cups

plain yogurt
~~ — Garnish — ~~
¼

cup

Muesli

1

teaspoon

Lingonberry preserves

Pomegranate seeds
Ingredients necessary for the recipe step are in italic.
Instructions
In a medium-sized bowl, pour the balsamic vinegar and add the sugar. Stir until the sugar is dissolved. Macerate the strawberries in the balsamic vinegar for at least 20 minutes.

Get a nice trifle bowl or a large glass bowl.

Mix the yogurt and the lingonberry preserve (save one teaspoon to put on top) together, being careful not to mix it so much that it thins.

Pour the yogurt into the fruit.

Top with the Muesli, and then put the pomegranate seeds on top. Put a dollop of lingonberry preserve in the middle. Serve chilled!
Notes
You can use whatever kind of yogurt you prefer; just be sure it does not have added sugar or fruit.
Nutrition
Serving:
288
g
Calories:
178
kcal
Carbohydrates:
31
g
Protein:
6
g
Fat:
5
g
Saturated Fat:
3
g
Polyunsaturated Fat:
0
g
Monounsaturated Fat:
1
g
Cholesterol:
16
mg
Sodium:
65
mg
Potassium:
611
mg
Fiber:
3
g
Sugar:
24
g