This glazed pound cake is certainly worthy of its Million Dollar name - it's that good.
May Day Million Dollar Pound Cake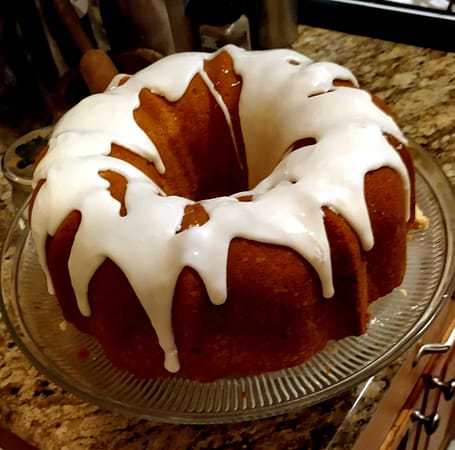 This cake is called a Million Dollar pound cake for a reason. It is amazingly rich, moist and buttery tasting. It's also simple to make with an electric mixer and with very few ingredients, you probably have everything you need to make it right now.

Pound cakes are made all over the world and have one thing in common. The original pound cake had one pound of flour, butter, eggs, and sugar. There are recipes for it as far back 1796 where it appeared in the first U.S. cookbook, American Cookery. You can find out more about the history of the cake, and other countries where it is made in Wikipedia.
Making the Glazed Pound Cake
Make sure you preheat your oven to 300 F/ 149 C before you get started. The cake needs that blast of hot air in order for it to rise properly. You will be using the middle rack of your oven, so make sure that there is enough room.
It's important that the butter is at room temperature. This is a heavy cake and it needs as much help from the air beaten into it as possible. Butter at room temperature, not melted or melting, is just right for beating into submission. The butter should be almost white and very fluffy looking when you are finished beating it.
It's also a good idea to have your eggs at room temperature as well. It makes them blend in a lot easier and doesn't shock the creamed butter into hardening.
It may seem like a long time to cream your butter and beat in the eggs for a total of 14 minutes, but it's not. Again, it's a matter of getting as much air as possible into the batter before it goes into the oven. I highly recommend a stand mixer for this job.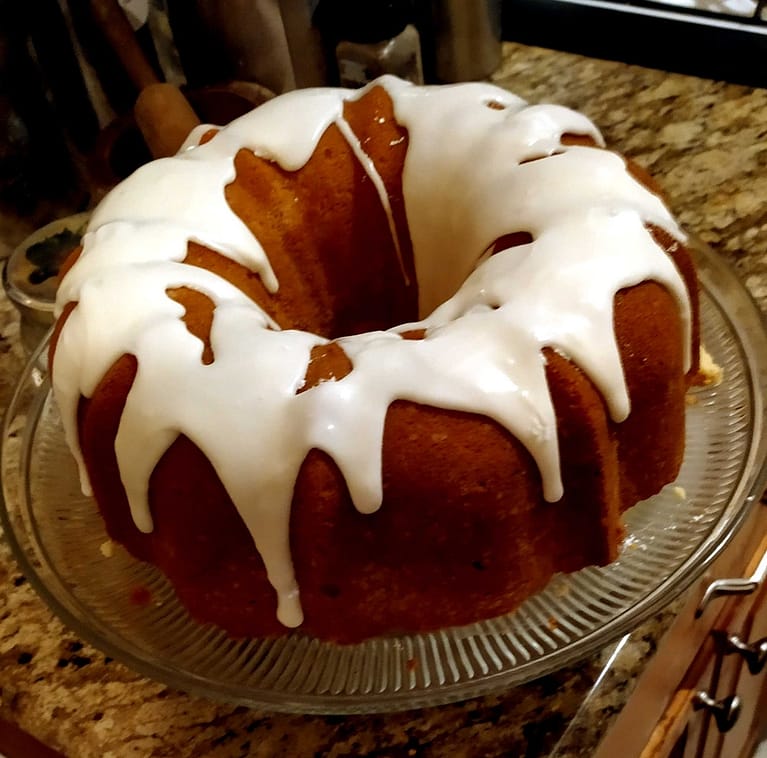 Servings (slide to adjust):
Calories per serving:
675
kcal
Equipment
Ingredients
~~ For the Glaze ~~
1

cup

powdered sugar

1

teaspoon

milk
Ingredients necessary for the recipe step are in italic.
Instructions
Preheat the oven to 300 F/ 149 C. You will be using the middle rack. Prepare the Bundt pan with Baker's Joy.

Beat butter at medium speed with an electric mixer until creamy., 7 minutes. Gradually add sugar, beating at medium speed until light and fluffy, about an additional 7 minutes. Add eggs, 1 at a time, beating just until yellow yolk disappears. Add the vanilla and almond extracts.

Add flour to creamed mixture alternately with milk, beginning and ending with flour. Beat at low speed just until blended after each addition.

Pour into the prepared Bundt pan. Tap it on the counter to remove any big bubbles.

Bake at 300° for 1 hour and 40 minutes or until a long wooden pick inserted in center comes out clean. Cool in pan on a wire rack 10 to 15 minutes. Remove from pan, and cool completely on a wire rack.

When the cake has completely cooled, combine the powdered sugar and milk together to make a glaze. If it's too thin, add more sugar, and if it's not thin enough. add a few drops of milk.
Notes
This cake is fine without the glaze, but it looks very nice and it protects it to a certain extent.
Nutrition
Calories:
675
kcal
Carbohydrates:
93
g
Protein:
7
g
Fat:
32
g
Saturated Fat:
19
g
Polyunsaturated Fat:
1
g
Monounsaturated Fat:
9
g
Cholesterol:
85
mg
Sodium:
41
mg
Potassium:
104
mg
Fiber:
1
g
Sugar:
61
g