This crust is based on the King Arthur Baking Now and Then Crust.
Whole Wheat Sourdough Pizza
If you are looking for an easy and tasty crust, this whole wheat sourdough crust can't be beaten. It's is now our favorite crust and this topping goes very well with it.

It's Healthy
I happen to love the tanginess of sourdough. It's very forgiving and it's also easier on the digestive tract. Per Web MD,
Sourdough bread is particularly rich in nutrients that the body can easily absorb. This is due to the way that the lactic acid bacteria in the bread interacts with these nutrients. These bacteria destroy certain types of acid commonly found in other types of bread, which increases the availability of nutrients like folate, potassium, and magnesium. ~ WebMD
Sourdough Pizza
This dough is made with a sourdough starter, whole wheat flour, all-purpose flour, and semolina. I like having semolina on hand because I also use it for making pasta. It gives pizza dough a little extra chewiness whose mouthfeel I really enjoy. Semolina is the coarse, purified wheat middlings of durum wheat. Wheat middlings are the product of the wheat milling process that is not flour. A good source of protein, fiber, phosphorus, and other nutrients, they are used to produce foods like pasta, breakfast cereals, puddings, and couscous for humans. There are several places you can find semolina. I prefer to go to international stores that usually have it with the buckwheat and other grains. You don't have to spend a fortune on semolina if you shop wisely for it. If you don't have a local international store, Amazon has several different brands.
For the topping, I highly recommend fresh mozzarella and freshly made basil pesto.  You will find a recipe for freshly made basil here at The Good Plate.  If you cannot find pine nuts, you can use cashews, but please use fresh basil.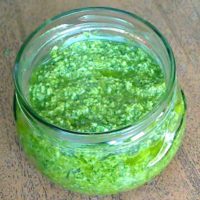 Basil Pine Nut Pesto - Freshly made with love
Fresh basil pine nut pesto is quick and easy to make. Don't buy the stuff in the refrigerated section when you can make your own in seconds. Yeah, it's that good!
Servings (slide to adjust):
Ingredients
¾

cup

bread flour

1

cup

Semolina flour

½

cup

Whole wheat flour

1

cup

sourdough starter

1 ¼

teaspoon

salt

2

tablespoon

Olive oil

1

tablespoon

pizza flavoring

,

see notes below

½

cup

water

,

lukewarm

¼

cup

Bread flour

,

optional
~~ Sauce ~~
8

ounces

Tomato sauce

½

teaspoon

Sugar

1

teaspoon

Tuscan Sunset

1

teaspoon

Oregano

1

teaspoon

Garlic base

1

teaspoon

Balsamic vinegar
~~ -- Toppings -- ~~
8

ounces

fresh mozzarella cheese

,

sliced

½

Red onion

,

sliced

¼

cup

Mushrooms

,

sliced

2

tablespoon

pesto
Ingredients necessary for the recipe step are in italic.
Instructions
Mix all the ingredients, except the last bit of flour, in a stand mixer. If the dough is too watery, add the extra flour. Knead for 7 minutes. Transfer to an oiled bowl, cover, and let rise for 45 minutes.

Preheat the oven to 450. If you do not already have a pizza stone in the oven, put it in now.

Make the sauce by combining all in a saucepan and cooking until just hot. Slice the onion and mushrooms.

Divide the dough into 2 balls.

You can either roll both out for two pizzas, or you can put one in the refrigerator for a couple of days.

Roll the outside so the dough looks round. Have parchment paper ready. Put the rolled out dough on the parchment paper. Use a ladle to put on the sauce and spread it evenly. Top with the onions and mushrooms and finally the cheese.

Put the parchment paper on the pizza peel and gently transfer the pizza to the pizza stone. The parchment paper will allow it to slide in easily.

Bake for 20 minutes or until the crust had browned.
Notes
You can make pizza flavoring by combining oregano, garlic powder, parmesan, and a few chili flakes together. Store extra in a small jar.
Nutrition
Serving:
178
g
Calories:
367
kcal
Carbohydrates:
47
g
Protein:
15
g
Fat:
13
g
Saturated Fat:
5
g
Polyunsaturated Fat:
1
g
Monounsaturated Fat:
6
g
Cholesterol:
24
mg
Sodium:
682
mg
Potassium:
309
mg
Fiber:
3
g
Sugar:
1
g