This easy-to-make Tuscan chicken pasta salad sports sun-dried and fresh tomatoes, green onions, and fettucine.
Tuscan Chicken Pasta Salad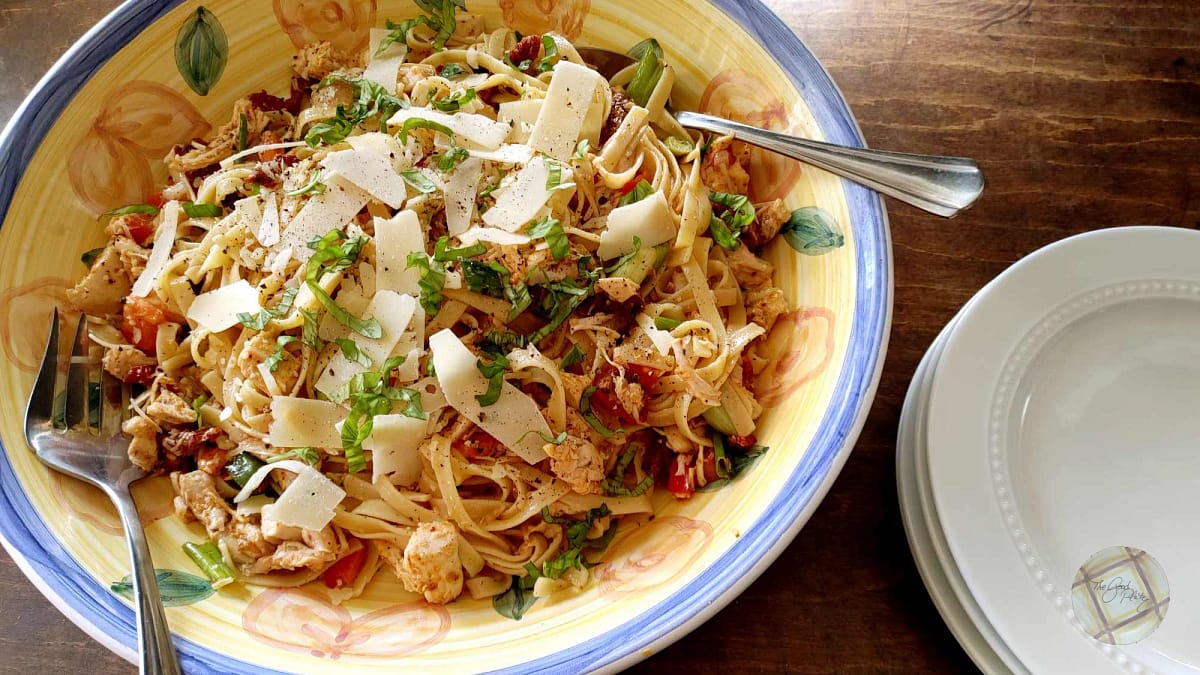 This easy-to-make Tuscan chicken pasta salad sports sun-dried and fresh tomatoes, green onions, and fettucini. Serve it with crusty Italian bread and white wine. Enjoy!
This was one of those salads I threw together because I had the ingredients on hand and I needed something quick for unexpected guests. Well, it was a hit so now it's part of my regular routine.
This is so easy to make because you can use rotisserie chicken or any leftover chicken you happen to have on hand. You can use a knife to cut it up or tear it with your hands, whichever you prefer.
For the sun-dried tomatoes, I prefer the ones that are already marinated with herbs. Of all the ones I have tried, the California Sun Dry Sun-Dried Tomatoes are my favorite. Of course, if you want, you can also make sun-dried tomatoes in your air fryer. If you have whole sun-dried tomatoes, cut them into smaller pieces.
There are two kinds of parmesan cheese used here. I really love the shaved parmesan because it gives you a wonderfully big bite of parmesan. I keep it on hand when I want to make my marinated artichoke salad.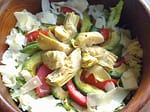 Artichoke, Avocado and Shaved Parmesan Composed Salad
This is a simple composed salad of marinated artichoke, avocado, and Parmesan cheese that used to be at Figaro's in West Hollywood.
How to Make a Basic Vinaigrette
Making your own salad dressing is pretty easy and you know what you're getting. Although I do love my Girards for certain things, homemade vinaigrette is quick and the variety unsurpassed. If you have some fresh herbs growing, like oregano, they go very nicely in vinaigrette. As we all know, oil and water don't mix so in order to make emulsification easier, your good friend, Coleman's Dry Mustard, comes into play. When you are making a vinaigrette, you need one hand to hold the oil and the other to hold a whisk – you cannot dump the oil into the bowl and hope that it will emulsify, it won't. Sadly, human beings only have two hands and when you are mixing something in a bowl, one hand holds the bowl while the other stirs. The solution is to put a towel under the bowl to keep it from spinning.
The rate at which you pour the oil is important. Don't pour too quickly or emulsification will not occur. Pour in very small amounts, almost just dripping. While you are dripping the oil into the bowl, you whisk at medium speed until the mixture emulsifies and looks creamy. At that point, you can stop and use it. You can revive it simply by whisking it until it emulsifies again.
Make Tuscan Chicken Pasta Salad
You can make this salad ahead of time and keep it covered in the refrigerator. Don't pour the dressing on until serving time. It's great with Italian bread and a glass of white wine. It's very easy to make for a crowd, just double or triple the ingredients.

Pane Bianco Sourdough
Pane Bianco is an Italian-style stuffed bread stuffed with amazing flavor that you will have difficulty not eating the whole thing.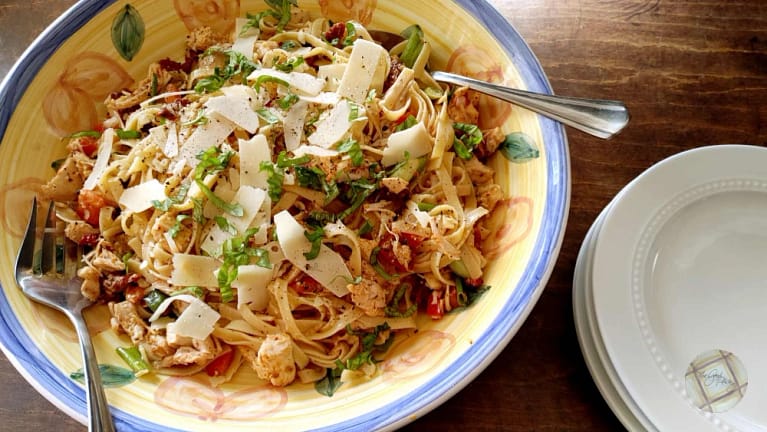 Servings (slide to adjust):
Calories per serving:
376
kcal
Ingredients
1

pound

Fettucini

,

cooked

1

pound

Cooked chicken

1

Tomato

,

Italian plum preferred

2

tablespoon

Sun-dried tomatoes,

chopped

2

tablespoon

Green onion

,

sliced

2

tablespoon

Parmesan

,

shaved

2

tablespoon

Basil

,

fresh leaves
~~ — Dressing — ~~
¼

teaspoon

Dry mustard

2

tablespoon

White wine vinegar

½

teaspoon

Tuscan Sunset

¼

teaspoon

Salt

,

kosher or sea salt preferred

¼

teaspoon

Black pepper

,

freshly ground

⅓

cup

Olive oil

⅛

teaspoon

Sugar

2

tablespoon

Parmesan

,

shredded
Ingredients necessary for the recipe step are in italic.
Instructions
Boil the pasta in a stockpot with plenty of water until it is al dente, Lift the pasta insert out and run the pasta under cold water, occasionally moving it around with your hand until it's cold. Set it aside.

1 pound Cooked chicken,

1 Tomato,

2 tablespoon Sun-dried tomatoes,

2 tablespoon Green onion

Cut the chicken into bite-size pieces. Cut the tomato into small pieces. If your sun-dried tomatoes are not already chopped, then chop those as well. Chop the green onion, using mostly the green part.
Make the dressing
1/4 teaspoon Dry mustard,

2 tablespoon White wine vinegar,

1/2 teaspoon Tuscan Sunset,

1/4 teaspoon Salt,

1/4 teaspoon Black pepper

While you are wating for the pasta to cool off, make the dressing. Put towel under a small bowl to stabalize it. Put the dry mustard in the bottom of the bowl and add the vinegar. Add the Tuscan Sunset, salt, and black pepper. Whisk it and let it sit for about 5 minutes so the herb blend can absorb moisture.

Pour the measurement of oil into a glass or cup so that you can pour it. You may or may not use all of it.

With the whisk in one hand and the olive oil in the other, start dripping the olive oil into the vinegar mixture, whisking the whole time. DO NOT POUR IT IN ALL AT ONCE. Continue dribbling and whisking until the mixture emulsifies and looks creamy.

Taste it for seasoning. You could add sugar at this point if it seems bitter to you.

Add the shredded parmesan and set the dressing aside.
Assemble the Salad
Put the pasta in a large pasta serving bowl. Add the chicken, tomatoes, sun-dried tomatoes, and green onions. Toss together. Pour the dressing over and sprinkle the shaved parmesan on top.

Roll the basil leaves tightly, and using a pair of scissors, slice them over the salad.
Notes
You can make this suitable for Lent by substituting tuna in olive oil instead of the chicken.
Nutrition
Serving:
187
g
Calories:
376
kcal
Carbohydrates:
20
g
Protein:
31
g
Fat:
19
g
Saturated Fat:
4
g
Polyunsaturated Fat:
2
g
Monounsaturated Fat:
11
g
Cholesterol:
101
mg
Sodium:
383
mg
Potassium:
281
mg
Fiber:
1
g
Sugar:
1
g