Pane Bianco is an Italian-style stuffed bread stuffed with amazing flavor that you will have difficulty not eating the whole thing.
Sourdough Pane Bianco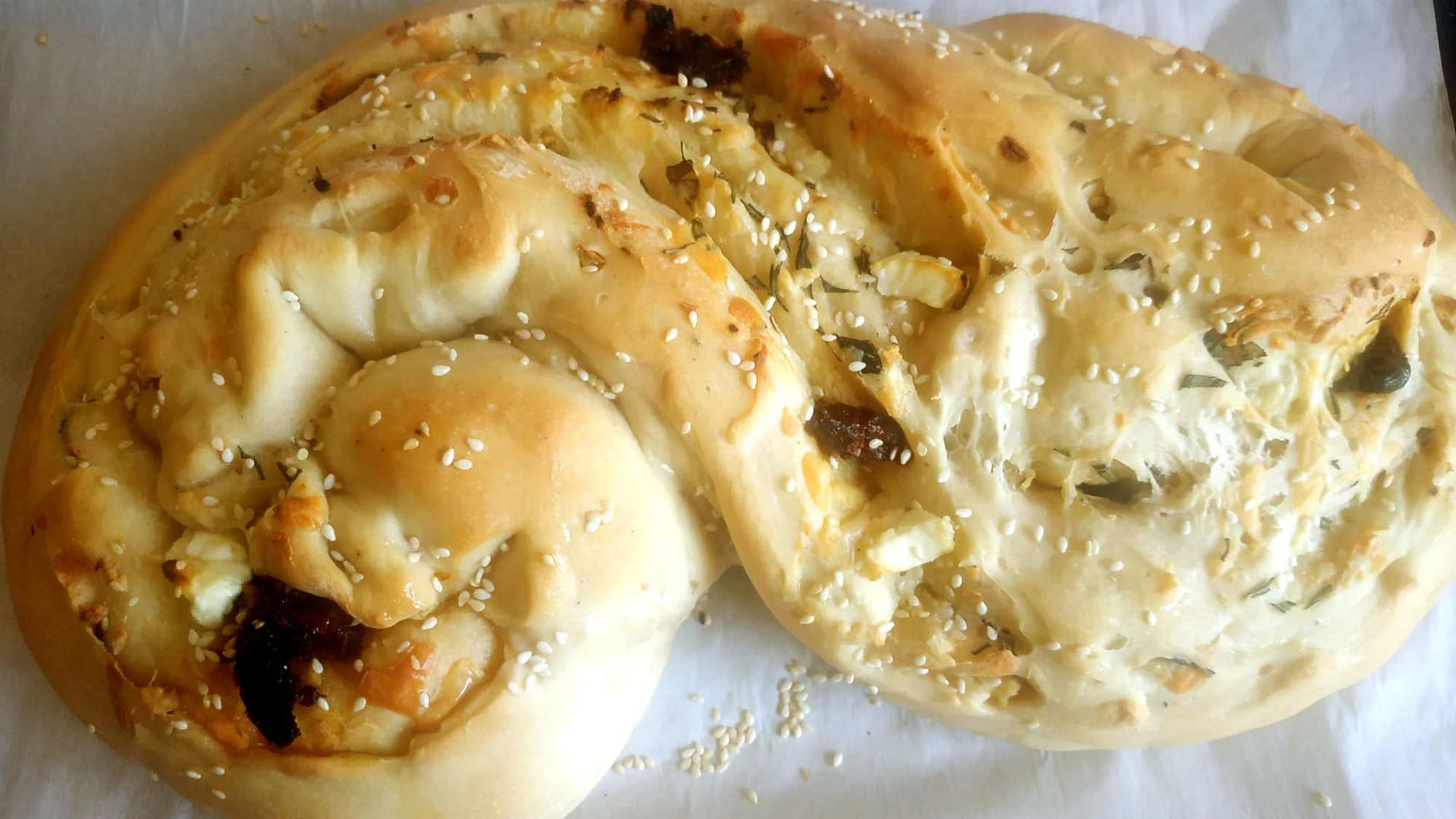 Pane Bianco is an Italian-style bread stuffed with herbs, sun-dried tomatoes, and cheeses. It has an amazing flavor that you will have difficulty not eating the whole thing.
Originally, I heard about this recipe from King Arthur Flour/Baking. I had everything I needed to make it and it turned out great. It was so good, I seriously thought about eating the whole thing by myself. Of course, I didn't do that, but the loaf did go by quickly.
The difference between the two is I used a sourdough starter named Josephine with only half the yeast in the original recipe. If you don't have a starter, don't skip this recipe, just use the one at King Authur Baking instead.
If you have a starter and want to use it instead of yeast in recipes, the ratio is very simple. For every 1 cup of flour and a half cup of water, substitute one cup of well-fed starter. If your starter isn't as lively as you would like, you can be sure of an excellent outcome by including a teaspoon of yeast to help it along.
Herbs for Pane Bianco
Fresh herbs are essential for this bread. I had fresh basil and fresh oregano when I made this. You could use whatever herb collection you have in your garden. Fresh thyme and rosemary leaves would also be delicious. Why not try fresh mint – mint doesn't always have to be sweet, it's lovely in savory dishes as well.
What Kind of Cheese
This is another recipe where you can use up little bits of cheese you have in your cheese box. I also like a variety of cheeses when I make quiche. Feta goes very well with the herbs I had available. You could use any kind of cheese you like, but please don't use processed American cheese. Other good combinations would be blue cheese, swiss cheese, or even brie would be a good choice.
How to Bake
I highly recommend using a pizza stone for baking this bread. Pizza stones keep your oven at a consistent temperature and make sure you have a great bottom crust. One of the problems people face when trying to put the dough on a hot surface is getting it in the oven without burning yourself. I can't recommend a pizza peel more strongly. They're not just for pizza. Anything light enough in weight can be picked up with a pizza peel. They are also great to swing in the air if you manage to burn something!
Let's Make Sourdough Pane Bianco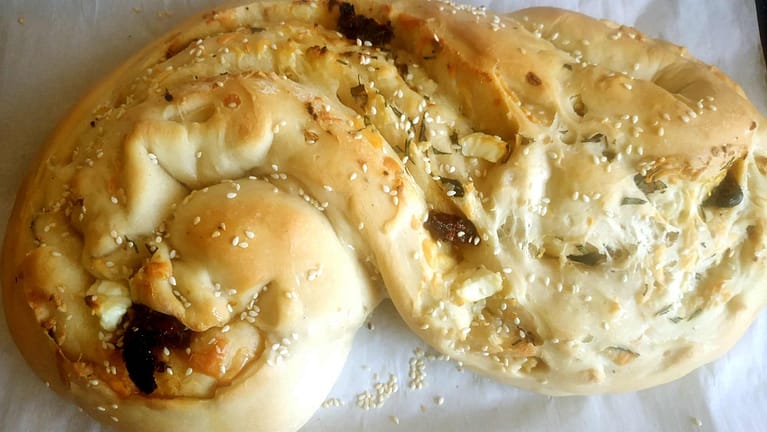 Servings (slide to adjust):
Calories per serving:
309
kcal
If you purchase any of the products through these affiliate links, I get a few pennies that help keep The Good Plate open. I use these products myself and want you to be able to easily find them.
Ingredients
~~ Dough ~~
2

cups

Bread Flour

1

teaspoons

instant yeast

1

cup

well-fed starter

1 ¼

teaspoons

salt

1

large egg

⅓

cup

milk

,

lukewarm

3

tablespoons

Olive oil
~~ Filling ~~
¼

cup

feta

,

crumbled

¼

cup

white cheddar

,

shredded

¼

cup

parmesan

,

shaved

¼

cup

Sun-dried tomatoes

¼

cup

Basil

,

fresh leaves

1

teaspoon

oregano

,

fresh leaves

1

teaspoon

sesame seeds
Ingredients necessary for the recipe step are in italic.
Instructions
2 cups Bread Flour,

1 teaspoons instant yeast,

1 1/4 teaspoons salt,

1 large egg,

1/3 cup milk,

3 tablespoons Olive oil

Put the flour and salt into the bowl of a stand mixer. Stir to combine. Add the egg, milk, oil, and yeast mixture. Knead to make a smooth, very soft dough. The dough should stick a bit to the bottom of the bowl.

Place the dough in a lightly greased bowl, cover, and let it rise until it is doubled in size, about 45 to 60 minutes.

1/4 cup Sun-dried tomatoes,

1/4 cup Basil,

1 teaspoon oregano

Meanwhile, thoroughly drain the tomatoes, patting them dry. Use kitchen shears to cut them into smaller bits. You can use scissors to cut the basil and oregano leaves. Break the feta up and shred the cheddar.

Starting with one long edge, roll the dough into a log the long way. Pinch the edges to seal. Place the log seam-side down on a piece of parchment paper at least as long as your pizza stone.

Using kitchen shears, start 1/2″ from one end and cut the log lengthwise down the center about 1″ deep, to within 1/2″ of the other end.

Keeping the cut side up, form an "S" shape. Tuck both ends under the center of the "S" to form a "figure 8;" pinch the ends together to seal.

Cover and let rise in a warm place until double, 45 to 60 minutes.

While the loaf is rising, put your pizza stone in and preheat the oven to 350°F / 176°C.

Uncover the bread. Sprinkle the sesame seeds over it. Use either a pizza peel or an upside-down cookie sheet to slide the bread and parchment paper onto the pizza stone. Bake it for 35 to 40 minutes, tenting it with foil after 20 to 25 minutes to prevent over-browning.
Nutrition
Serving:
94
g
Calories:
309
kcal
Carbohydrates:
39
g
Protein:
12
g
Fat:
11
g
Saturated Fat:
4
g
Polyunsaturated Fat:
1
g
Monounsaturated Fat:
5
g
Cholesterol:
46
mg
Sodium:
611
mg
Potassium:
168
mg
Fiber:
2
g
Sugar:
2
g