These Air Fryer Chicken Thighs Stuffed with Pesto are simple for an every day dinner, or make an excellent dinner party dish
Air Fryer Chicken Thighs Stuffed with Pesto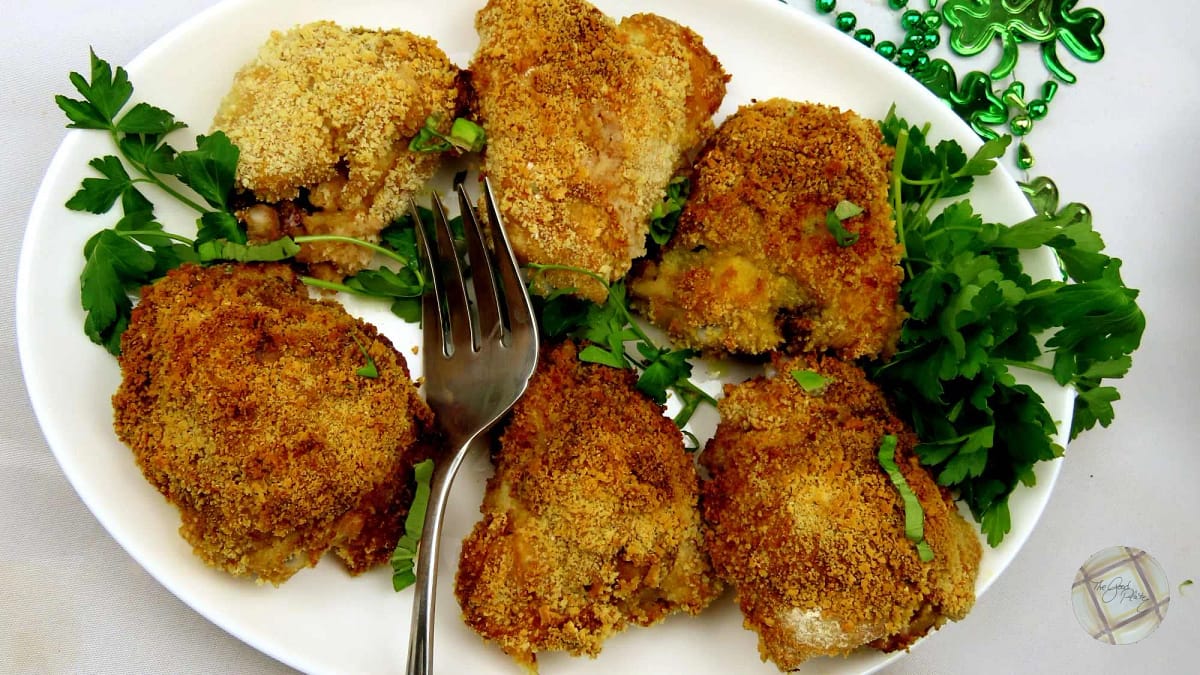 These Air Fryer Chicken Thighs Stuffed with Pesto are simple for an everyday dinner or make an excellent dinner party dish.
Okay, I'll admit it – I don't like corned beef very much. According to my Not the New York Times Cooking group on Facebook, I'm not the only one. As I was looking through some of my past recipes, I came across these Pesto Stuffed Chicken Thighs, and although they are good, I knew I could make them a little better.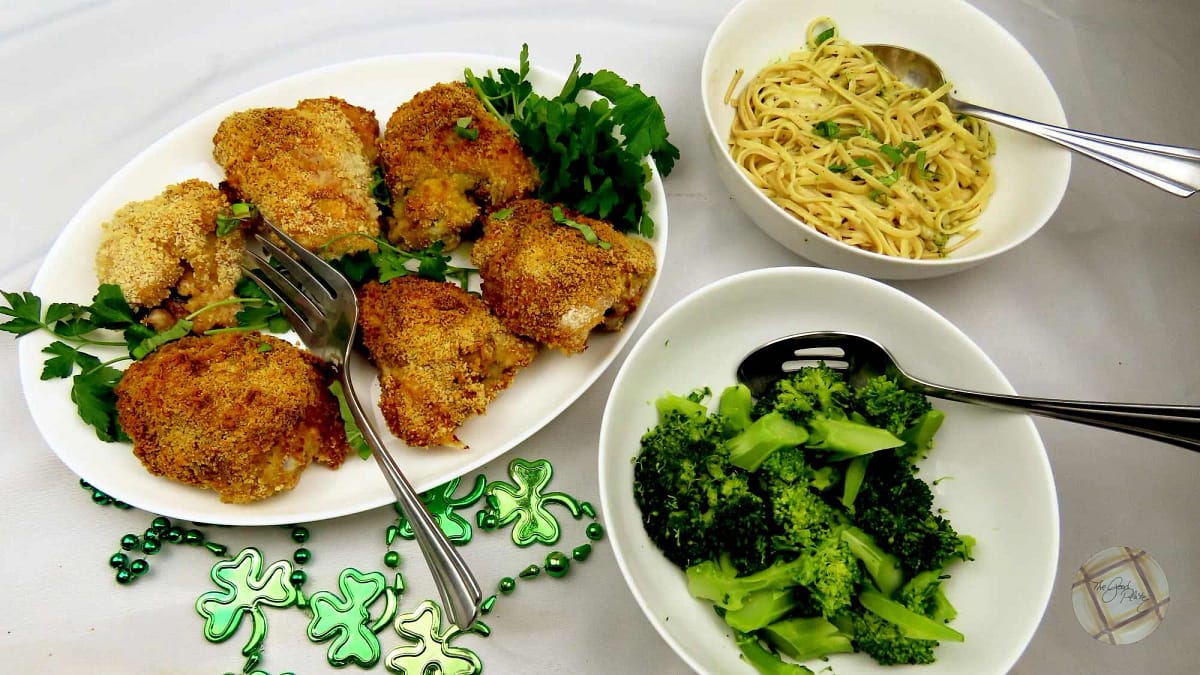 Since they are stuffed with something green, they are now my choice for St. Patrick's day, served with broccoli and pasta mixed with a little pesto.
Fresh, homemade pesto is really essential here. Good Basil Pine Net pesto should be made with pine nuts, not cashews or walnuts. Use fresh basil leaves, good parmesan, and good olive oil. Don't skimp on this because pesto is the main flavoring. You are more than welcome to use my recipe for Basil Pine Nut Pesto. It comes together very quickly in a food processor.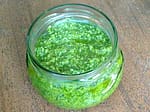 Basil Pine Nut Pesto – Freshly made with love
Fresh basil pine nut pesto is quick and easy to make. Don't buy the stuff in the refrigerated section when you can make your own in seconds. Yeah, it's that good!
Roasting Air Fryer Chicken Thighs
I have a toaster-oven-style rotisserie air fryer that comfortably fits six chicken thighs. If your air fryer won't fit them, you could do them in batches or you could roast them in a conventional oven. The important part to remember is to check their inner temperature. They may look done, but unless they read 165℉ / 73℃ on an instant-read thermometer, they are not done. Don't trust your eyes, trust the probe!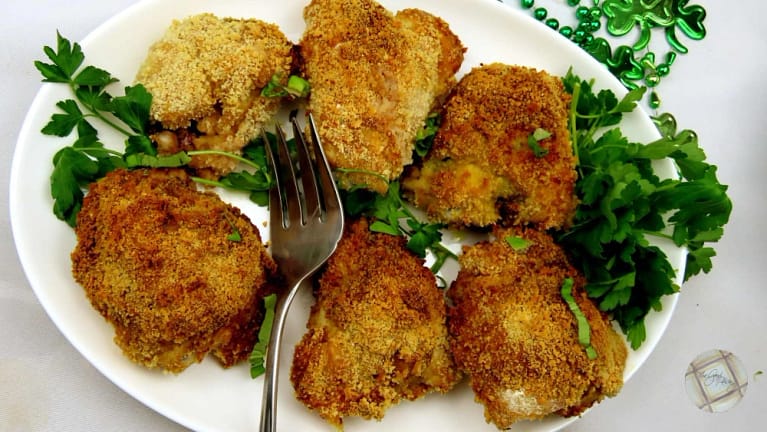 Servings (slide to adjust):
Calories per serving:
319
kcal
Ingredients
~~ Breading ~~
1

cup

flour

1

teaspoon

basil

,

dried

1

teaspoon

paprika

2

eggs

1

cup

Panko bread crumbs

½

teaspoon

salt

½

teaspoon

black pepper

,

freshly ground
Ingredients necessary for the recipe step are in italic.
Instructions
Make the Breading
1 cup flour,

1 teaspoon basil,

1 teaspoon paprika,

1/2 teaspoon salt,

1/2 teaspoon black pepper

Mix the flour, paprika, basil, salt, and pepper in a breading tray.

Put two eggs in another breading tray.

Put the bread crumbs in a third breading tray.

Dip each thigh into the flour mixture mixture. Shake to remove excess. Dip the flour covered thighs in the egg to cover them then roll them in the bread crumbs.

Put them on a rack over a sheet pan in the refrigerator. Let them sit, uncovered, for 30-90 minutes.
Notes
Note that nutritional value may be different depending on the size of the thighs.
Nutrition
Serving:
102
g
Calories:
319
kcal
Carbohydrates:
33
g
Protein:
18
g
Fat:
13
g
Saturated Fat:
4
g
Polyunsaturated Fat:
3
g
Monounsaturated Fat:
6
g
Cholesterol:
40
mg
Sodium:
353
mg
Potassium:
356
mg
Fiber:
2
g
Sugar:
1
g