These Pesto Stuffed Chicken Thighs are simple for an every-day dinner, or make an excellent dinner party dish
Pesto Stuffed Chicken Thighs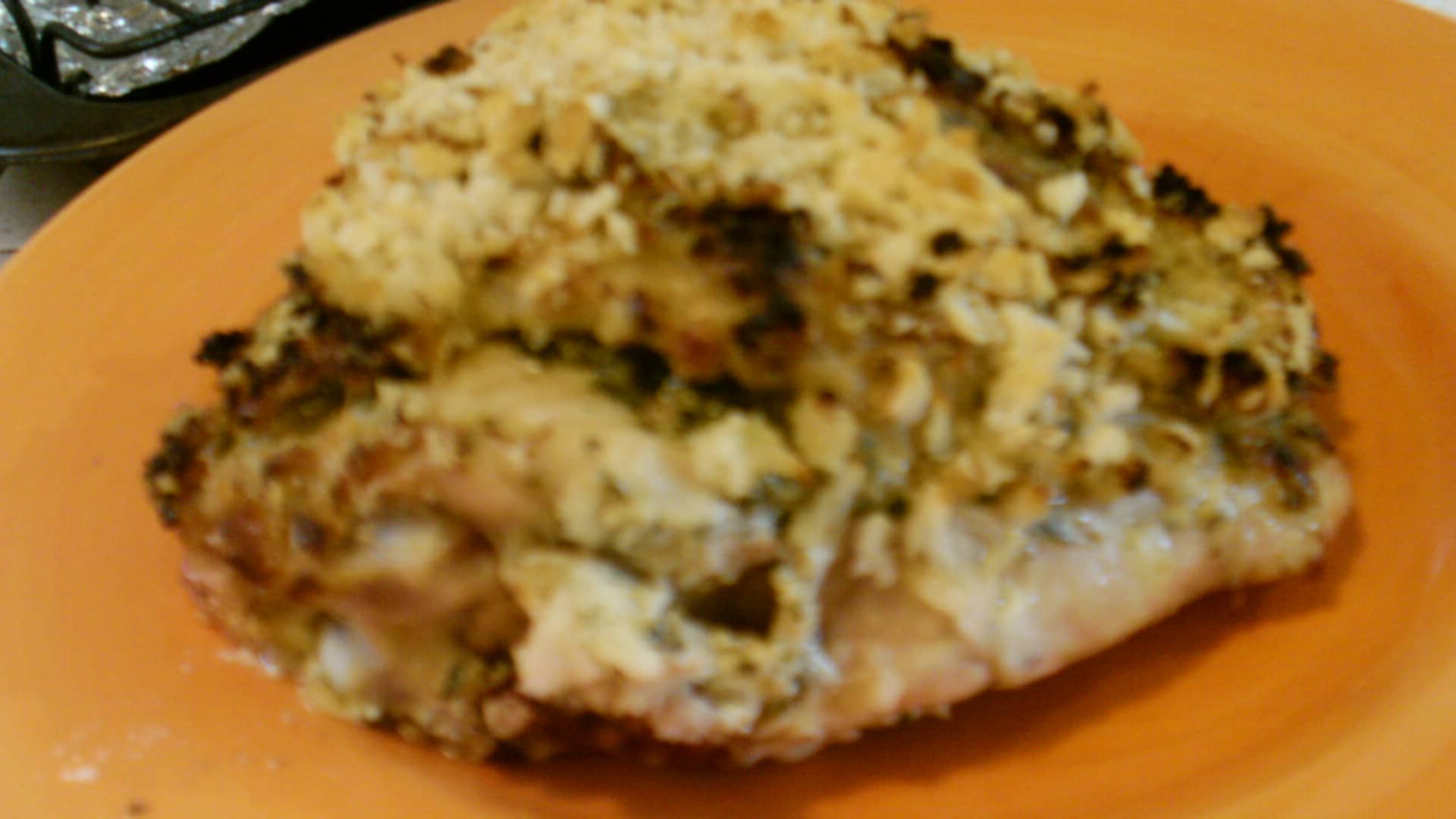 These Stuffed Chicken thighs are easy to make and delicious. They are also healthy made with yogurt and grilled.
I love going on Pinterest and getting ideas for recipes. There was a picture of Greek chicken that was made by dipping chicken in herb-flavored yogurt and then grilling it. I always have plain yogurt in the house. We have it frequently for breakfast, and I love to make yogurt salad and yogurt soup out of it.
Coincidentally, I had made a batch of Fresh Basil and Pine Nut Pesto that I needed to use up. I thought that Italian pesto with a yogurt marinade would be quite tasty, and good for you. I was right, the chicken was delicious. We had it with steak cut potatoes and a salad. Very nice.
Fresh Ingredients Make this Sing
Pesto is very easy to make in a food processor. If you have pine nuts leftover, you can store them in the refrigerator so they do not go rancid. The closest replacement for pine nuts would be cashews, but not very much unless you want your pesto to taste like cashews. If you have a nut allergy, all is not lost, just omit the pine nuts.
I would suggest using regular plain yogurt for this. Greek yogurt could be a little too thick. Please note that not all Greek yogurts are what they say they are. Greek-style yogurt is thick because more whey is drained while in production. If your Greek-style yogurt has more than milk and naturally occurring bacilli, then it's not Greek-style at all – it's yogurt with added ingredients like gelatin or other thickeners and that could affect the way the chicken comes out. My favorite yogurt is from Moutain High and contains nothing but milk and bacilli.
Servings (slide to adjust):
Calories per serving:
394
kcal
Equipment
If you purchase any of the products through these affiliate links, I get a few pennies that help keep The Good Plate open. I use these products myself and want you to be able to easily find them.
Ingredients
6

Chicken thighs

6

tablespoons

Basil Pine Nut Pesto

½

teaspoon

garlic powder

½

teaspoon

onion powder

½

teaspoon

poultry seasoning

1

teaspoon

paprika

1

cup

plain yogurt

1

cup

Panko Bread Crumbs
Ingredients necessary for the recipe step are in italic.
Notes
The time to cook your chicken thighs will depend on the size of the thighs. Always check for doneness using an instant-read thermometer. You can put some steak cut potatoes on the rack if you have room and cook them at the same time.
Nutrition
Serving:
165
g
Calories:
394
kcal
Carbohydrates:
200
g
Protein:
30
g
Fat:
23
g
Saturated Fat:
6
g
Polyunsaturated Fat:
4
g
Monounsaturated Fat:
10
g
Cholesterol:
97
mg
Sodium:
262
mg
Potassium:
339
mg
Fiber:
1
g
Sugar:
3
g
If you would like a lighter version of this recipe for the Air Fryer, I was able to redo this recipe so you can have it even on a hot summer day. Enjoy Air Fryer Chicken Thighs.

Air Fryer Chicken Thighs Stuffed with Pesto
Air Fryer Chicken Thighs stuffed with pesto make an easy meal for everyday that makes a simple transition to dinner party.