A turkey burger isn't boring when it has herbs, mushrooms sauteed with wine, and gruyere. Don't like turkey, beef works well here, too.
Turkey Burger with Sauteed Mushrooms and Gruyere
A turkey burger isn't boring when it has herbs, mushrooms sauteed with wine, and gruyère. Don't like turkey, beef works well here, too. Serve this with a big salad and the Pilsner of your choice.
Turkey burgers should not taste like cardboard. Turkey is itself mild-flavored poultry and has very little fat. Little fat leads to less flavor, so something has to put the flavor back. Adding shallots, herbs de Provence, and powered butter bring it from boring to tasty.
Bye Bye Chicken Marinade
The Lea and Perrins company used to make a sauce they originally called White Worchestershire, which they changed to Chicken Marinade. I loved it, especially for turkey burgers. Sadly, they no longer make it and I have been unable to find a copy-cat recipe for it. I still have about a tablespoon of it leftover in my refrigerator for when I do come across a recipe so I can compare. This recipe is my answer to that problem. The mushrooms sauteed with white wine, shallots give umami and when eaten together, provide a bite very similar to my old perfect turkey burgers. If you can find the sauce, you are more than welcome to use the old recipe.
Perfect Turkey Burgers–Every Time
Turkey burgers should be moist and well seasoned. There is nothing worst than a dry, tasteless hockey puck on a bun. Find out how to avoid this cooking nightmare.
Making the Turkey Burgers
Why powdered butter? I use powdered butter because it mixes very easily with the ground turkey and doesn't leave pockets of fat – it distributes very easily. If you have never heard of it, it's a wonderful thing to put on popcorn and I also put it in my pizza crust. It's available, of course, on Amazon. I like the Hoosier brand.
I don't like touching raw meat, so I use a Kitchen-aid mixer to do the job for me. Only bring it up to Stir and only stir until everything is mixed in nicely. If you prefer to use your hands, just make sure that you handle the mixture very lightly so it does not toughen.
The other thing I would like to introduce you to is a fish spatula.  Wow!  They are not just for fish.  I like them because they bend a little and do an excellent job of flipping burgers without letting them stick to the pan.  Believe me, you gotta get one of those!
What to Serve with Turkey Burgers
Burgers and fries are a winning combination, but if you don't want the fat, you could serve Baked Potato Patties instead. They're cooked in the air fryer and give you a chance to use up some leftovers.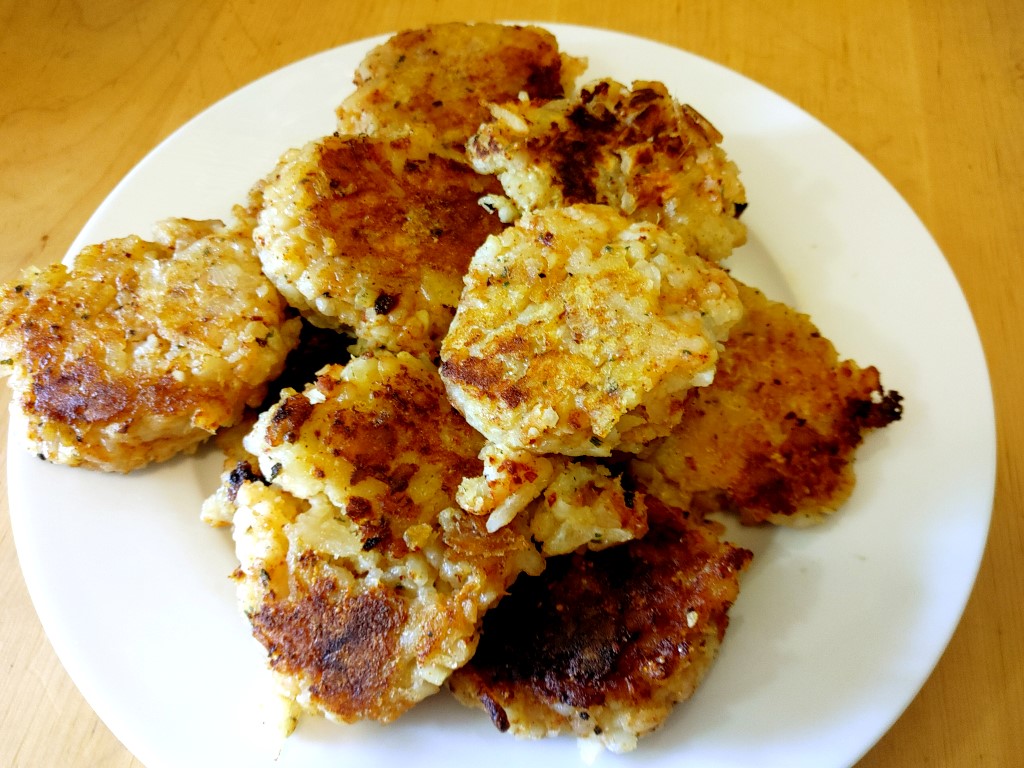 Baked Potato Patties – Easy Leftover Side Dish
Baked potato patties make a lovely side when you have a leftover baked potato. Enjoy them with breakfast, lunch, or dinner.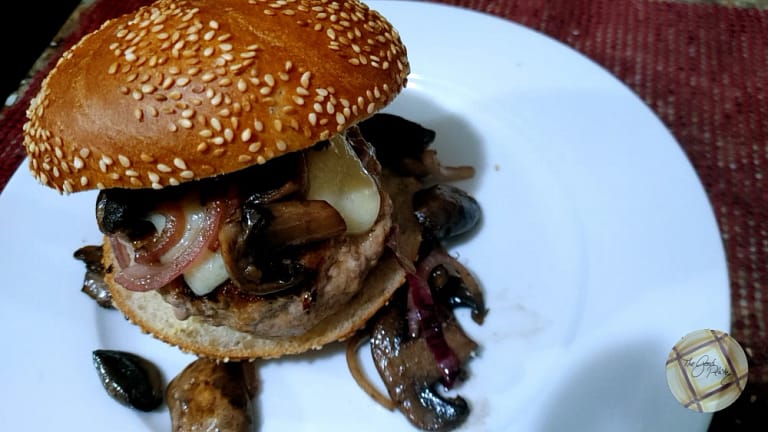 Servings (slide to adjust):
Calories per serving:
429
kcal
Ingredients
~~ — For the Patties — ~~
~~ — For the Mushrooms — ~~
12

Mushrooms

,

large

1

teaspoon

Butter

½

Red onion

,

sliced

2

ounces

White wine

¼

teaspoon

Black pepper

,

freshly ground
~~ — For the Sauce — ~~
4

tablespoon

Mayonnaise

2

teaspoon

Dijon mustard
~~ — Assembly — ~~
4

Kaiser rolls

,

split

4

tablespoon

Gruyere

,

shredded

1

teaspoon

Olive oil
Ingredients necessary for the recipe step are in italic.
Instructions
Notes
If you don't like turkey, you could do ground chicken, ground beef, or even alternative meat.  The reason this has to sit in the refrigerator is the herbs de Provence need a chance to rehydrate.
This would also do fine on an outdoor grill.  Just make sure your saute pan is okay for a grill.
Nutrition
Calories:
429
kcal
Carbohydrates:
38
g
Protein:
28
g
Fat:
17
g
Saturated Fat:
4
g
Polyunsaturated Fat:
6
g
Monounsaturated Fat:
5
g
Cholesterol:
70
mg
Sodium:
1424
mg
Potassium:
643
mg
Fiber:
2
g
Sugar:
3
g