Tomato Rice Pilaf comes together so easily and quickly in the Instant Pot. Rich with a warm tomato flavor, it makes a wonderful side dish.
Tomato Rice Pilaf in the Instant Pot
Tomato Rice Pilaf comes together so easily and quickly in the Instant Pot. Rich with a warm tomato flavor, it makes a wonderful side dish.
I made this rice to go with Chicken Shawarma and it was just perfect for it. Initially, I didn't think about making a recipe for it but when we had it for dinner, I knew I had to make it again and take notes.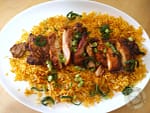 Chicken Shawarma in the GoWise Rotisserie Air Fryer
This easy-to-prepare Chicken Shawarma done in the air fryer comes out moist and flavorful. Serve it with rice, lavash, and salad.
Tomato Pilaf Spices
Tomato Rice Pilaf uses tomato powder as one of its main ingredients. Sometimes, you just want the flavor of tomato, but not the ripe, juicy tomato itself. How about pizza-flavored popcorn? Wouldn't that be great? You can't sprinkle tomato sauce on popcorn – well, you can, but imagine tomato sauce dripping all over when you pick up a piece to eat. What's the solution? The solution is Tomato Powder. You can make your own tomato powder by dehydrating and grinding your own tomatoes, or, you can buy the powder. Spice Jungle has the best tomato powder and a lot of other spices I just love. You owe yourself a visit.
To add to the flavor and because I was serving this with Chicken Shawarma, I used Penzey's Turkish Seasoning. It has delightful, warm flavors that go great with chicken.
The other spice that I used is saffron. Saffron is the most expensive spice in the world, more expensive than vanilla. It's labor-intensive but the flavor is amazing. Be careful that what you are buying is in fact saffron and not some flower pretending to be saffron. Trader Joe's usually has nice saffron as well as, of course, Penzey's.
What Kind of Rice to Use
You can use whatever rice you have on hand. The times will be different depending on what kind of pot you are using. For short-grain rice, it's 6 minutes on high. For medium-grain rice, it's 5 minutes on high, and for long-grain rice, it's 4 minutes on high. I happened to have converted long-grain rice on hand, and that's what I used.
About the Instant Pot used
I may have already brought this up in a prior post, but I have to say again how convenient the Instant Pot Duo Evo is. It has an inner pot that is made so it can be put on the stove so you have full control over sauteing. It also has silicone handles that make it very easy to take out of the unit once the food is cooked without burning yourself. If you already have an Instant Pot, put it on eBay and get this one. Seriously.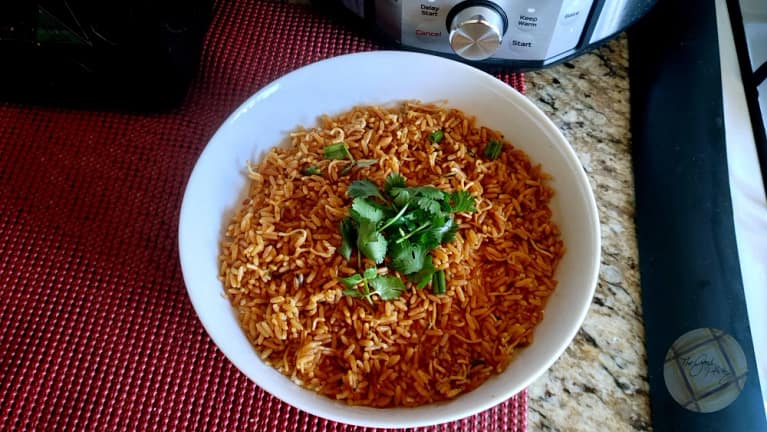 Servings (slide to adjust):
Calories per serving:
129
kcal
Ingredients
1

tablespoon

chicken base

1

cup

water

,

boiling

⅛

teaspoon

saffron

1

tablespoon

tomato powder

½

teaspoon

Turkish seasoning

½

teaspoon

black pepper

,

freshly ground

1

tablespoon

cilantro

,

minced

2

teaspoon

butter

¼

cup

vermicelli

1

cup

rice

,

long grain or converted is fine

1

tablespoon

cilantro

,

leaves for garnish
Ingredients necessary for the recipe step are in italic.
Instructions
For the Instant Pot Duo Evo with a removable inner pot
For other Instant Pots
Put the machine on Saute.

Melt the butter in the inner pot.

When the butter is nicely bubbling, add the vermicelli. Stir it, so it gets completely coated.

Add the rice and stir that in as well.

Stir the rice and continue to saute it until it turns a nice golden color. It should be darker than tan but lighter than brown.

Hit Cancel to stop the Instant Pot.

Add the reserved broth and push the Rice button. If you do not have a Rice button, set it on high for 4 minutes for long-grain, 5 for medium, and 6 for short-grain rice.
Notes
You can make this vegetarian by using a Vegetable base or vegetable broth. To make it vegan, substitute the butter for oil.
Nutrition
Serving:
144
g
Calories:
129
kcal
Carbohydrates:
23
g
Protein:
4
g
Fat:
2
g
Saturated Fat:
1
g
Polyunsaturated Fat:
0
g
Monounsaturated Fat:
1
g
Trans Fat:
0
g
Cholesterol:
5
mg
Sodium:
140
mg
Potassium:
85
mg
Fiber:
1
g
Sugar:
1
g