This easy-to-prepare Chicken Shawarma done in the air fryer comes out moist and flavorful. Serve it with rice, lavash, and salad.
Air Fryer Chicken Shawarma
This easy-to-prepare Chicken Shawarma done in the air fryer comes out moist and flavorful. Serve it with rice, lavash, and salad.

When I got a job in Glendale, California, I had a co-worker who happened to be Armenian. He introduced me to this wonderful marinated chicken dish. I fell in love with it and I will show you how you can make it in your own home.
What is Shawarma?
Shawarma is a Levantine Arab dish consisting of meat cut into thin slices, stacked in a cone-like shape, and roasted on a slowly-turning vertical rotisserie or spit. It is an Arabic rendering of Turkish çevirme [tʃeviɾˈme] 'turning', referring to the turning rotisserie. Shawarma is marinated with garlic, cardamom, lemon, cayenne. and paprika, giving it a complex flavor both tangy and warm. It's usually served with flatbread, like Lavash, and can be rolled up for an on-the-go sandwich. We like it with rice pilaf and yogurt salad.
How Do I Cook Shawarma?
I don't have a vertical rotisserie. A rotisserie roaster oven does a great job on this. The GoWise Delux 12.7-quart that I have comes with a steak cage to use in the rotisserie. If yours doesn't have a steak cage or a rotisserie, you could just turn the chicken manually.
Chicken thighs are perfect for making this because they have good flavor on their own and they don't dry out very easily. Chicken legs will also work if you slash them first. I would not recommend breasts because they might dry up too much.
I highly recommend using a vacuum sealer for marinating.  It keeps the marinade as close to the food as possible so all the flavor gets a chance to get in there.  You can also seal the bag and freeze it then defrost it and marinate it in a cold refrigerator until you are ready to cook.
What About Sides?
You can have any kind of side you want, but this is really good with Tomato Rice Pilaf that you can make in the Instant Pot. Dinner in 30 minutes? I'm in!

Tomato Rice Pilaf in the Instant Pot
Tomato Rice Pilaf comes together so easily and quickly in the Instant Pot. Rich with a warm tomato flavor, it makes a wonderful side dish.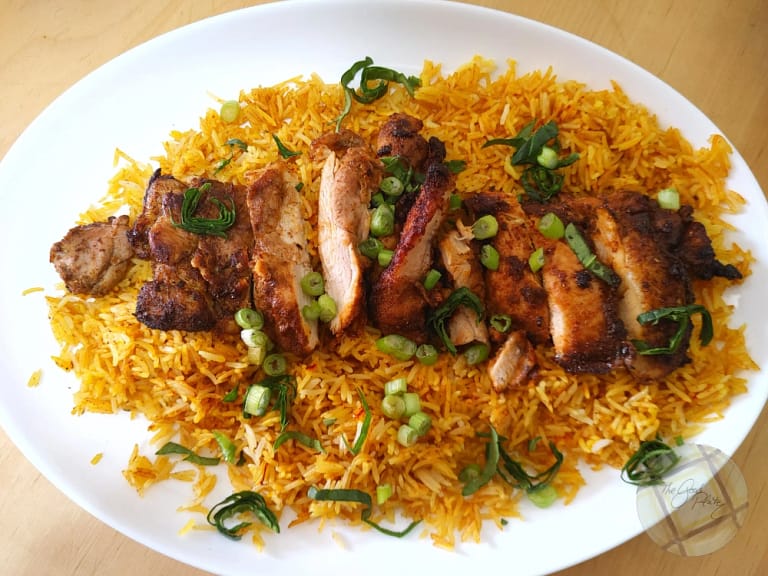 Servings (slide to adjust):
Calories per serving:
222
kcal
Ingredients
8

chicken thighs

,

skinless and boneless

3

clove

garlic

,

minced

1

tablespoon

corriander

,

ground

1

tablespoon

cumin

,

ground

2

teaspoon

cardamon

,

ground

1

teaspoon

cayenne pepper

,

ground

2

tablespoon

paprika

2

teaspoons

salt

1

teaspoon

black pepper

,

freshly groiund

2

tablespoons

lemon juice

3

tablespoons

olive oil
Ingredients necessary for the recipe step are in italic.
Instructions
1 tablespoon corriander,

1 tablespoon cumin,

2 teaspoon cardamon,

2 tablespoon paprika,

2 teaspoons salt,

1 teaspoon cayenne pepper

2 tablespoons lemon juice,

3 tablespoons olive oil

Add the lemon juice and olive oil. With your fingers on the outside of the bag, mix the ingredients thoroughly.

Vacuum seal the bag and refrigerate it until ready to cook, at least eight hours or overnight. If you want to freeze the chicken for later, you would do it now.

Check the temperature with an instant-read thermometer. If it reads 160 F / 71.1 it's done, otherwise, keep it going for another 3 minutes.

Remove from the cage from the air fryer and let the chicken rest for about 5 minutes before serving.
Notes
If you have a basket air fryer, turn the chicken every 5 minutes.
Nutrition
Serving:
116
g
Calories:
222
kcal
Carbohydrates:
7
g
Protein:
18
g
Fat:
15
g
Saturated Fat:
2
g
Polyunsaturated Fat:
2
g
Monounsaturated Fat:
9
g
Cholesterol:
68
mg
Sodium:
1255
mg
Potassium:
405
mg
Fiber:
2
g
Sugar:
1
g