Don't buy that can of cranberry sauce - this is EASY
Spicy Cranberry Sauce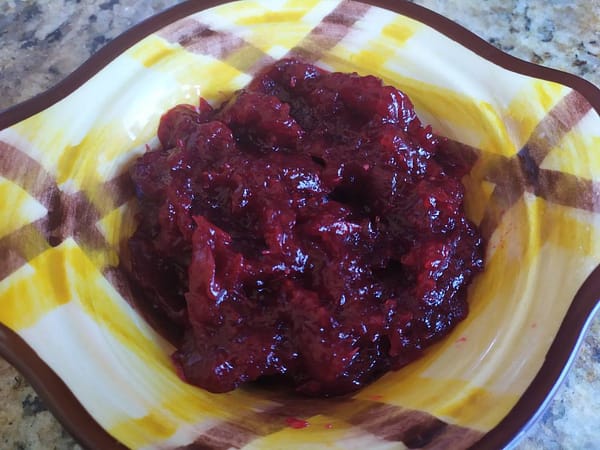 This Spicy Cranberry Sauce is very easy to make and will delight your guests. It's very tasty with the seasonings of the season and goes very well with whatever you serve. Freshly grated nutmeg, cinnamon sticks, whole cloves, and allspice combine to make a great side dish for your meal.

About Cranberries
Cranberries are very good for you. They have been part of Thanksgiving traditions since at least 1672 when John Josselyn wrote about them.
Sauce for the Pilgrims, cranberry or bearberry, is a small trayling [sic] plant that grows in salt marshes that are overgrown with moss. The berries are of a pale yellow color, afterwards red, as big as a cherry, some perfectly round, others oval, all of them hollow with sower [sic] astringent taste; they are ripe in August and September. They are excellent against the Scurvy. They are also good to allay the fervor of hoof diseases. The Indians and English use them mush, boyling [sic] them with sugar for sauce to eat with their meat; and it is a delicate sauce, especially with roasted mutton. Some make tarts with them as with gooseberries. ~ John Josselyn – New England Rarities Discovered
Please make your own cranberry sauce, it's much better for you, and has been easily prepared for almost 400 years.
Spices
You are better off using whole spices in this than ground spices. Sadly, when I made this sauce this morning, I did not have whole allspice but I had recently purchased it, so it still had good flavor. To keep the sauce from being cloudy, put your spices in a little cheesecloth bag. I just cut some cheesecloth, put the spices in, and closed it up with a butterfly clip. Yes, butterfly clips are great for cooking and keeping things together. I like to use them to reseal packages, just roll the top down and clamp.
Let's make Spicy Cranberry Sauce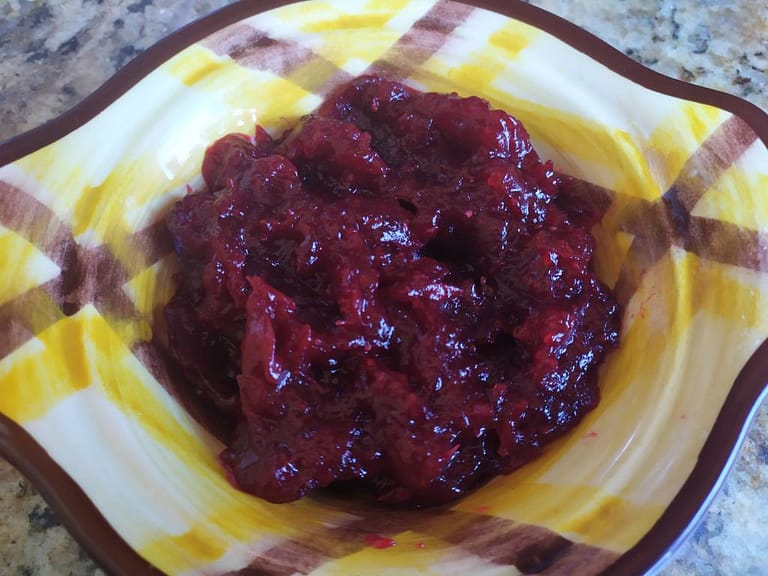 Servings (slide to adjust):
Calories per serving:
77
kcal
Equipment
Ingredients
1

bag

Cranberries

,

fresh

1

cup

Sugar

1

cup

Water

1

cinnamon stick

,

smashed

1

teaspoon

whole cloves

1

teaspoon

nutmeg,

freshly ground

½

teaspoon

whole allspice
Ingredients necessary for the recipe step are in italic.
Instructions
Lay out a piece of cheesecloth and put the spices on it. Break the cinnamon stick with a hammer. Close the bag up and secure it with a butterfly clip.

Cook the berries on medium heat until you hear them start to pop, then lower the heat to low and simmer for 15 minutes.

Use a hand blender to blend them into a nice sauce, or keep them whole - it's up to you!

Put the sauce in a nice bowl and let it set.
Nutrition
Calories:
77
kcal
Carbohydrates:
20
g
Protein:
0
g
Fat:
0
g
Saturated Fat:
0
g
Polyunsaturated Fat:
0
g
Monounsaturated Fat:
0
g
Trans Fat:
0
g
Cholesterol:
0
mg
Sodium:
2
mg
Potassium:
20
mg
Fiber:
1
g
Sugar:
17
g
My Other Cranberry Sauce Recipes
I have other cranberry sauce recipes if you would like to try the others. This one is by far the most simple, but here they are: