Make tasty broth in your Instant Pot
Turkey Broth in an Instant Pot
Last Updated on October 13, 2021
When you need broth for Oyster Cornbread Dressing or injecting into the turkey to get moist meat, you can use the neck and whatever scraps of poultry you have to make a flavorful broth.  Making turkey broth in the Instant Pot makes it even easier.
My mother used to make her stock for the gravy with the turkey neck, but it didn't seem to have much flavor.  Because she was cooking on the stovetop, she didn't have the time to spend on the broth to get that good flavor.  She had a pressure cooker earlier. However, we were both afraid of it when it exploded spaghetti with red sauce all over the kitchen walls and ceilings when we lived in Germany – it didn't make it back stateside.
I'm not much of a gravy person, but I do like injecting my turkey with good broth, and I like to use my broth to make the dressing.  The boxed and canned broth always seems very salty. But, because you are putting the ingredients in the Instant Pot, you don't need salt to concentrate the flavor. The pressure does that.
What to put in Turkey Broth
I keep a bag of vegetable discards in my freezer, onions skins, celery tops and bottom, carrot peels, etc.  In another bag, I keep poultry parts, like chicken wingtips. Those make great additions to the broth and help the landfill.
If you have deboned the turkey, you can use the bones for this broth, which will be even more impressive.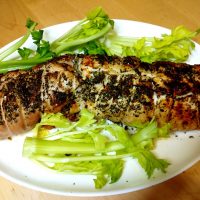 How to Debone Turkey - Moist and Easy to Carve
Learn how to debone turkey. This method leaves you with a moist and delicious bird that will not dry out and is a breeze to carve and a delight to eat.
I recommend straining the broth with some cheesecloth before using it. That way, you can get a nice clear broth that looks great in soup, and you won't have any sticking when trying to inject it into your poultry. You can find cheesecloth in your local supermarket or cooking store. There is a link to the product on Amazon in the recipe, and that's convenient, too.
Use the Broth
Use the broth to inject your turkey, make the dressing, or make a delicious soup.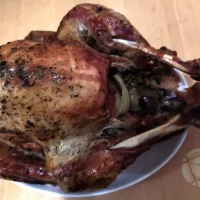 How to Roast a Perfect Turkey in a Nesco Electric Roaster
How to get your turkey's skin crisp but keep the meat moist in a Nesco roaster oven - with a timetable.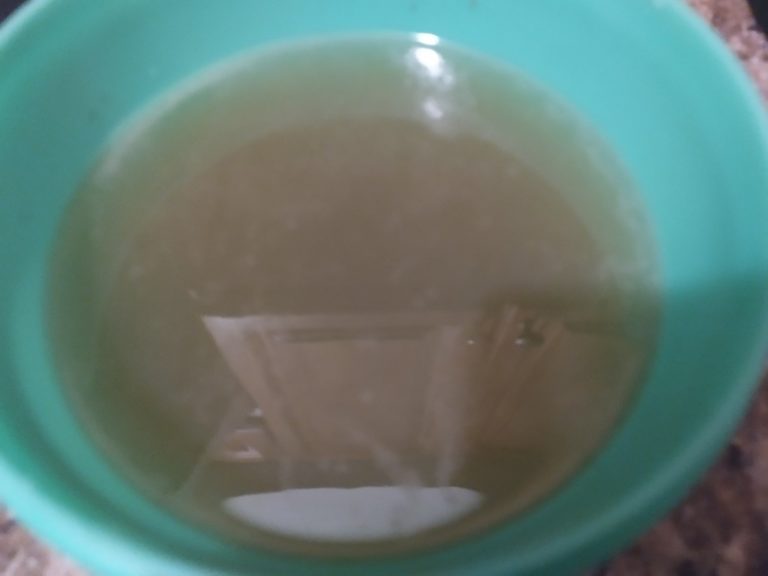 Servings (slide to adjust):
Calories per serving:
21
kcal
Ingredients
1

turkey neck

1

celery bottom and leaves

,

only discarded

1

onion

,

only discarded root and skins

2

cloves

garlic

,

broken up

1

bay leaf

3

whole cloves

12

cups

water

,

or enough to reach the fill line
Ingredients necessary for the recipe step are in italic.
Instructions
1 turkey neck,

1 celery bottom and leaves,

1 onion,

2 cloves garlic,

1 bay leaf,

12 cups water,

3 whole cloves

Put everything in the pot. If you have other poultry parts or more discarded vegetable parts, put them in, too. The more the merrier!

Fill the pot with enough water to come to the fill line.

Pressure cook for 1 hour, then natural release.

Strain through cheesecloth and store in the refrigerator until ready to use.
Nutrition
Calories:
21
kcal
Carbohydrates:
4
g
Protein:
1
g
Fat:
0
g
Saturated Fat:
0
g
Polyunsaturated Fat:
0
g
Monounsaturated Fat:
0
g
Trans Fat:
0
g
Cholesterol:
2
mg
Sodium:
58
mg
Potassium:
139
mg
Fiber:
1
g
Sugar:
1
g